What is the definition of a perfect QB? Poised? Polished? A splash of both? To be honest with you, I don't think there is a perfect QB out there. But there sure as hell are a lot of great ones and the Big Ten is a breeding ground for some of the nations premier pocket patients.
Lets now take a look at what this conference has to offer in terms of the sports most important position.
14. Aidan Smith – Northwestern
Before I talk about Aidan Smith, I  think it is important to acknowledge the ongoing QB competition that is currently taking place in Evanston. Essentially, Pat Fitzgerald has three QBs to choose from heading into the 2020 season. He can go with Hunter Johnson, a transfer from Clemson who was awful for the Wildcats a season ago, Peyton Ramsey, a grad transfer from Indiana who lacks speed and stability or Aidan Smith, an undersized pocket passer who turns the ball over more than Jameis Winston. It many ways, this is a lose-lose situation for a program that is coming off a 3-9 season.
The reason why I am going with Smith to be the Wildcats starter is that I feel as if he provides the most upside out of the three QBs fighting for the spot. While he does have a tendency to turn the ball over during high-pressure situation, Smith is extremley athletic and throws a somewhat pretty ball. It will be interesting to see if he can improve now that he has another year of experience under his belt.
13. Artur Sitkowski – Rutgers
Artur Sitkowski is actually a pretty fascinating case study. The 6'5 gunslinger from Old Bridge NJ was one of the better QB recruits Rutgers had ever landed. The IMG Academy product had a cannon of an arm and could read a field like he was Shakespeare. However, as Sitkowski arrived on campus, all was not rainbows and sunshine. During his freshman season, Sitkowski managed to throw for just 1,158 yards, threw 4 TD passes and tossed a total of 18, yes 18 INTs. After playing in just 3 games during his Sophmore season, Sitkowski made the executive decision to put on a  redshirt in order to secure an extra year of eligibility. After that, the over-hyped talent put his name into the transfer portal, only to withdraw the claim after it was announced that Greg Schiano would be hired as the next head coach of Rutgers football. Talk about a mess.
12. Spencer Petras – Iowa
The Nate Stanley era in Iowa City is officially over. After sitting on the sidelines for the last two seasons, Spencer Petras' time has finally come. Petras, who is a native of San Rafael California, has a ginormous upside. He is strong, tall, versatile, and has a strong enough arm to move the ball downfield with ease. When I was watching Petras's high school film, I was actually shocked that he did transfer after his freshman year. You have to respect a guy you fulfils his verbal commit and waits patiently for his moment to shine. I can not wait to see what happens now that Petras' number finally been called.
11. Rocky Lombardi – Michigan State
Aside from having the most badass name in the Big Ten, Rocky Lombardi is actually a pretty solid dual-threat QB. Lombardi, a Junior from Clive, Iowa has the type of build that college coaches dream of. 6'3, 217 pounds, and a frame that is made out of  pure muscle. What more could you really ask for? The one downside that you can say about the Juniors game is that he has lacked experience due to his predecessor, Brian Lewerke. I have, however, seen what he can do thanks to high school camps such as the Elite11. Is Rocky Lombardi a star? For sure not. But he is a good QB to start the Mel Tucker era in East Lansing.
10. Dylan McCaffrey – Michigan
I have been waiting for Dylan McCaffery to be named the starting QB for Michigan ever since the young prospect stepped foot on campus in Ann Arbor back in 2017. Sure, Shae Patterson was great and all (sike,) but McCaffery was born to be great. If Dylan's name sounds familiar it is because he is the brother to NFL superstar, Christian McCaffrey. Out of high school, McCaffery was said to be the next big thing, following in his brother's footsteps as a 4-star recruit. However, things have yet to play out for the 6'5 gunslinger and the once-coveted prospect is still waiting for his big break.
PS. McCaffery does not have the starting position won coming into Summer Camps. Joe Milton, who has one of the stronger arms I have ever seen, could very easily win the job with a few gut-wrenching, sweat endorsing performances.
9. Josh Jackson – Maryland
If there has ever been a case of a guy going from hero to zero in a blink of an eye, Josh Jackson may be it. During the 2017 season, Jackson could do no wrong. He was the starting QB for the nationally-ranked Virginia Tech Hokies as a Freshman where he compiled a stat line of 2,991 passing yards, 20 TDs, 9 INts, 324 rushing yards and 6 rushing TDs. Jackson was the talk of the nation and in many regards was considered to be one of the elite dual-threat QBs in the country. Fast forward to 2018, and Jacksons playing career gets turned upside down. During a shocking upset defeat against Old Dominion, Jackson suffered a fractured left fibula that left him sidelined for the remained of his Sophmore season.
After recovering from his injury, Jackson announced that he would be transferring to the University of Maryland. During his first year as a UM starter, Jackson looked almost unrecognizable, throwing for a total of 1,274 passing yards, tossing 12 TDs, hurling 6 INTs and finishing the season with an overall record of 3-9. Josh Jackson will forever be known as the Freshman phenom that could have been so much more.
8. Jack Plummer – Purdue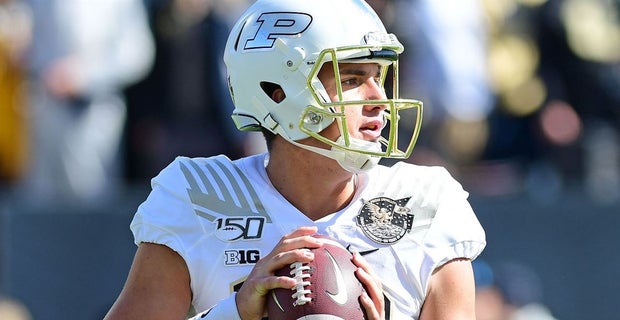 While Jack Plummer may be plunging toilets by night, he is a college QB by day. Plummer, who took over the reins as a starter a year ago, is a raw, unfiltered talent. Last season, Plummer finished his Freshman campaign throwing for 1,603 yards, tossing 11 TDs and hurling 8 INTs. I actually think this Arizona native could have a pretty strong Sophomore season, but he needs to figure out what is holding him back.
PS: Jack Plummer will have the luxury of throwing to Rondale Moore this season who is THE most explosive weapon in the Big Ten.
7. Brandon Peters – Illinois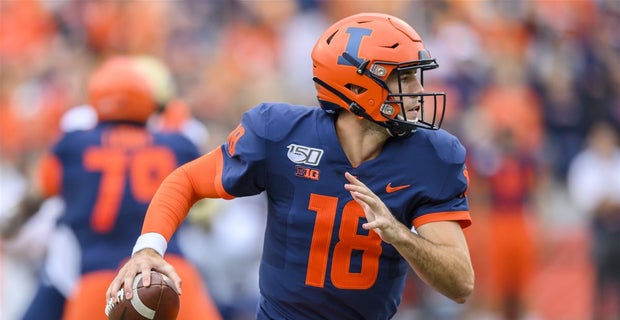 I'm gonna be honest. When Brandon Peters was at Michigan, I never thought I would be ranking him as a top 7 QB in the Big Ten. If anything, the Avon native could have been paired as one of the worst QBs in the conference. But boy, has this kid found a home in Urbana. Last season, Peters took Illinois to newfound heights as the program made a bowl game for the first time since 2014. Peters also led the Fighting Illini to huge wins @ East Lansing and a shocking upset win against Wisconsin, who was ranked 6th nationally at the time. Brandon Peters is a gritty, grind it out type of QB who is going to give his absolute all every time he steps on the field.
6. Adrian Martinez – Nebraska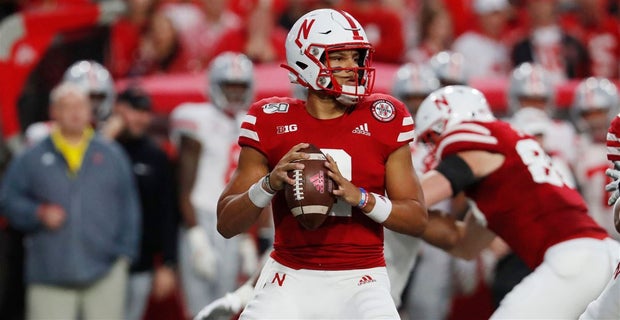 During this time last season, I actually had Adrian Martinez as a Heisman sleeper. The Fresno native had all the tools and abilities to have a monster year. However, after Martinez finished his Sophmore campaign with a final stat line of 1,956 passing yards, 10 TDs, 9 INts, 626 rushing yards, 7 rushing TDs and an overall record of 5-7, one can say that Martinez let down these expectations tremendously. Although I still believe that Martinez enough natural talent to compile a successful Junior season, I can no longer rank him amongst the elites of the elites in terms of Big Ten QBs.
5. Jack Coan – Wisconsin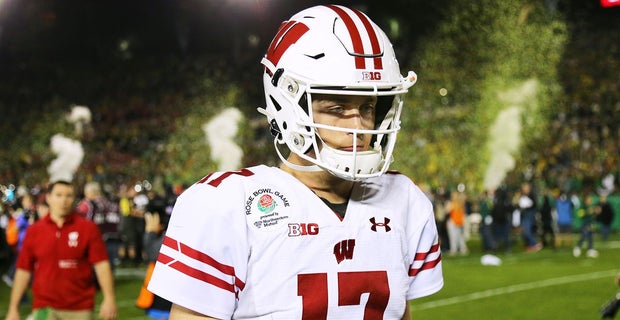 Let's talk about Jackie Heisman baby. Coan, a Senior from Sayville, NY can absolutely sling it. Last season, during his Junior campaign, Coan threw for a total of 2,727 yards, tossed 18 TD passed and hurled just 5 INTs. What I  really like about Coan is how he has the ability to control a game. He stays cool, calm and collective in the pocket and rarely shows his nerves on the gridiron. Coan is not the type of QB who is going to torch you for 400 yards a game, but he will stay consistent and gradually make you break. Sometimes college football can be won through the game of chess rather then checkers.
4. Sean Clifford – Penn State
You guys want a hot take? Sean Clifford is going to either A. Have a Junior year for the record books that puts him in the Heisman conversation or B. Fall off the face of a cliff and be benched by week 6. And I really don't think there will be much in between. Look, the matter of the fact is this. Sean Clifford is a really, REALLY talented QB. I mean the guy lead his team to an 11-2 record a year ago that was capped off with an NYB6 win against the Memphis Tigers. He throws a really pretty spiral, can scramble with his legs and is arguably the toughest QB in the Big Ten. But there are weaknesses to his game. During a loss against Minnesota last year, Clifford looked like a lost puppy, missing throws left and right. During a road loss to Ohio State, Clifford looked so bad that he was benched after an apparent "Injury." I like Clifford, but for whatever reason he has trouble showing up to the big game.
3. Michael Penix Jr. – Indiana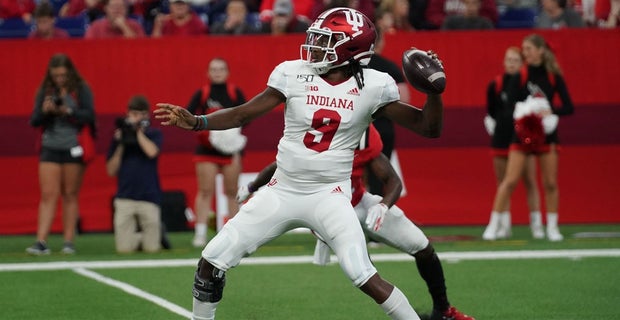 Micheal Penix Jr. is a superstar in the making. If people aren't aware of just how massive this Sophomores upside is, they are going to be hit like a Mack truck come fall. Let me paint a little picture for you guys. Last season, during Penix's Freshman year, the duel threat QB plays in just 5 games before getting injured. He goes 4-1, throws for a total 1,394 yards, tosses 10 TDs, hurls 4 INTs, rushes for 119 yards, and scrambles for 2 rushing TDs. Then Peyton Ramsey takes his place, finds success and ends up transferring at the end of the season based off of the sheer fear of Penix's talents. Do you know how good you have to be to force a QB to transfer after coming off of an injury? Micheal Penix Jr is getting ready to burst onto the national scene and I could not be more excited.
2. Tanner Morgan – Minnesota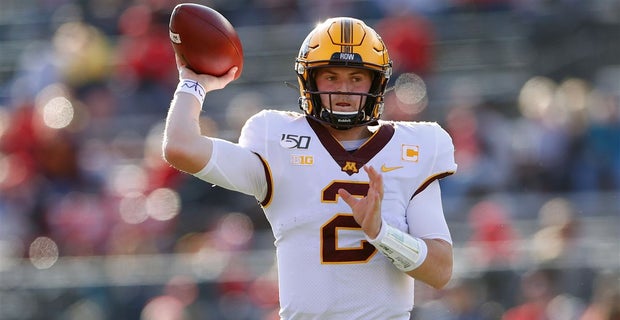 Perhaps the biggest surprise of the 2019 college football season came on the hands of the Minnesota Golden Gophers. Led by head coach PJ Fleck, the Gophers compiled an 11-2 record that was capped off with a bowl win against SEC powerhouse, Auburn. A huge reason for the Gophers 2019 success was in part to the brilliant QB play of rising Junior, Tanner Morgan. The 6'2 pocket passer amassed a season for the ages, throwing for a total of 3,253 yards, tossing 30 TD passes and hurling just 7 INTs. Morgan was also able to acquire an overall completion percentage of 66, which ranked in the upper echelon amongst the entire nation. When I watch Morgan play, I sometimes have to remind myself that he is only a Junior in college. He plays with such a mature, confident spirit to himself that you would usually be accustomed to seeing in a seasoned NFL vet. Although Morgan is heading into the fall without some of his top targets, such as Tyler Johnson, I expect him to still have a monster junior season.
1. Justin Fields – Ohio State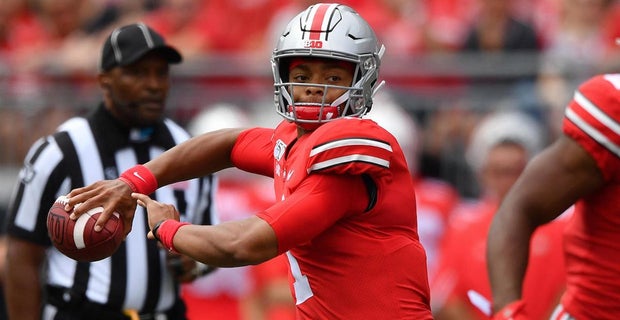 Was there ever any doubt of who was going to be #1? Justin Fields is not only the best QB in the Big Ten, but is arguably the best QB in the entire country. Last year, at the conclusion of his first season with Ohio State, Fields had led the Buckeyes to an undefeated regular season, a Big Ten Championship, a CFP appearance and finished 3rd in the Heisman voting. He also produced one of the most impressive stat lines the Big Ten has seen in quite some time. 3,273 passing yards, 41 TDs, 3 INTs, a 67.2 comp %, 484 rushing yards and 10 rushing TDs. Oh, yea and I almost forgot to mention, two of those interceptions came during the CFP semifinal, meaning that Fields went the duration of the regular season tossing just one INT. Do you guys understand just how ludicrous of a statistic that is? After doing some calculations, I was able to figure out that during the regular season last year, Fields threw for a total of 277 passing attempts. Only one of those passes were intercepted. That is greatness folks and we are ALL witness