What's going on you guys. As I sat on my couch yesterday and digested 12 hours of college football, beer in my hand and all; I thought to myself "Pete you gotta talk about these games in some way, shape or form." Sure, I have my podcast; Moving The Chains, a college football podcast, but that only gets you ready for your college football Saturday. What happens after the lights go out? That's when it hit me. For the duration of the CFB season, I will be breaking down the top 5 performers and absolute ballers of the week. This will give me a chance to not only put my takes down in a weekly column, but will also provide you guys with a better isight as to everything happening surrounding the crazy world of CFB. Enjoy!
5. Skylar Thompson – QB; Kansas State
A year ago, in the bowels of Manhattan Kansas, the Kansas State Wildcats stunned the Oklahoma Sooners by a score of 48-41. During that contest, Kansas State scored on 8 straight possessions and led a fiery offensive attack that could not be stopped.
Fast forward to present day, and the Wildcats of Kansas State made their way to Norman, Oklahoma as massive underdogs. Oklahoma had revenge on their minds, were the third ranked team in the country, and are host to a serious Heisman candidate in Freshman QB, Spencer Rattler. For most of the betting population including myself, this one could have been considered over before it even started. Skylar Thompson however, had different ideas.
Skylar Thompson, the combat warrior. Thompson, a senior from independence Missouri, would not take no for an answer on Saturday afternoon. He heard the hype surrounding his counterpart and decided that he would not only match his abilities, but out duel him in the process.
What I saw from Thompson on Saturday in Norman was nothing short of sensational. Every throw this cat made was on the numbers and it seemed as if with every play he executed, Thompson grew a belief in himself that he could lead this team to an upset for the second straight year.
See, you guys have to understand that this is a guy and this is a program who just two weeks ago, was defeated by Arkansas State on their home turf. You wanna talk about bounceback-ability! By days end, Thompson had compiled a a final stat line of 334 passing yards to go along with 1 TD pass, 3 rushing TDs and 0 INTs. It is also worth noting that this was the first 300 yard passing game of Thompson's career and I think it is safe to say that it came at a pretty clutch spot.
4. The Entire Miami Defense
Oh, how The U is back! The 2020 Miami Hurricanes are a really good football team. I'm talking, scary good. But the thing that has impressed me the most thus far about their early season success, is just how dominating their defense has been. We all knew coming into the season that Miami was going to have a potent offensive attack thanks to transfer QB, D'Eriq King, but I don't think anybody could have expected just how stout this defensive system was going to be.
During Miami's 52-10 drubbing against arch rival Florida State on Saturday night, Miami's defense looked like a unit possessed. For every one Florida State skill player who got a chance to touch the ball, it seemed as if Miami had a swarm of about seven defenders ready to pounce on the wimpy Seminole. Blake Baker, who is entering his second year as Miami's defensive coordinator, drew up schemes that were executed to a tee the entire night by this Hurricane defensive crew.
And sure, you guys can sit here and say that Florida State just sucks and this defnese is going to get exposed by Clemson in two weeks. But im telling you, if you watched this game last night, you would know that this defense was flying to the ball for all 4 quarters, collecting 13 tackles for losses and 6 sacks in the process. They also held Florida State's QB, James Blackman, to just 120 yards in the air, an abysmal state line to say the least. At the end of the day, I think we can all agree on the notion that when Miami is good, college football is at it's best.
3. Kyle Pitts – TE; Florida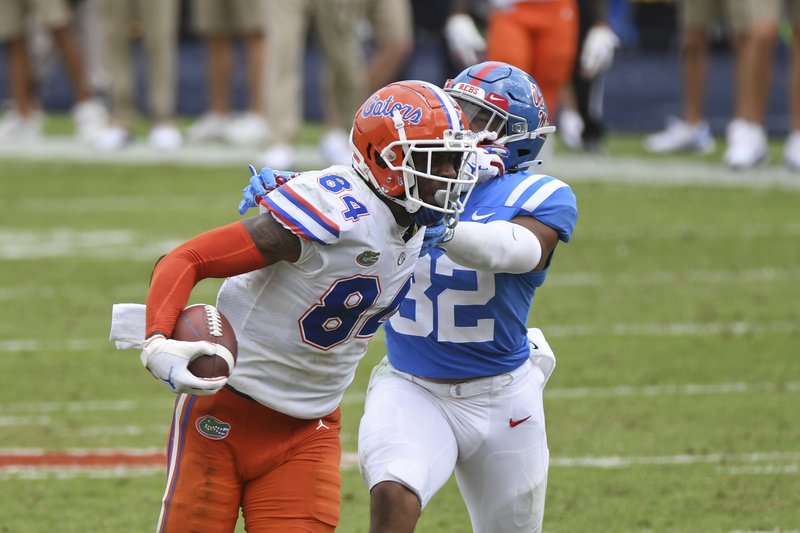 As a Penn State fan, I will be first person to admit that I have been caught in a biased bubble, depicting Pat Freiermuth as the best TE in college football. However, after watching Kyle Pitts put on an absolute show in Oxford on Saturday afternoon, I now know the race for the best TE in the nation, really isn't a race at all.
Pitts, a 6'6 Junior from Philadelphia, is the type of player you would often create in a football video game. He is big enough where he can pass as a TE, but in actuality, runs like he is a straight up wide out. For example, there were multiple points on Saturday afternoon, where I forgot Pitts was a TE, because the guy was literally bursting down field and outrunning "speedy" corners.
During Florida's 51-35 opening weekend win against Ole Miss, Pitts compiled an historic stat line, catching 8 balls to go along with 170 receiving yards and 4, yes 4 TD receptions. To put into perspective of just how impressive that is, Pitts led the SEC last year, and was amongst the top TE, TD catchers in the nation, with just 5 Touchdown Receptions. Let that stat sink in for awhile.
Additionally, Pitts tied the school record for the most scores in one day (4.) This is a man who has the frame, the athleticism and the pure grit, to put together an historic season.
2. Kyle Trask – QB; Florida
Kyle Trask was never supposed to make this list. He was never supposed to start the season as a Heisman contender and was never supposed to tie the record for the most passing TDs in an SEC opener. Trask was not a flashy high school recruit and in fact, was a back up in high school to now Miami star, D'Eriq King. Trask even continued his role as a back up when he arrived to Gainesville and had to wait for his number to be finally called a year ago.
But see, that is what I like so much about Kyle Trask. He is the definition of an underdog story. This is a guy who in no way, should be slicing and dicing SEC defense like it's his hobby but he does, because the guy has more grit, more tenacity, and more resiliency, then any of us combined.
And make no mistake about it, although Trask may not have been invited to the party initially, he has quickly become the king of the dance. During Saturdays opening weekend win against ole miss, Trask threw for 416 yards to go along with 6 TD passes. He also compiled an overall completion percentage of 71.6 and did not turn the ball over once. This is a guy who possesses all the positive traits you would want in a team leader and after just one week, has become my Heisman leader
1. K.J. Costello – QB; Mississippi State
Was there any doubt over who would be #1 on our list this week? K.J Costello, the grad transfer from Stanford took his talents down south and made perhaps the most impressive debut, we have seen in the history of college football. I mean, let's just think about the circumstances for a second. This is a guy, who is playing under a new system, a new head coach, a new conference and an entirely new culture. Oh yea, and I forgot to mention the fact that he had to make his SEC debut in the home of the defending national champions.
So now that we have all that out of the way, let's talk about just how impressive Costello looked. Aside from a sloppy pick 6, an arrant fumble and a few bad decisions, this California native was as close to perfect as you are going to find. Every pass he made was crisp. Every progression he checked was sound and every deep ball he delivered was on the money. Costello played with a confidence and had a swagger to him on Saturday that I have not seen in a long time. And frankly, that is what the Air Raid offense does to a QB. Mike Leach has established a culture and rapport with his QBs where both he, and the QB know that if they follow the system properly, the QB is going to throw for upwards of 350-400 yards per game and will lead the nation in passing by seasons end. That has to be pretty awesome feeling.
By nights end, Costello had not only led his team out of Baton Rouge with a W, but had thrown for a total of 623 yards to go along with 5 TD passes. Additionally, Costello broke Dak Prescott's record for the most single game passing yards in school history and broke Eric Zeier's record for the most single game passing yards in SEC history. Costello's SEC debut will be talked about for decades to come, but the real question now becomes, can he keep this pace up?