One More Week……#B1G
Honorable Mention – Arkansas's Social Media Team
5. Trevor Lawrence – QB; Clemson
Trevor Lawrence could have easily been gifted with the top spot for this weeks top performer of the week. But due to the fact that Lawrence's Clemson Tigers put an absolute beat down on the Georgia Tech Yellow Jackets, by the Tune of 73-7, the Junior sensation was only able to acquire playing time, for a half a change.
So how did Lawrence crack our list, playing just 2 quarters of ball on Saturday afternoon? How does 5 first half TD passes, to go along with 391 passing yards sound? Lawrence was on pace to shatter records and create a final stat line that would have been talked about for generations to come.
In a way, I kind of wish that they would have kept Lawrence in, just to see how "ugly" things would have gotten. Would Clemson have put up 100 points? Would Lawrence have thrown for 800 yards? 10 TDs? Who knows. What I do know, is that this kid is special and is going to make an NFL franchise very happy in the coming months.
4. Hudson Clark – CB; Arkansas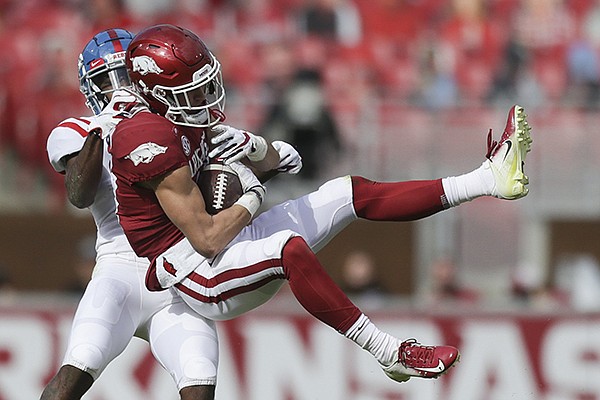 There is about a 99.99% chance that coming into Saturday, you had no idea that Hudson Clark even existed. And I can't blame you. I didn't either. I mean, the kid stumbled into Fayetteville last fall as a walk on with no recruiting stars to his names, and had to fight to even dress on Saturday afternoons. He is in many ways, the southern RUDY.
But see, that is what makes college football so special. If a player battles his ass off on the practice field, more often than not, the results will show between the lines. And that is exactly what we saw come Saturday afternoon, as Clark intercepted Matt Corral, who had the nations highest QBR coming into the contest, not once, not twice, but three times. Clark's unexpected, yet heroic performance helped Arkansas secure a 33-21 win over the highly favored, Ole Miss Rebels. I think after today, it is safe to say that we will never forget Hudson Clarks name.
3. Zach Wilson – QB; BYU
Coming into Friday nights road matchup against Houston, I knew that BYU was pretty good. They had a really good defense, one of the better OL in the country, and could score the ball with the best of them. However, after the gritty performance I saw from Junior QB, Zach Wilson, I am ready to declare BYU as one of the ELITE teams in the nation.
Wilson, a guy they call the mormon Manziel, can do it all. Throwing the deep ball with touch? Check. Throwing the deep ball with accuracy? Check. Alluding pressure by scrambling for positive yards? CHECK. What most impressed me about Wilson's performance on Friday night, was his ability to control the game. There was a point in about the 3rd quarter, where BYU was trailing by 2 scores, and Wilson decided that he was going to take over the game. And that's what you need in a QB. A guy who doesn't get lost in the face of adversity, but rather takes that adversity, and makes it his bitch.
By nights end, Wilson had thrown for a total of 400 yards to go along with 4 touchdown passes. The Utah native also ran for 40 yards and finished the night with a QBR of 86.9. Wilson is a special talent who is going to be making plays on Sunday afternoons before we know it.
2. Brady White – QB; Memphis
Coming into Saturday, the Memphis Tigers had lost to the UCF Golden Knights 13 straight times. 13. And for much of Saturday afternoon's Soiree, it looked as if this this vicious cycle was going to continue, as Memphis' defense couldn't stop my grandma on stilts.
However, there was one man, one performance who shaped the outcome of this game. A man who would not take defeat as an option. Brady White, a senior QB from California, was on a MISSION to break the Tigers long lasting losing streak.
As I watched this game on Saturday afternoon, it was almost hard to believe what I was seeing. White, who don't get me wrong, is a very talented QB, looked like the second coming of Peyton Manning. I mean the dude went up and down the field with EASE, more times then I could even count. By days end, White had acquired an overall stat line of 486 passing yards to go along with 6 TD passes and 0 INTs. Additionally, and most importantly, White had helped his team break the streak, by leading a last minute, game winning drive, in route to a 50-49 win. Simply amazing.
1. Mac Jones – QB; Alabama
Mac Jones is going to win the Heisman trophy. I said it two weeks ago, I'm pretty sure I said it last week, and I am going to say it again. And to be honest, we should just stop the race now, because Jones has created such a big lead, that it has become seemingly impossible for anyone to catch up.
Now sure, that claim may be a bit much, as Jones has only played in 4 games thus far, but are we seeing what this guy is doing? Coming into Saturday's contest, I thought there was a 2% chance that Jones was going to be able to put up the numbers that he was previously accustomed to, due to the fact that Georgia is host to the best defense in the country. But Jones proved me incredibly wrong, throwing for a total 417 yards, to go along with 4 TD passes and a QBR of 97.7.
What Jones did on Saturday night, in route to a 41-24 win, was nothing short of breathtaking. The Jacksonville native has a presence and calm to him that makes you believe that no matter what situation he is put into, he is going to handle, and conquer with flying colors. Jones did not have the greatest first half in this contest, and in fact, went in the locker room trailing by 4 points. But I almost knew that Jones was going to be fine, and was going to come out of the break sharp as a thumbtack. Because that is what great QBs due. They create a belief amongst their constituents.
I am going to leave you guys with a hot take that I truly believe. I am 21 years old and have watched college football nearly my whole life. Mac Jones is the most complete Alabama QB that I have seen thus far in my lifetime. That includes Tua, Hurts, Mcelroy and Mccarron. (Drops the mic.)