The Big 10 is so back.
Honorable Mention – Lane Kiffin
Drip too hard
5. Carson Strong – QB; Nevada
On Saturday, the Mountain West Conference returned to play, after initially postponing their season due to COVID concerns. And look, is returning to play the right decision in terms of player safety? Of course not. But that doesn't take away from the fact that we were treated to one hell of a football game on Saturday afternoon between the Wyoming Cowboys, and the Nevada Wolfpack.
Nevada, who ultimately came away with a 37-34 thriller in OT, rode the coat tails of their Sophomore gunslinger, Carson Strong. Strong, a native of Vacaville, California, made about as good of a season debut as you are going to find. By nights end, the second year starter came away with a final stat line of 420 passing yards to go along with 4 TD passes and a completion percentage of 75 percent. Strong may not be the biggest household name in America, but he is certainly a guy you are going to want to follow through the duration of the fall.
4. Marlon Williams – WR; UCF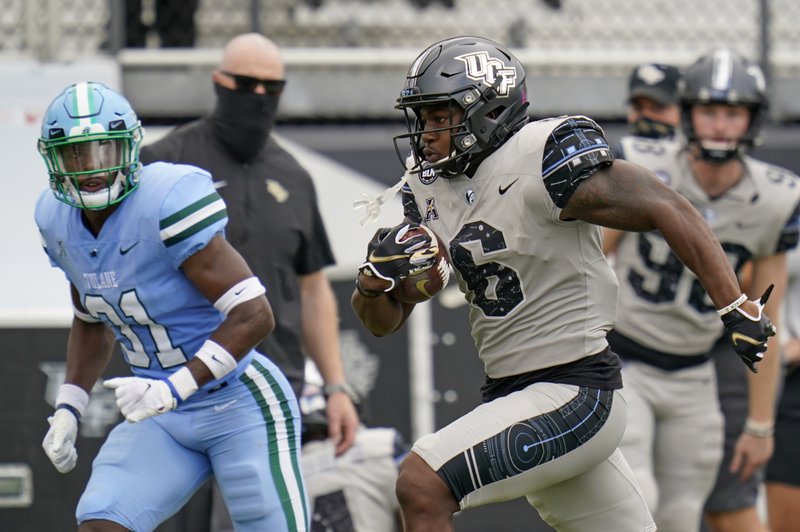 During the winter of 2017, Scott Frost, who was then the head coach at UCF, accepted a job to be the next coach at his alma matter, Nebraska. 8 months later, QB, Mackenzie Milton, who was a staple for the Golden Knights program, suffered a career threatening leg injury that have left him sidelined to this day. The overall contingency was that if you take Frost and Milton away from this program, the Golden Knights would never be able to get back to the offensive success that was achieved through that duo.
However, as we flash forward to present day, the Golden Knights of UCF have not missed an offensive beat. UCF is currently averaging 45.2 points a contest, to go along with 646.8 yards of total offense a game. And much of this offensive success can be contributed to two guys. Sophomore QB, Dillion Gabriel, who was the high school backup to Milton in Hawaii, and Senior WR, Marlon Williams. Williams, who is slowly, but surely solidifying himself as one of the top playmakers in the country, put on a clinic during the Golden Knights 51-34 win Saturday night. Gabriel's top target had accounted for 174 receiving yards on 9 receptions to go along with 3 receiving TDs. If the Knights could ever figure out the mess that they call a defense, they would have a chance to be really special.
3. Graham Mertz – QB; Wisconsin
When the Big Ten announced that it would be returning to play in mid October, the Badgers of Wisconsin were immediately greeted with heartbreaking news. Senior QB, Jack Coan, who had led the Badgers to a Rose Bowl appearance just a season ago, had suffered a non contact injury to his foot in practice, which would leave him sidelined for the duration of the season.
With no other options, the Badgers called upon redshirt Freshman, Graham Mertz to handle the reigns on Friday night. Mertz, a native of Oakland Park Kansas, is your prototypical Big Ten QB. He is tall, has good pocket awareness and can deliver a ball into tight coverage like you wouldn't believe.
During Friday nights win against Illinois, Mertz, who was making his first collegiate start, put together a performance for the ages, throwing for 248 yards to go along with 5 touchdown passes. Additionally, Mertz connected on 20, out of his 21 passing attempts, leaving him with an overall completion percentage of 95.2. This completion percentage is not only impressive in itself, but broke the schools record for the highest completion percentage in a single game. Talk about making a first impression.
2. Malik Willis – QB; Liberty
There is a good chance that you have never heard of Malik Willis before. And there is probably an even better chance that you are not aware of just how good the Liberty Flames are. And that's okay. I am here to educate, acknowledge and give praise to the most underrated team in the nation.
What Hugh Freeze, in just his second year with Liberty has done for the culture of this program, is nothing short of magnificent. The Flames, who are in year 3 of FBS play, currently find themselves with a 6-0 record.
On Saturday afternoon, Liberty continued their path to perfection, defeating the Southern Miss Eagles by a score of 56-35. Much of the flames offensive success on Saturday came through the helms of Junior QB, Malik Willis, one of the nations most explosive duel threat QBs. Willis, a 6'1 showstopper from Atlanta, put on a performance to remember, collecting 345 passing yards to go along with 6 TD passes. Willis was also able to rush for a total of 97 yards, find the end zone with his legs once, which gave him an overall stat sheet of 442 all purpose yards and 7 total TDs. And no, Willis is not a player I created in Madden, he is as real as it gets. Remember the name and remember the Flames.
1. Justin Fields – QB; Ohio State
For the last 3 weeks, I have declared that the Heisman race was officially over. Mac Jones, the gunslinger out of Tuscaloosa was too many lengths ahead for anybody to catch up. However, now that the Big Ten is officially back, I think there is a QB in Columbus that is ready to join the party.
Justin Fields is a special QB; and I am talking like, elite, must watch TV kind of special. There is something about the way that Fields controls a game, that just makes my mouth water. And look, we all saw the type of season that Justin Fields had a year ago. 51 overall TDs. 3,200 passing yards. 3 INTs. Heck, if it wasn't for a man down by the bayou putting together one of the most impressive single seasons in the history of college football, Fields would already have a Heisman trophy to his name. But to see Fields step out on that gridiron Saturday afternoon, after not playing competitive football for nearly 10 months, and not miss a SINGLE beat, was truly something that left me speechless.
By days end, Fields had led his Buckeyes to an opening week win over the Nebraska Cornhuskers by the tune of 52-17. The Junior QB had connected on 20 of his 21 passing attempts, had collected 276 passing yards, 2 passing TDs, 54 rushing yards and 1 rushing TD. As a result of this epic performance, Fields was given a QBR of 97.0, one of the highest grades we have seen this season. While I still feel that Jones has a lead in the Heisman clubhouse, the race has certainly become a hell of a lot more interesting.