Oh what a Spooky week it was.
Honorable Mention – Michigan State's Social Team
Boom Roasted
5. Desmond Ridder – QB; Cincinnati
A year ago, the Cincinnati Bearcats ended their 2019 campaign playing the Memphis Tigers in consecutive weeks. One to conclude the regular season, and one to determine the winner of the American Athletic Conference. Cincinnati lost both games.
With revenge on their minds, the Bearcats were set to flip the script, welcoming in the Tigers, on a cold Halloween afternoon. From the moment the ball left the brisk air, it was clear that Cincinnati was the more dominate team, in every facet imaginable. They were more sound on defense, had the better offensive attack and played with a sense of purpose with every given snap.
The Bearcats would go on to roll to a dominating 49-10 win. One player who had a key part in Cincinnati's demolition was Junior QB, Desmond, Ridder. Ridder, a native of Louisville Kentucky, came into Saturday with a purpose. Coming into this contest, many football experts, including myself, were hesitant to call Cincinnati elite, due to mediocore play at the QB position.
On Saturday, Ridder quickly shut those claims down, going 21-26, acquiring 271 passing yards, connecting on 3 TD passes, rushing for 41 yards, and scrambling into the end zone an additional 2 times. After this performance, Ridder helped solidified his team as a LEGIT, CFP contender. Watch out for these bearcats.
4. D.J. Uiagalelei – QB; Clemson
On Thursday night it was announced that Trevor Lawrence, who is widely considered to be the best player in college football, tested positive for COVID-19. As a result of this positive test, Lawrence was put into isolation, and was forced to sit of Clemsons Saturday matinee vs Boston College.
D.J. Uiagalelei, a true freshman out of St John Bosco, never in a million years could have predicted that his first career start would have came this early. When he first committed to come to Clemson as the nations top recruit, he knew that his first year on campus would be a learning period on the sidelines, behind Trevor.
However, as the saying goes; next man up. And to Uiagalelei's, and the rest of the Tigers coach staffs credit, the true freshman was prepared to make this start like you wouldn't believe. Every throw D.J. made, was as crisp as the air was cold. The touch that Uiagalelei put on his throws was something you would expect to see out of a 5th year Senior. And sure, Clemson's defense looked anything but perfect, giving up 28 first half points, but if we learned anything from Clemsons victory on Saturday, it was that the Tigers will be just fine with their QB2.
By days end, Uiagalelei had compiled a debut stat line of 342 passing yards, 2 TDs, 0 INTs, 1 rushing TD and a completion percentage of 73.2. After the game, head coach Dabo Swinney announced that Trevor Lawrence would also be ruled out for next weeks game, meaning that Uiagalelei will make his first road start, in South Bend, against the 4th ranked team in the nation. Could you ask for a better story line?
3. Ricky White – WR; Michigan State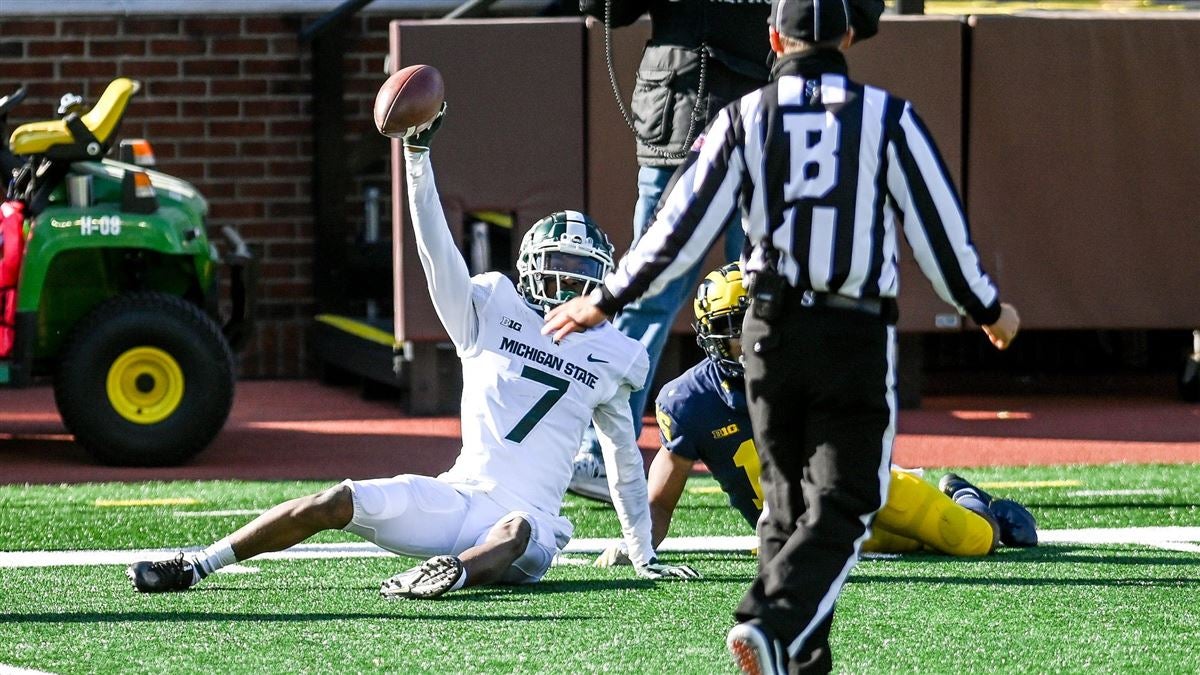 The Battle for the Paul Bunyan Governors trophy. A rivalry that dates back all the way 1898, the Michigan vs Michigan State rivalry is a rivalry that is filled with hate, heart and a whole lot of bad blood.
On Saturday, during the 113th meeting of this decorated contest, the Michigan State Spartans made their way to Ann Arbor as a depleted bunch. A week ago, the Spartans were manhandled on their home turf by Rutgers to the tune of a 38-27 loss. Additionally, during the last two meetings of this contest, the Spartans had been outscored by the Wolverines by a combined score of 65-17. Things were not looking to promising for the men from East Lansing.
With every great upset performance, comes a herculean showing from a man you would least expect it from. During last week's loss to Rutgers, Freshman WR Ricky White had just one catch for 5 yards. A invisible stat line to most. Fast forward a week later, and White has the whole world talking about him, his team, and the Paul Bunyan trophy making it's way back to East Lansing. White went into Ann Arbor and put on an absolute show, racking up 196 yards on 8 receptions, to go along with 1 receiving TD. The Spartans would go on to shock the world, defeating the #13th ranked Michigan Wolverines by a score of 27-17. We are Sparta baby.
2. Matt Corral – QB; Ole Miss
Coming into Saturday, Matt Corral had gone through one of the toughest two week stretches a collegiate QB could every go through. It all started on October 17th, when Corral made his way to Fayetteville Arkansas and was greeted with a fiery Razorback secondary attack. Corral ended up throwing 6, yes 6 INTs en route to a 33-21 loss.
Fast forward to October 24th, and Corral finds himself back home in Oxford, welcoming in the Auburn Tigers. Although the Sophomore gunslinger didn't play nearly as bad as he did the week prior, he still manages to throw 2 more picks, and sees another L get plastered to the right side of the score column. Two weeks, two losses, 8 interceptions.
So you may be wondering by now, how the hell is Matt Corral number 2 on this weeks list? Well for starters, it is important to note that Vanderbilt's defense is bad, like really bad. But it also important to acknowledge that Corral is a fighter, who shows up to practice every day ready to work.
By days end, en route to a 54-21 drubbing against Vandy, Corral had acquired a stat line that is good enough to make your mouth water; 31-34, 412 passing yards, 6 TDs, and most importantly, 0 INTs. Corral was so dialed in during one point in the game, that he broke Eli Manning's record for the most consecutive completions in a game with 19. Talk about a bounce back for the ages.
1. DeVonta Smith – WR; Alabama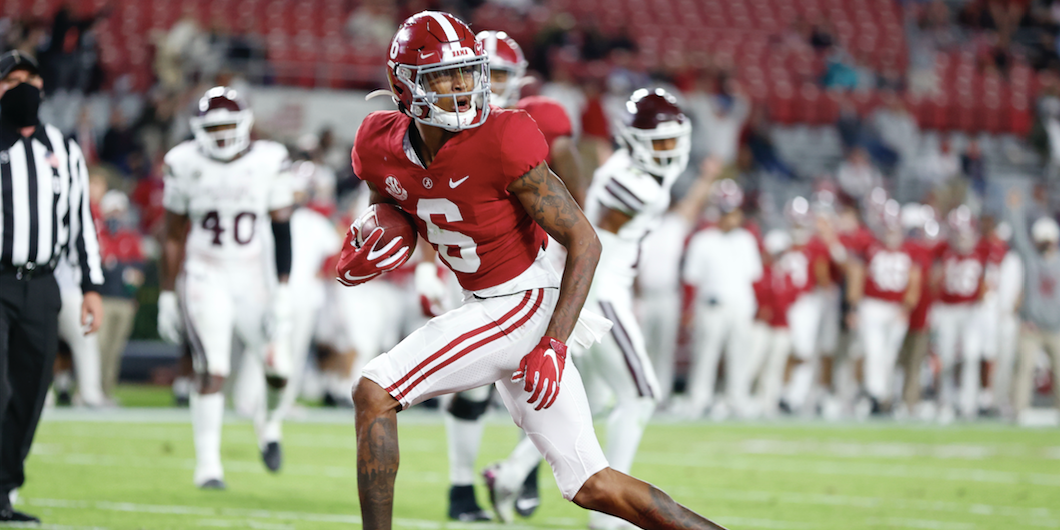 A week ago, during Alabama's dominating win in Knoxville, the Crimson Tide sustain a heartbreaking injury. Jaylen Waddle, who had been one of the teams leading receiver's, suffered a fractured ankle, that would leave him sidelined for the remainder of the season.
Now, for most teams, losing a guy like Jaylen Waddle would be detrimental to the success of a programs season. Because Waddle, in many ways, in irreplaceable. But because Alabama is Alabama, they have the luxury to recruit more 5 stars than the top steakhouse in LA receives on YELP.
DeVonta Smith, a Senior WR out of Amite, Lousiana is the perfect example of the luxury that Alabama has. Smith, who was in many ways already the top target for QB Mac Jones, prior to Waddles injury, solidified himself as a dominate force on Saturday night.
As Alabama went on to cruise to a 41-0 victory against the Bulldogs of Mississippi State, Smith put on a performance to remember; acquiring 203 Receiving yards on 11 receptions to go along with 4 TD catches. These are what we like to call "Video game like numbers." Will Waddles injury hurt the Crimson tide in some way? Sure. But when you still have receivers like DeVonta Smith to throw to, it is hard to keep your head down for too long.