Best week Ever.
Honorable Mention – Rutgers Trick Plays
5. Justin Fields – QB; Ohio State
It is becoming more and more apparent with each week that goes by that I may have jumped the gun when I declared Mac Jones the winner of the Heisman trophy. And don't get me wrong, Jones has not slowed down. The dude is still slinging the rock at an incredible rate and still may very well be on his way to hoisting the most prestigious trophy in all of collegiate sports. But there is this guy in Columbus, who is putting together one of the most impressive seasons we have ever seen.
Justin Fields is a star. There is no two ways about it. The 6'3 Junior out of Kennesaw, Georgia is one of, if not the most polished QB I have ever seen at the college level. When I watch Justin Fields play, I get goosebumps; like truly. There is something about the way this guy plays, where you almost know that you are witnessing greatness. Greatness that we have not seen in quite some time.
During Ohio State's 49-27 win on Saturday night, Fields put together another jaw dropping performance. 24-28, 314 yards, 5 TDs, 0 INTs, 1 rushing TD. This brings Fields completion percentage for the season up to 86.7 and his QBR up to 96.2. Both of which, are tops in the nation by a wide margin. I am not ready to say that Justin Fields is the new leader in the Heisman clubhouse, but it is getting pretty damn close.
4. Mohamed Ibrahim – RB; Minnesota
Last week, Mohamed Ibrahim was very close to cracking our list. The 5'10, 210 pound back from Baltimore put on an absolute clinic in his home state, rushing for 207 yards to go along with 4 rushing touchdowns. The only problem was that the Gophers lost, and out of the 6 weeks I have been doing this column, not one losing player has made the list.
However, as we fast forward ahead to present day, the Gophers of Minnesota can now add a win to their record column, as they defeated the fighting Illini out of Urbana Champagne by a score of 41-14. And to almost no ones surprise, Ibrahim, who is beginning to solidify himself as one of the premier backs in the country, put on yet another show.
By days end, the down hill speedster had racked up a stat line to remember, rushing for 224 yards to go along with another 4 rushing TDs. Ibrahim has been so dominant to start his 2020 campaign, that I truly believe we should start to consider putting him in the Heisman conversation. In just 3 games played, Ibrahim has already rushed for a total of 571 yards, has carried the ball 97 times and has crossed the pylon 10, yes 10 times. If you are not aware of just how special this kid is, I suggest you start learning quick, because he is just getting started.
3. DJ Uiagalelei – QB; Clemson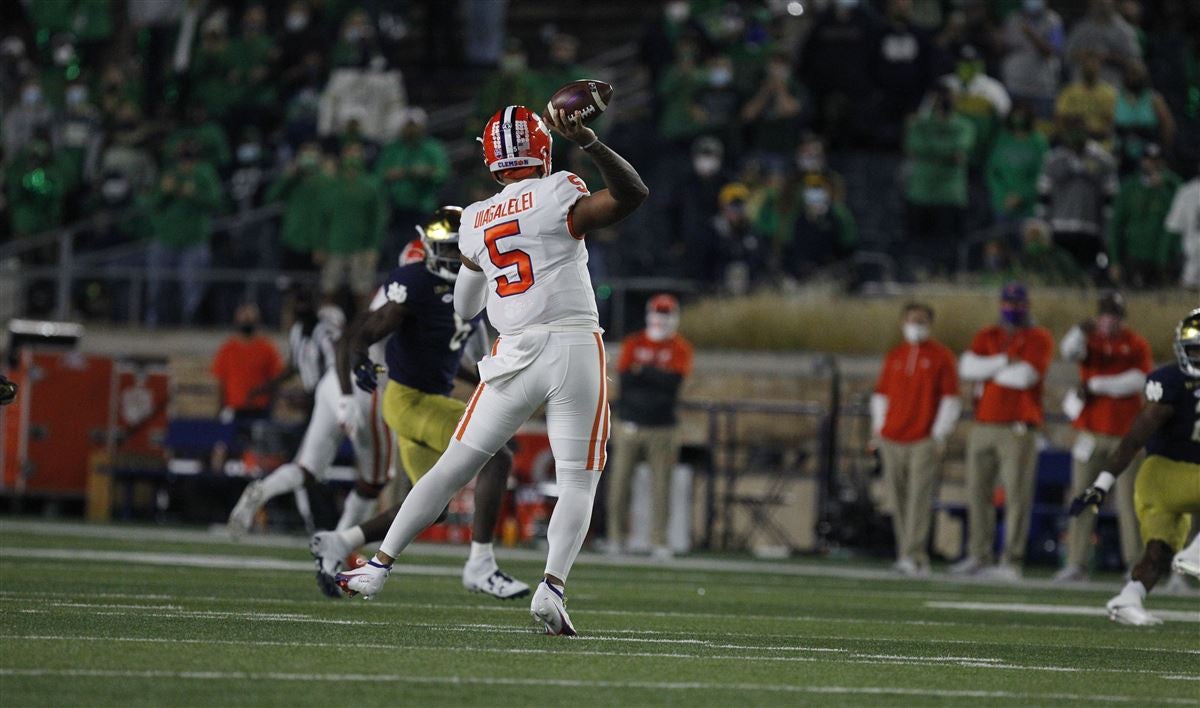 Like I previously alluded to before, out of the 30 spots that have thus far been given out in this column, not one of them has been rewarded to a losing player. However, I think it is time that we give out our first exception. What DJ Uiagalelei did on Saturday night, was nothing short of exquisite. Make no mistake about it, Clemson may have lost on Saturday night, but the last person that can be blamed for the Tigers defeat is Uiagalelei.
Coming into Saturday's much anticipated contest between the Clemson Tigers and the Notre Dame Fighting Irish, I told my dad that Clemson was host to two, top 10 QBs in the country. He called me crazy. Can you blame him though? Calling a backup QB, who is a true freshman never the less, one of the 10 best QBs in the country, is quite the outrageous claim. But I knew. I knew how special the man they call the Big Cinco was.
And in his just second collegiate start, Uiagalelei solidified my claim, throwing for a total of 439 yards to go along with 3 total touchdowns. Now just how special of a performance was this you may be asking? With 439 passing yards, Uiagalelei broke the record for the most passing yards in a single game against Notre Dame…in the history of their storied program (This record was previously set by Carson Palmer in 2002.) The Big Cinco is a special talent, who is only going to get better with age.
2. Kyle Trask – QB; Florida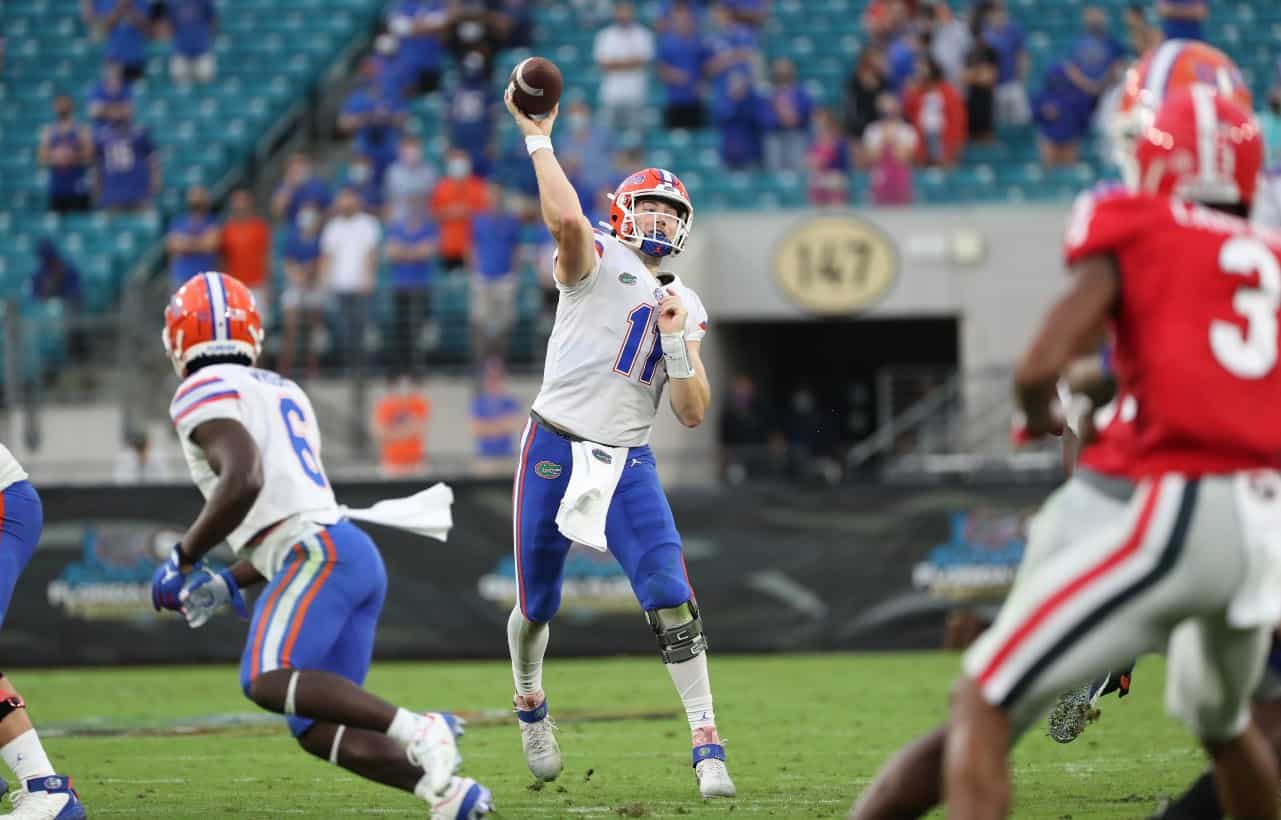 42-7, 36-17, 24-17. These are the scores of the last three meeting between the Florida Gators and the Georgia Bulldogs, all of which favored the men of Athens. And for the first 5 minutes, during the 2020 installment of the world biggest "socially distant" cocktail party, it seemed as if this trend would carry on, yet another year.
However, Kyle Trask, a QB who was never supposed to be in this moment, decided that the narrative on Saturday afternoon, was going to be surrounded by him. Every throw the texan made was on the money. Every decision he made was better than the next and in the blink of an eye, the Florida Gators had seen their 14-0 deficit evaporate, and were suddenly in the drivers seat.
When the clock finally hit zero on a rainy Jacksonville afternoon, the Florida Gators had snapped their 3 game losing streak, by the tune of a 44-28 dominating win over their greatest rival. Additionally, Trask had placed himself in the Heisman conversation, with one of the most dominating performances, we have ever seen during the decorated UF-UGA rivalry. (30-43, 474 yards, 4 TDs, 1 INT.) This performance also put Trask in elite company, as became the first QB, in the history of the SEC to throw for at least 4 touchdown passes in 5 straight games. To all of the recruiters out there who did not even show up to Trask' high school games, I hope this serves as a lesson, to never count your chickens before they hatch.
1. D'Eriq King – QB; Miami
When D'Eriq king transferred to Miami over the offseason, he said that he wanted to be put in the spotlight. He wanted to be placed in moments where all eyes were on him and he wanted to perform for the world to see. On Friday night, D'Eriq King was granted his wish.
King, the Senior transfer from Houston, is the type of talent that comes around only once every full moon. King, who has the arm of a rocket, and the legs of a cheetah, creates problems for almost every defense in the country. On Friday night, as the NC State Wolfpack had their way with the Hurricanes defense, King showed that to beat his team, it was gonna take more than scoring some points.
What impressed me most about Kings historic Friday night performance was that with every punch that NC State would delivery, King would respond with a blow that laid twice as hard of an impact. Your gonna throw for a 50 yard screen? That's cool, I'll rush for a 80 yard tuddy, slicing up your secondary in the process. This act of resiliency is a trait that few coligiate athletes posses and is a trait that can seperate the men, from the boys.
By nights end, King had led his Miami Hurricane team back to a 44-41, weekend starting thriller. The 5'11, duel threat QB had compiled an overall stat line of 430 passing yards, 5 touchdown passes, 0 INTs, and 105 rushing yards.
In the past 20 seasons, only 4 QBs in all of college football have compiled a stat line of 400 passing yards, 100 rushing yards and 5 passing touchdowns. And guess what? King has done this TWICE, as he accomplished this same feat back in 2018, as a member of the Houston Cougars. You wanna talk about a superstar developing right in front of our eyes? Have a day, have a year, and have a collegiate career, Mr. King!!