Michigan and Penn State currently have a combined record of 1-7. Who woulda'e thought.
Honorable Mention – College Kickers
5. Ty Fryfogle – WR; Indiana
The Indiana Hoosiers are 4-0 and are a top 10 team in the country. And no, we are not talking hoops. Indiana Football, who has frankly, never been relevant, is having a season to remember. This unforgettable season can be credited to the great mind of HC Tom Allen, or the flashy southpaw, who commands the ship in Michael Penix Jr.. But it also important to remember the less likely hero's, who are helping this team all of a sudden become a household name.
Ty Fryfogle is the hottest wideout that you probably have never heard of. The senior from Lucedale, Mississippi is the process of putting together one of the most impressive two week stretches that we have ever seen. Two weeks ago, as the Hoosiers demolished the Wolverines of Michigan, Fryfogle put on an absolute clinic, collecting 142 receiving yards to go along with 1 TD. This showing was than followed up this past weekend, as Fryfogle torched Michigan States secondary in East Lansing, collecting 200 receiving yards, to go along with 2 TD catches, both of which were career highs. This is a really talented playmaker who is a part of a really special story.
4. Grant Wells – QB; Marshall
November 14th, 1970. A day we will never forget. A chartering jet carrying 36 Marshall football players, 9 coaches, 25 boosters, and 5 crew members, crashed on a hillside, killing everyone on board. It will go down as one of the most tragic days in the history of collegiate sports and is a day that is still hard to process for the Thundering Herd community.
On Saturday, during the 50th anniversary of that tragic day, Marshall remembered all of the lives that were taken much too soon. They wore commemorative jerseys, had a pregame ceremony and played for way more, than just themselves. For Grant Wells, a true freshman QB from Charleston, he knew that this start, meant just a little bit more than all the others. Every throw Wells made was had just a tad more umf on it and every decision he made seemed to be just a bit more meticulous.
By days end, Wells had compiled the most impressive and important start of his young career. He had managed to throw for a total of 336 passing yards, to go along with 5 TDs and 0 INTs. The Thundering Herd went on to cruise to a 42-14 win, to secure their 7th win of the season. This win was dedicated to the 75 lives that were lost during that tragic November day, now 50 years ago. We are Marshall.
3. Matt Corral – QB; Mississippi
Matt Corral may be the most interesting case study in America. I mean, this is a guy that less then a month ago, threw 6 picks in a loss against Arkansas, and has now managed to turn it around, and make our list during back to back starts. Is he the collegiate edition of Jameis Winston (2019 edition?) I think so.
On Saturday afternoon, during a 59-42 shootout win vs the South Carolina Gamecocks, Corral, a Sophomore QB from Ventura, California put on a clinic to remember. By days end, Corral had managed to connect on 28, of his attempted 32 passes, had thrown for a total of 513 yards, threw for 4 TD passes, and, to add to the icing on the cake, rushed for a touchdown as well. Matt Corral may not be the most consistent QB in America, but when this gunslinger is on, he becomes one of the most dangerous weapons in the country.
2. Kyle Trask – QB; Florida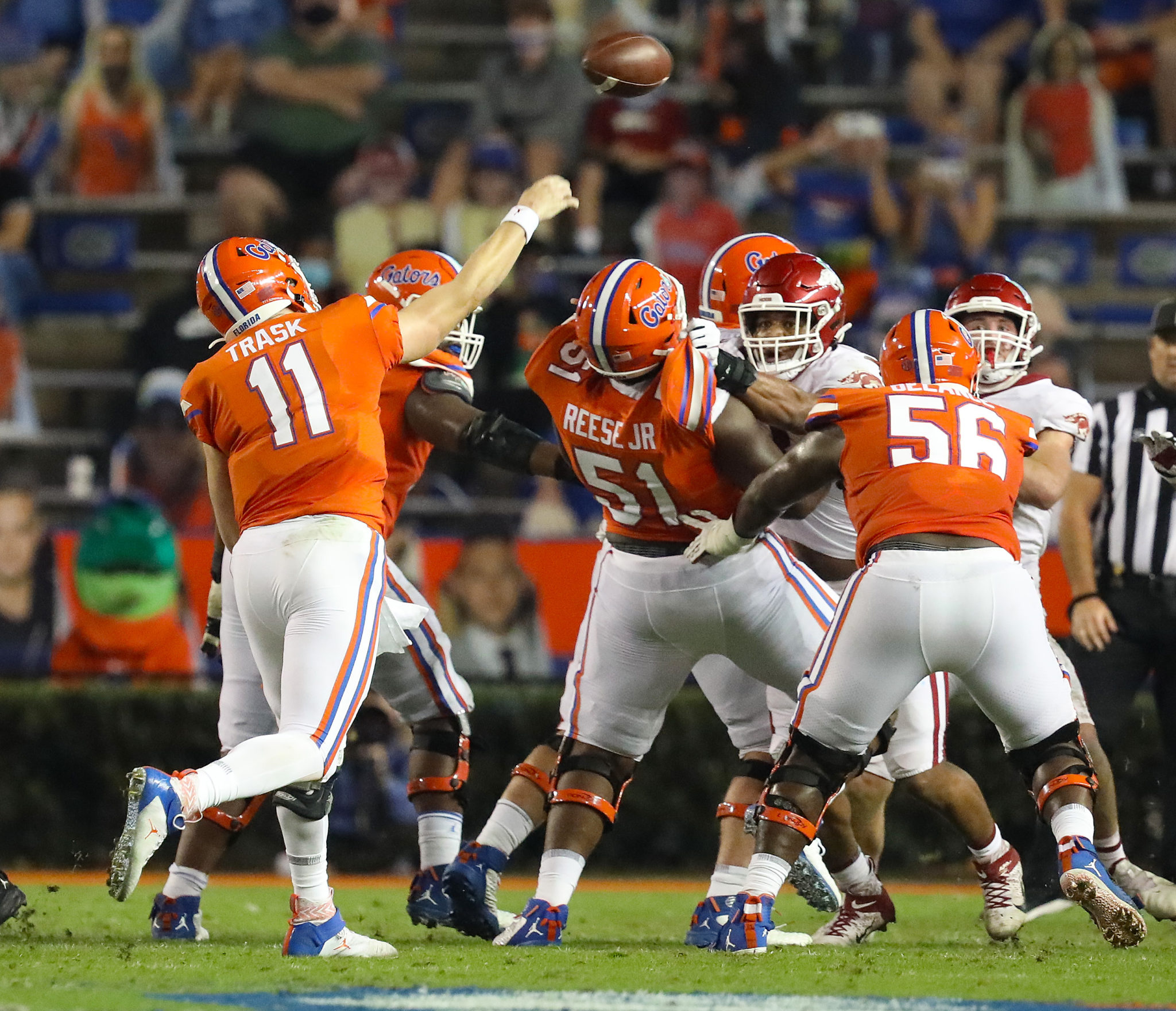 A few weeks ago, I declared that Mac Jones had already won the Heisman, and the race was pretty much all but over. I then retracted this claim, as Justin Fields…well does what Justin Fields does. And I am now here today, on November 15th, 2020 to say that the Heisman race has officially become a 3 horse heat. Kyle Trask is a special competitor and it is about time that we start to give him the recognition that he rightfully deserves.
On Saturday night, during a 63-35 route of the Arkansas Razorbacks, Kyle Trask continued to do what he has been doing all season long, which is to flat out dominate his competition. The 6'5 senior from Manvel, Texas threw for a total of 356 passing yards to go along with 6 passing TDs. With these 6 passing tuddies, Trask now leads the nation with 28 touchdown passes, and has secured the nations third highest QBR with a total of 93.9 And if you were to take a wild guess, who would you say has the first, and second highest QBRs in the country. That's right, Justin Fields and Mac Jones.
1. Sam Howell – QB; North Carolina
There are shootouts, there are track meets, and then there is whatever the hell we witnessed on Saturday between the North Carolina Tar Heels and the Wake Forest Demon Deacons. 112 total points, 60 total first downs, 1348 total yards of offense; absolutely ridiculous. And while North Carolina may have came away with a 59-53 win on Saturday afternoon, it will be the performance of the Tar Heels QB that we will be talking about for years to come.
Sam Howell was on my Heisman watch list to start the 2020 season. He was coming off a ridiculously impressive freshman season and I felt as if he was going to take the ACC by storm. However, coming into Saturday's soiree, Howell had not lived up to these expectations, looking mediocore at best. The Sophomore gunslinger from Indian Trail was turning the ball over way too much and it made you wonder, were we giving this guy too much love? Short answer, no.
On Saturday, Sam Howell put together a stat line that we will telling our grandchildren about. 32-45, 550 passing yards, 6 TDs, 1 INT, 1 rushing TD. This performance was so impressive in fact, that he set a plethora of records in the process. With 6 touchdown passes, Howell became the schools record holder for the most TD passes in a game, and became the share record holder for the most passing TD in a game, in the history of the ACC conference. Additionally, Howell set the record for the most passing yards in a single game in school history. This was a spectacle that Howell, Tar Heel nation, and the rest of the CFB world may never forget. Has Sam Howell now placed himself in Heisman contention? Only time will tell.