Honorable Mention – Sarah Fuller
Sports can be pretty damn awesome sometimes.
5. Dezmon Jackson – RB; Oklahoma State
Over the past two weeks, the Oklahoma State Cowboys have experienced their fair of tribulations. On Saturday, the Cowboys got embarrassed in Bedlam by a score of 41-13. During that game, Chuba Hubbard, who is the heart and soul of this football team, re-aggravated an ankle injury, that would leave him sidelined during the cowboys final home game of the season.
With that being said, there is an old saying that goes when your main horse doesn't work, ride your pony. In this scenario, Dezmon Jackson, a Junior back from Arkansas, is the Cowboys pony.
During Oklahoma State's thrilling 50-44 win over the Texas Tech Red Raiders, Jackson showed the nation why he is one of the best backup RB's in the nation, rushing for a total of 235 yards to go along with 3 rushing TDs. Jacksons performance was so dominant in fact, that is surpassed Hubbard's single game rushing total for the season of 145. Jackson is a versatile down hill runner who will almost certainly be the Cowboys premier back come next fall (Barring the decision of Hubbard to stay in Stillwater for one more year.)
4. Notre Dame's Defense
As the Fighting Irish of Notre Dame made their way to Chapel Hill for a Black Friday matinee, they knew that they were in for a fight. North Carolina had the coach, the swagger and the offensive fire power to pull off a post turkey day shocker.
Additionally, Notre Dames defense, which is considered to be the strongest asset to the second best team in the nation, were in for perhaps, their biggest test of the year. North Carolina's offense is considered to be one of the most talented units in america. They are host to two, two thousand yard receivers (Dyami Brown, Dazz Newsome,) the best RB combo in the nation (Micheal Carter, Javonte Williams) and a QB who was fresh off the helms of a 500 yard, 6 TD performance (Sam Howell.)
As the game began, it seemed as if North Carolina's offense was going to do what they had done all season, score and then score some more. They scored a TD on their first possession and a TD on their second. It looked like we were on our for yet another, offensive explosion.
But then, all of a sudden, something clicked. It was as if the men quickly became separated from the boys. Notre Dames defense, which is filled with superstars in the likes of Jeremiah Owusu-Koramoah and Kyle Hamilton, began to hit just a little bit harder. Clark Lea, who is the defensive coordinator for the Irish, drew up schemes that kept the Tar Heels offense on their toes for the duration of the game. In conclusion, after allowing back to back TDs to start the game, ND's defense allowed just three points for the remainder of the contest, which included 7 forced punts, a second half shutout, and most importantly, a 14 point victory. Talk about dominance.
3. Jermar Jefferson – RB; Oregon State
The Civil war. A rivalry between the Oregon Ducks and the Oregon State Beavers that dates back all the way to 1894. This is a bout that shares passion, grit and a whole bunch of bad blood. When these two teams meet, no love is lost.
Recently, the Civil war has been about as one sided as the 1984 presidential election. Coming into Saturday, the Oregon Ducks had been winners of the last 3 installments of the civil war, and had outscored the Beavers by a combined score of 148-35. Something had to change.
For every great rivalry comes a great story. And in that great story, we, as fans are often introduced to unlikely heros.
Jermar Jefferson is not your prototypical, 5 star back. He is undersized at 5'10 and was not given many looks coming out of high school. However, what Jefferson lacks in size, he makes up in heart, as the man is one of the hardest runners I have ever seen.
During Friday nights 124th installment of the Civil War, Jefferson put on a performance to remember, rushing for 226 yards to go along with 2 TDs. Most importantly, Jefferson helped his team snap the 3 losing streak and bring back the Platypus trophy back to the great city of Corvallis. It is not always about the size of the dog, but rather the impact of his bite.
2. Mac Jones – QB; Alabama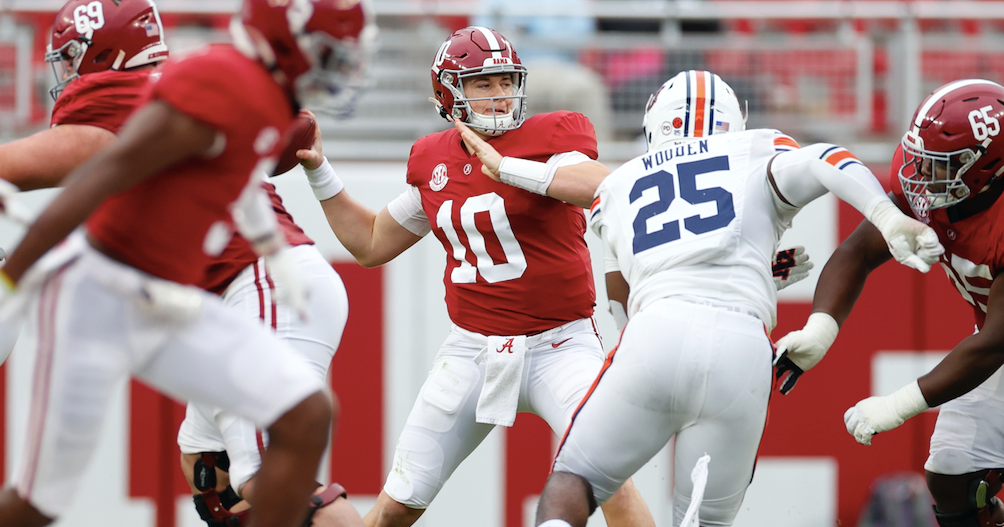 The Heisman moment. A moment that all but locks up the heisman race and solidifies a heisman hopefuls claim to fame. The Manziel escape, the Cam Comeback, the Winston massacre in Death Valley and most recently, the Jones' Iron Bowl assassination.
See, Mac Jones has had a pretty healthy track record when it comes to balling out in Iron balls. Last year, during the 84th installment of the rivalry, Jones threw for 335 yards to go along with 4 TD passes. But his team lost, in an historic 48-45 shootout. Jones would not let this happen again.
So, as the ball left the air on a crisp Tuscaloosa afternoon, Jones left no doubt; as he proved that he was the best QB that this university has ever seen. What impressed me most about Jones' dominance on Saturday, was that he did not only dissect the Auburn defense with every given possession, but rather beat it down to the carcass.
Jones' pocket awareness is unmatched. His ability to put touch on his passes is uncanny and the Junior QBs knack for the moment is flat out special. Mac Jones is going to win the 2020 Heisman trophy and this performance, if anything, was icing on the crimson cake.
By days end, Jones had led his Crimson Tide to a 42-13 beat down against the Auburn Tigers, which included one of the more dominant stat lines that we have seen in Iron Bowl history. 18-26, 302 yards, 5TDs, 0 INTs. Jones left Jordan-Hare Stadium a year ago feeling a sense of defeat, agony and overall despair. I think it is safe to say that these voids have been filled in more ways than one. Roll Tide Roll.
1. Jaret Patterson – RB; Buffalo
There are moments in every college football season that make you wonder "Is this real life?" Perhaps, this moment of confusion came when you saw a band run out onto a field, or when you saw a player return a missed field goal 100 yards to defeat one of the sports great dynasties. What Jaret Patterson did on Saturday afternoon however, made me question my entire existence.
Jaret Patterson is a Junior RB who plays for the University of Buffalo. He is an explosive back who has the ability to light up a stat sheet with the jump of a cut. Last week, during Buffalo's 42-17 beat down of Bowling Green, Patterson put the CFB world on notice, rushing for 301 yards to go along with 4 rushing TDs. We thought that could not be topped…
On Saturday, during Buffalo's historic 70-41 win over the Kent State Golden Flashes, Patterson put together THE most impressive stat line that I have ever seen at the RB position, at any level. By days end, Patterson had managed to rush for a total of 409 yards to go along with 8, yes 8 rushing TDs. This cemented Patterson's name in the record books as he tied the FBS record for the most rushing TDs in a single game. Patterson also became the 4th running back in the history of college football to rush for 400 yards in a game and became the first running back since Ricky Williams in 1996 to rush for 300 or more yards in consecutive contests.
Patterson is not only being awarded with our top performer of the week, but as of today, I am declaring Patterson's showing as the top performance of the 2020 College Football Season. Have fun trying to beat it.