Alabama just scored again
Honorable Mention – Finger Guns
5. The Rice Owl's Defense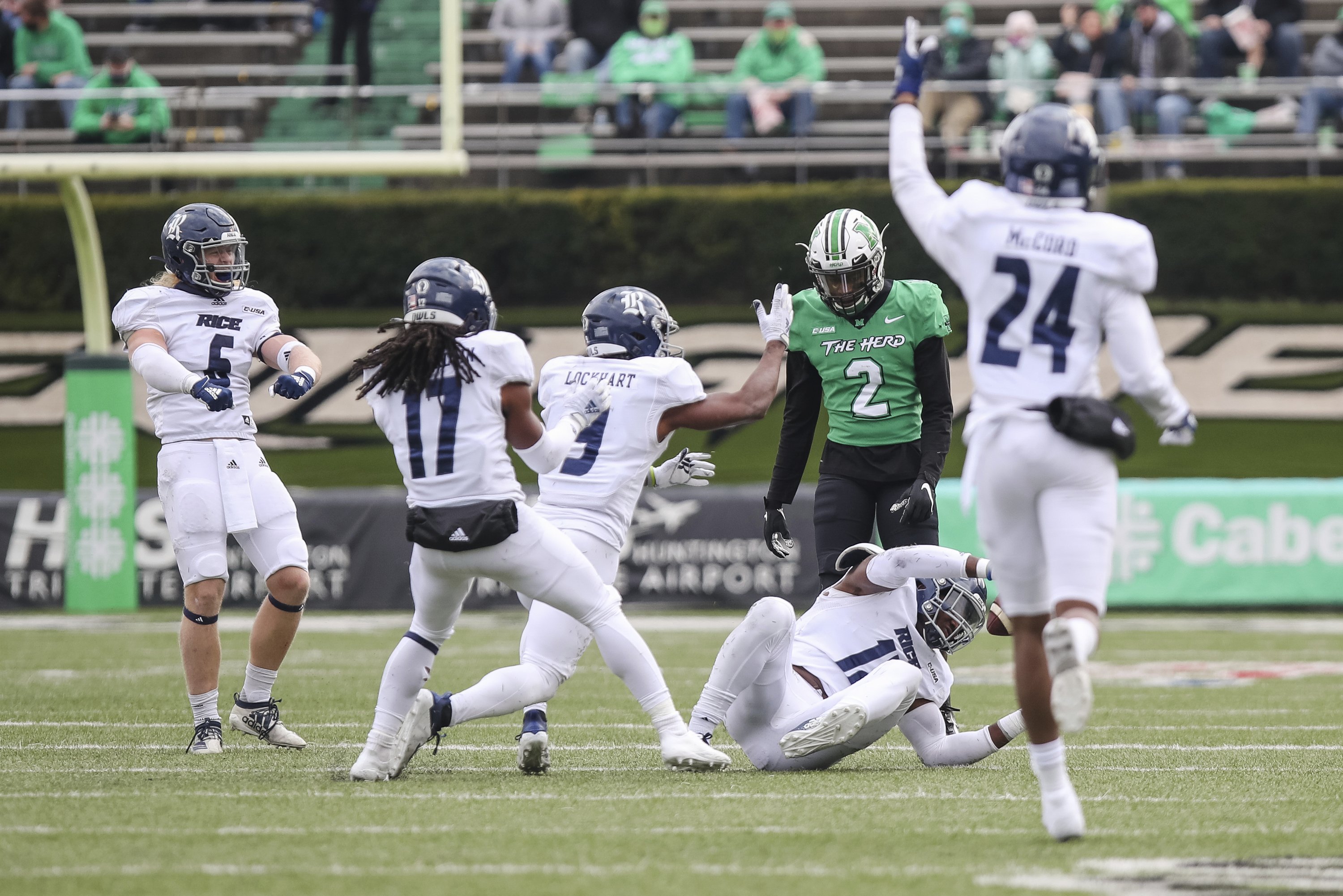 2020 has been a year to forget for the Rice Owls. Due to an abundance of COVID outbreaks within the Owls program, Rice entered Huntington, West Virginia on Saturday afternoon playing in a season total of just 3 games. It also didn't help that during those three games, Rice was only able to win one of them, and were about to face a nationally ranked opponent is Marshall, who had not lost a content all year. For most, Saturday afternoon had blowout written all over it.
With this being said, it is important to acknowledge that there is something special in a team that plays with house money. Mike Bloomgren and his team entered this contest on Saturday afternoon with literally, nothing to lose. They were able to take risks, be aggressive and set the overall tone of the game.
The main reason that I am writing about Rice today, which I never thought I would be doing in a million years, is due to the defensive clinic that was put on by the Owls front. During Rice's unlikely 20-0 win, the Owls defense was able to pick off Marshall's true freshman sensation, Grant Wells, not once, not twice, but five times. This upset win was something nobody could have ever predicted, but it just goes to show you, any given Saturday.
4. CJ Marable – RB; Coastal Carolina
The 2020 Coastal Carolina Chanticleers will be a team, a story and a movement will will never forget. Coming into the fall, the Chants were predicted to finish dead last in the Sun Belt conference. Fast forward 10 games later, and the mullet rocking, black curtain stomping, cinderella sweethearts are 10-0, nationally ranked, and a fresh off the helms of a program defining win vs the BYU Cougars. How can you not be romantic about these folks down in Conway?
Coming into Saturday's heavily anticipated contest between the Coastal Chants and the BYU Cougs, I said that Coastal Carolina has one path, and one path only to win this game. This path of course, was to establish the run. BYU, who has some of the biggest and most physical dudes on the defensive side of the ball that you will ever see, does not allow opponents to run against them. Coming into the contest, the Cougars had one of the best rushing defenses in the country, allowing just under 90 rushing yards a game. If the Chants could some how find a way to exploit this strength, they were going to win the game.
Although BYU's run defense is about as dominant as a bull in a china shop, the Cougars had yet to face a back like CJ Marable. The 5'10 senior back from Decatur, Georgia, is one of the shiftiest backs you are going to find in all of college football. What I like most about Marable's game, is that he has the ability to combine his physicality with his speed to create one hell of a mixture running downhill.
By nights end, Coastal had established the run, which was much in part to Marable's continued season success. The senior back had acquired a final stat line of 132 rushing yards on 23 carries, to go along with 2 TDs. Not a bad day at the office if you ask me.
3. Kyle Trask – QB; Florida
When the 2020 SEC schedule first came out, I, along with the majority of the CFB world got particularly excited about one December afternoon matchup in Knoxville, Tennessee. Where was this excitement coming from you may ask? For starters, the Gators and the Vols have one of the most unique rivalries in the SEC, which have featured some of the conferences best matchups over the years. Secondly, coming into this season, both Florida and Tennessee entered the fall with ginormous expectations. The Gators were host to one of the conferences best offenses and Tennesee was host to one of the nations longest winning streaks and a recruiting class that most would die for. However, one of these truths quickly became a lie.
Coming into Saturday, the Vols had been losers of their last 5 and were as dead as a fish in an oil spoil. The air had quickly been taken out of this matchups balloon and we were left with a high point, which was accompanied by the backup commentary crew for the SEC on CBS.
However, even though this game may have not led up to it's original expectations, we were still treated with quite the show.
Kyle Trask is a man on a mission. This is a guy that is so in control of his game right now, that it is almost hard to believe that he once a backup. During Saturdays 31-19 road victory, Trask put together yet another commanding stat line. 35-49, 433 yards, 4 TDs, 0 INTs. The dude does not miss.
If Trask can continue this pace, as we are entering the final stretch of the regular season, he will have a very real chance to win the Heisman trophy.
PS: How About those lid's by Florida 🔥🔥
2. Alabama's Offense
On November 9th, 2019, the LSU Tigers made their way into Tuscaloosa and defeated the Alabama Crimson Tide by a score of 46-41. It was an historic game which eventually led to a party in Baton Rouge like you wouldn't believe. Because see, when you beat Alabama it's not just a win for yourselves, its a win for America.
Alabama has not forgotten that loss. They have not forgotten the smug comments that coach, Ed Orgeron made after the game and they certainly have not forgotten the cocky attitude that the LSU contingency has had since that November night. But, as Saturday night rolled around, the Crimson Tide knew that it was there turn, to lay a beatdown on the Tigers, on their home field. Revenge is a dish best served cold, or in this case, served in Death Valley on a Saturday night.
As soon as the ball left the air, it was clear that Alabama was going to beat the piss out of LSU, like they never have before. Every time the Crimson Tide possessed the ball, Junior QB, Mac Jones, who is my current favorite to win the Heisman, would throw a deep ball to his skill receivers in the likes of Devonta Smith or John Metchie, which would result in 6 almost every time. Alabama scored a TD on their first five possessions of the game, six of their first seven if you wanna get cute.
By halftime, the Crimson Tide had generated 470 total yards of offense, which equated to 45 points, the most Alabama has every scored against LSU.
The men of Crimson "only" managed to generate 10 second half points, but it is important to note, that most of Alabama's starters were in the showers by the start of the 4th quarter.
By nights end, Alabama had gotten revenge on LSU by the tune of a 55-17 beatdown of epic proportions. So what's the overall moral of the story here? Even though you beat the bad guy once, it is important to stay humble, because if not, you don't even want to know what's heading your way.
1. Corey Rucker – WR; Arkansas State
Corey Rucker may be the most interesting case study to ever enter our weekly list. The Freshman WR out of Yazoo City, Mississippi is not a name you are going to hear every day. He was not heavily recruited out of high school and in fact, was only really looked at by two schools; Arkansas State and South Alabama.
During Rucker's first 5 games collegiate games, the 6'2, 190 pound play maker, had barely dipped his toes in the water, accounting for just 143 receiving yards to go along with one, measly receiving TD. If anything, Rucker was a secondary thought in Blake Anderson's offensive system.
But then, this past Saturday, during Arkansas States 48-15 dominating win over Lousiana Monroe, Rucker struck gold. Rucker not only broke out of his shell, but put on one of the most dominating performances we have ever seen at the WR position, accounting for 310 yards on 9 receptions, to go along with 4 TD catches. Rucker's performance was so commanding in fact, that he set the school record for most receiving yards in a game, tied the school record for most TD catches in a game, and set the record for the most receiving yards as a freshman in the history of the FBS. Talk about a coming out party to remember!