Go Army, beat Navy!
Honorable Mention – Fog
5. San Jose State's Adversity
2020 will be a year that the San Jose Spartans will never forget. To truly experience the roller coaster of emotions that this team has experienced, we must first rewind to the summertime, when the Mountain West Conference announced that due to COVID concerns, they would be suspending their season until the spring. For the first time in most of these mens life, this meant no putting on the pads and running out of the tunnel on an autumn afternoon.
However, after much deliberation and some added pressure, the Mountain West conference decided that they would in fact, be playing in the fall, by the tune of a shortened, 6 game, conference schedule. This gave the Spartans new found life, as they would go on to start the season 4-0 for the first time in over a decade.
As many of you are aware, the west coast is currently experiencing a semi lockdown, in reaction to the increasing rise of COVID cases. This lockdown has caused restaurants to close, businesses to shut down and even, sporting teams to relocate. One of these teams who have been forced to relocate is the San Jose State Spartans. For the last month, the Spartans have been away from their campus, and instead, have been residing in Las Vegas. Now for most, this move away from home would throw a major chink in any teams armor. But for the Spartans of San Jose State, it has only provided them with an extra source of motivation.
As we sit here today, San Jose State is currently sitting with a 6-0 record for the first time since 1939. On Friday night, the Spartans defeated the Nevada Wolfpack, which not only capped off a perfect regular season, but also clinched a ticket to the Spartans first ever Mountain West championship game. Talk about looking adversity dead in the eyes and running with it!
4. Army's Defense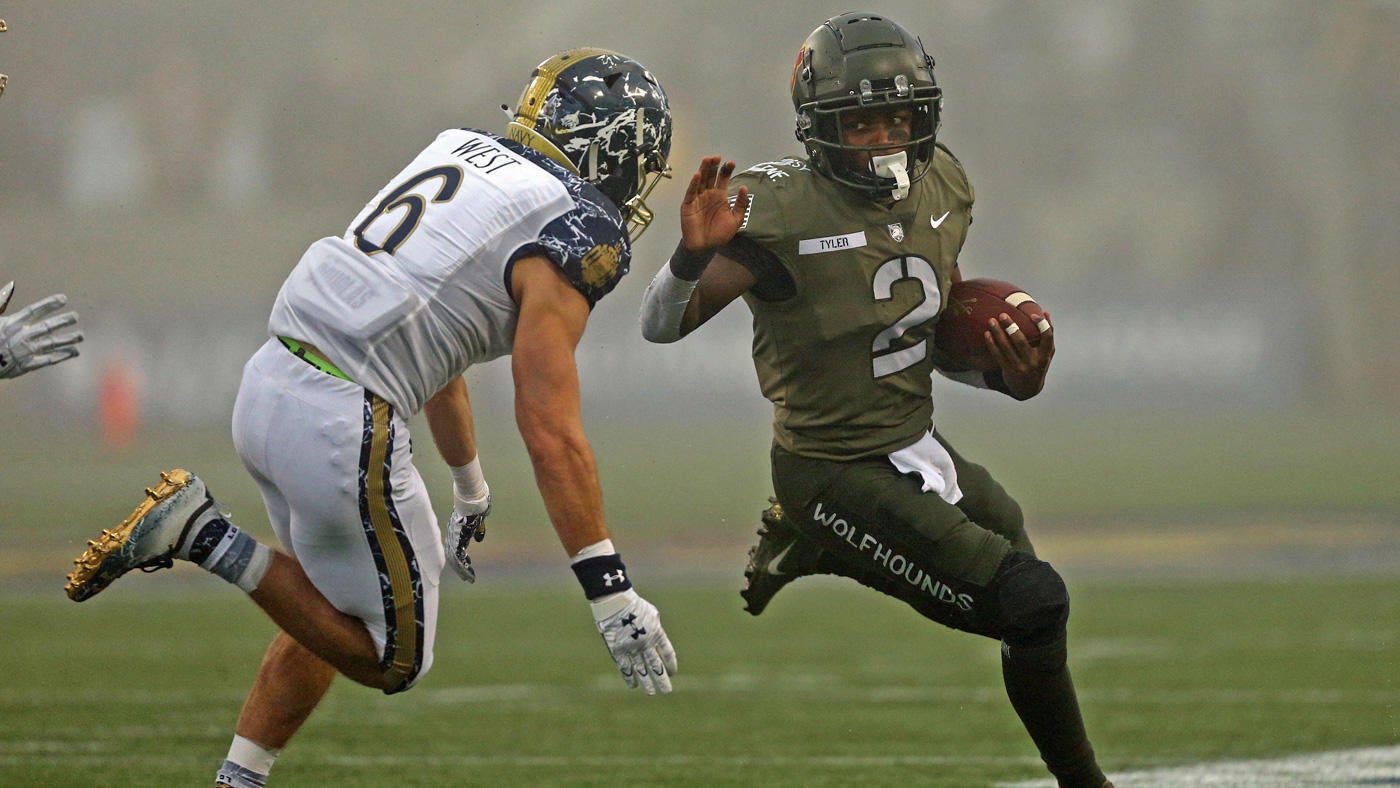 The Army, Navy game. The only rivalry game in America where everyone who is playing, is willing to die for everyone who is watching. On Saturday, during the 121st installment of this historic rivalry, the Midshipmen of Navy and the Black Knights of Army, met in West Point, for the games first playing at a home base since 1943.
As the game began and the fog rolled in, it was clear from the jump that the one defining factor in this game was going to be which teams defense could come up with the bigger stop. Due to the foggy like conditions, along with the low scoring nature of this rivalry, it was fairly easy to come to the conclusion that points in this one, were going to be hard to come by.
Let me be completely transparent with you guys. This was not the most entertaining football game to watch. By games end, both teams had combined for just 12 first downs and had completed a total of two passes. Yes…two. However, the one thing that was fun to watch in this game was the defense dominance that was portrayed by the Cadets of West Point. Army's defense was as suffocating as the dense fog that rolled over the high mountains in upstate New York.
By nights end, Army had held Navy to just 117 yards of total offense in route to the rivalries first shutout since 2008. It was the Cadets first shutout since 1969. This defensive clinic will be one that is soon now forgotten, as the men dressed in Black and Gold are once again back on the right side of history.
3. Max Johnson – QB; LSU
On Saturday night, the LSU Tigers made there way into the swamp as 23.5 point underdogs. To most, the only significance this game had was that it would be a tune up game for the Florida Gators as they prepared to face Alabama in the SEC Championship in just two weeks time. Heck, even Reece Davis, host of College Gameday, asked commissioner Greg Sankey if there was even a point for Alabama and Florida to play in their regular season finalizes, noting that they had both already clinched their respected divisions.
With all this being said, coach O and his LSU Tigers had only one goal in mind when they stepped onto the field Saturday night. And that goal, was to shock the 6th ranked Florida Gators.
It goes without saying that LSU has had a 2020 to forget. Coming off a national championship run which is widely considered to be one of the most impressive runs in the history of college football, most expected the Tigers to come out this fall and mirror that success to some extent. This has not been the case. Coming into Saturday, the Tigers of LSU were host to a 3-5 record which has been full of broken dreams, disappointments and a whole lot of bad football.
In a act of desperation to finish the season on a somewhat respectable note, Coach O decided to give his true Freshman QB, Max Johnson his first career start. Johnson, a native of Watkinsville, Georgia is your prototypical SEC QB. Tall (6'5), strong arm, ability to scramble when needed. What more could you possibly ask for.
As Johnson's first collegiate start got under way, it was clear that he was the spark that the Tigers had so desperately need. The Tigers offense, which had so often looked as barren as the Sahara Dessert, finally began to establish some sort of rhythm and flow. Johnson possessed a confidence to him, that I had not seen from a LSU QB all season long.
By nights end, Johnson debut would be one that we will be talking about for years to come. The true freshmen threw for a total of 239 yards, passed for 3 touchdowns and did not toss a single INT. Most importantly, Johnson helped lead his team to a MONSTER upset win against the Florida Gators by a score of 37-34. Geaux Tigas!
PS: The Shoe is still flying btw
2. Kedon Slovis – QB; USC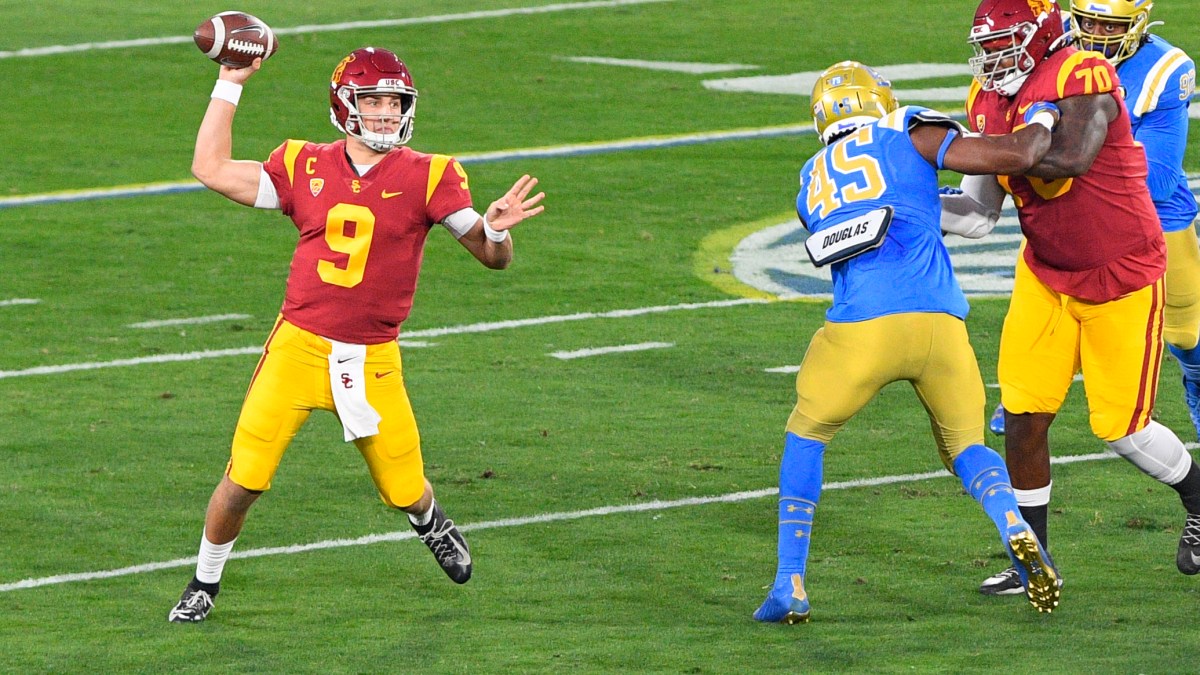 The battle for the victory bell. Aside from being one of the most ascetically pleasing games from a uniform standpoint, this is a rivalry that actually means quite a lot to quite the amount of people. USC and UCLA do not like each other They both think that they, in some way or another, are better than their respected counterparts. USC thinks they have the hotter girls and the better football team. UCLA thinks they have the smarter students and the better basketball program. To win the victory bell means to earn bragging rights the entire greater Los Angeles area.
As the 90th installment of the battle for the Victory Bell began, it seemed as if we were about to see a shift in the dynamic. See, as of late, the Trojans of USC have dominated this cross town rivalry, winning 4 of the previous 5 matchups. But early on, it looked as if this narrative would be no longer, as the Bruins of UCLA were having their way with the Trojans of USC, scoring nearly every time they touched the ball.
However, as the saying goes, with every great rivalry comes a great hero. Kedon Slovis, who is the starting QB for the USC trojans, was not about to let the UCLA Bruins beat him under any circumstances. This game meant too much.
So, as every great fighter does, Slovis fought back. For every punch UCLA would throw, Slovis would answer with a haymaker of his own. The Sophomore Gunslinger out of Scottsdale, Arizona, began dissecting the Bruins defense in the second half like it was a middle school science project.
The icing on this hero's cake, would be by way of a 2 play, 43 yard-game winning TD drive. The Trojans would survive and bring the Victory bell back home to So Cal, where it rightfully belongs. Fight on!
Slovis Final Stat Line: 30/47, 344 yards, 5 TDs, 2 INTs
1. The Miami Massacre
There are moments in every programs life where rock bottom is felt. For Miami, Rock Bottom might have been experienced last November, when the Canes lost to Florida International by the score of 30-24. However, I will take it one step further, and say that the massacre that we witnessed at Hard Rock Rock Stadium this past Saturday afternoon, will go down as the worst regular season loss in the history of Miami Football.
Miami came into Saturday with a unique opportunity. Ranked as the 10th best team in the country, according to the CFP committee, the Canes could have essentially, clinched a birth in the Orange Bowl with a win. Secondly, Manny Diaz, who is the head coach of the the Miami Hurricanes, had a chance to get revenge on his colleague, Mack Brown, who had fired Diaz while at Texas. None of this would end up happening.
Instead, what ended up transpiring, was one of the ugliest home losses I have ever seen in the history of college football. North Carolina came into Hard Rock Stadium on Saturday afternoon with a motive to kill. They smelled blood from the jump and did…..not….miss. With every possession, North Carolina's grip on the Canes neck got tighter. They continued to apply pressure until eventually, Miami passed out, with plenty of time still remaining in the game.
By games end, the North Carolina Tar Heels had defeated the Miami Hurricanes by a final score of 62-26. The Tar Heels had accounted for 778 total yards of offense which would be the most that Miami has ever given up during their decorated program. Michael Carter ran for 308 yards, who was then accompanied by Javonte Williams who rushed for an additional 236 yards. The backs accounted for 5 TDs and 544 combined rushing yards. Dyami Brown had 167 Receiving yards and Sam Howell had 223 passing yards, 1 passing, 1 rushing and 1 receiving touchdown. The attack never stopped.
Barring a miracle, North Carolina will now head to their first ever NYB6 game in program history. And I gotta say, after Saturday's performance, this birth is more than well deserved.