Honorable Mention – Social Media Shade
5. Nick Starkel – QB; San Jose State
During last weeks column, we were first introduced to the adversity risers by way of the San Jose State Spartans. This is a nomadic tribe that has not seen home since thanksgiving, has been labeled as frauds and phonies, but yet, had still had a chance to make history come Saturday afternoon.
During Saturdays Mountain West Championship Game, San Jose State entered the contest as home, 6 point underdogs against Boise State. Although the Spartans were entering the bout with an undefeated record, and had been ranked in the CFP rankings for the first time in program history, many thought this game was over before the ball even left the air. Boise State was just too strong, too physical, and well.. San Jose State was San Jose State.
But, as San Jose State has done all year, the Spartans showed the college football world that the only believers they need to succeed is themselves. Nick Starkel, a senior QB from Argyle Texas, instilled this self belief to this highest regard. With every throw the 6'3 pocket passer made, a growing sense of confidence could be visibly seen, as Starkel sliced up the Broncos secondary like some good old fashion vintage vinels.
By days end, Starkel had put together a championship performance to remember, throwing for a total of 453 yards to go along with 3 TD passes and 0 INTs. Additionally, Starkel would lead his team to their first undefeated season since 1939 and their first Mountain West Championship in program history. The San Jose State Spartans are a breathing example of "We all we got, we all we need."
4. Najee Harris – RB; Alabama
Coming into Saturdays SEC Championship game, there was a strong possibility that we as fans, would be treated to one of the most offensively explosive affairs that this rich conference has ever seen. And after 1,067 combined yards and 98 points later, I think it is safe to say that that those expectations were met to a tee.
In the history of this column, we have never had two players who were featured in the same game, let alone three. But this game was just too good, too explosive, and just too damn special not to stretch the rules. So, with that being said, we will kick off our talented trifecta with one of the most explosive backs the east of the Mississippi River has ever seen.
Najee Harris is not your average human. Harris was born with a genetic disorder in which instead of being gifted a pair of legs, he was handed a set of tree trunks. When you watch Harris run, you can't help but be reminded of Derrick Henrys Heisman winning season with the Crimson Tide in 2015. The downhill running style nature that Harris possesses with every given carry, is nothing short of spectacular.
On Saturday night, Harris, who has established himself as one of the premiere rushers in all of college football, continued to do what he has been doing all season long; which is flat out dominate. Harris scored, and then scored some more, and by nights end, finished with a total of 5 touchdowns. Additionally, Harris rushed for 178 yards as well as showed his versatility, by racking up 67 receiving yards. Najee Harris is a freight train from Antioch, California that has no plans of slowing down any time soon.
3. Kyle Trask – QB; Florida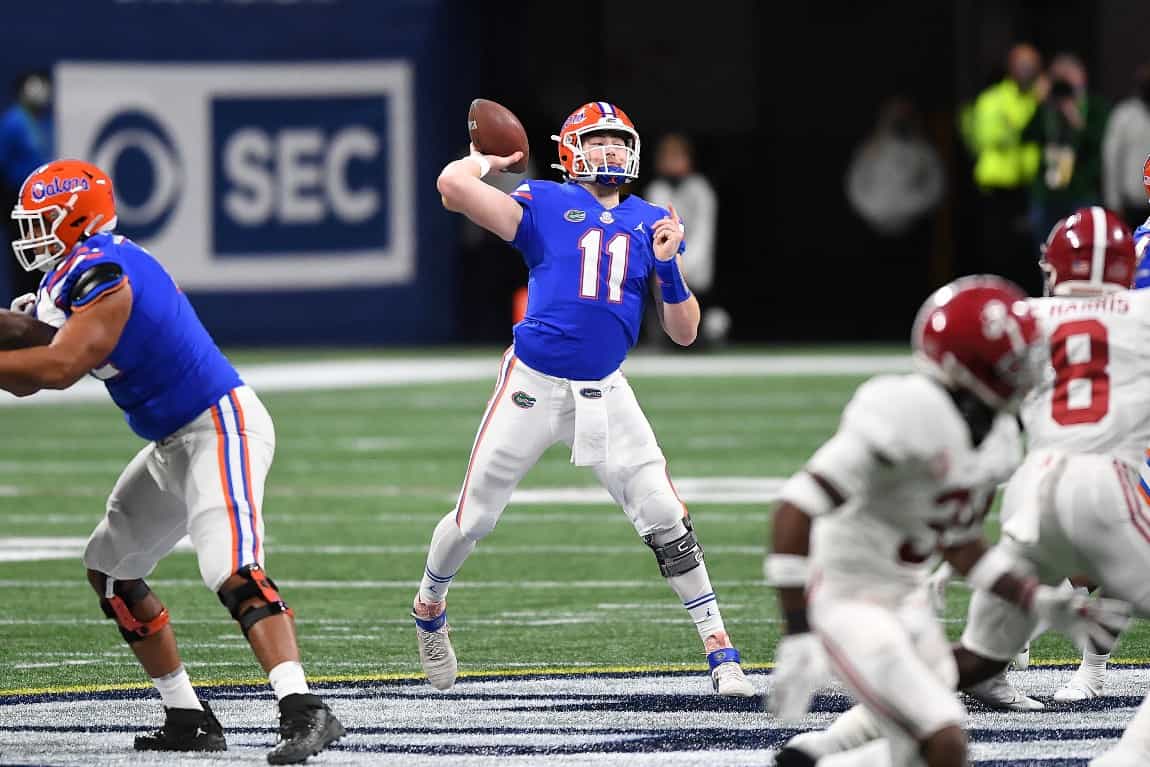 Kyle Trask vs Mac Jones. The debates amongst all debates. Who will the Heisman trophy? Who will lead their team to the CFP? Who will win the SEC Championship? These were all questions being asked heading into Saturdays highly anticipated matchup between the Gators of Florida and the Crimson Tide of Alabama. And while Trask necessarily didn't want to acknowledge these questions, he would be lying to himself if he said he didn't at least hear them, as they were being spewed out by every major media publication coming into this affair.
As the game began, it was clear that Trask was not going to be intimidated by the enormity of this situation. Just last week, Trask had been defeated by a lack luster LSU team in the swamp, and had looked as lost as a newborn puppy, throwing two interceptions, one by virtue of a pick sick. This was a different story. however. Trask was on from the jump, hitting every pass he threw with precise accuracy.
As the game grew old, it became clear that Alabama's offense was going to be just a bit too much for the Gators to swallow. But that doesn't mean that Trask's historic performance is not worthy of some lawful recognition. By days end, the once high school backup had compiled a final stat line of 408 passing yards to go along with 3 passing and 1 rushing touchdown. This would mark the 3rd straight 400 yard passing game that Trask had accomplished as well as his 5th on the season. Additionally, with 408 passing yards, Trask became the second leading passer in the history of the SEC Championship game. The only problem was, he was playing against the guy who set the record…
2. Mac Jones – QB; Alabama
Mac Jones is going to win the Heisman trophy. If you had read this column throughout the season, you would know that this not the first time that I have made this claim. In fact, I believe the first time I declared Mac the winner of the Heisman trophy was back in week in week 4 of the CFB season, after Jones' sensational display against the Georgia Bulldogs. Now, things have changed and the competition has certainly stiffened, but after last nights championship display, I think it is safe to say that the final blow has been laid.
Mac Jones is the kind of QB who you want to play for your team. He is the kind of guy who straps on his chinstrap and flat…out…balls. During Saturday nights SEC Championship, Jones cemented himself as not only one of the most talented and successful QBs in the history of Alabama, but in the history of the decorated SEC Conference. Every times Jones touched the ball, it seems as if he had the world in his hands, controlling every moment and every second of every offensive possession. By halftime, the Crimson Tide had scored 35 points which set a record for the most halftime points in the history of the SEC Championship game.
Much like the first half, the second half consisted of the Crimson Tide dominating on the offensive side of the ball. Jones continued to distribute the pigskin to his all star playmakers and by games end, Alabama had scored 52 points to go along with 602 total yards of offense. For Jones personally, the Junior QB had acquired a final stat line of 418 passing yards to go along with 5 TD passes. This historic performance gave Jones the record for the most passing yards ever thrown in an SEC Championship game. Turn out the lights. The parties over. Mac Jones will be the winner of the 2020 Heisman Trophy.
1. Trey Sermon – RB; Ohio State
As the ball left the air on a crisp Indianapolis Saturday afternoon, the expectations were that the Ohio State Buckeyes were going to have their way with Wildcats of Northwestern. The betters had the Wildcats as a 17.5 point underdog and many, including myself, thought this was had the potential to get pretty ugly, pretty fast. But then, something strange happened. Justin Fields, who is the star QB for the Buckeyes, began to struggle. He began to miss his targets and as the result, did something he rarely does, which is turn the ball over. The Buckeyes needed an answer. If not, they would be in danger of not only losing a conference championship, but would also be eliminated from the CFP.
In an act of desperation, Ryan Day and the Buckeyes turned to their most unlikely hero, Trey Sermon. Sermon, a Senior RB from Georgia, has been considered all but an afterthought in the Buckeyes offensive scheme this season. That was until Saturday afternoon. In what can only be considered to be one of his last collegiate games, Sermon had a performance of a lifetime, rushing for 331 yards to go along with 2 rushing TDs. Sermons historic day set a record for the most rushing yards in any conference championship game in the history of the FBS. Most importantly, Sermons dominance helped lead the Buckeyes to a 22-10 Victory, giving the Buckeyes their 4th straight Big Ten Championship.
Championship Weekend; where legends are born.