We're baaaack!!! Move over horny Pete (the pilot, relax) and say hello to your new, and improved bachelor, Matt James. James, a rookie to the game, is ready to open his heart, clear his mind and find his future forever. I'll be honest with you guys. This season might be the most impressive cast of women we have ever seen on any season of the Bachelor. We have queens, sorority sisters, professional ballerinas and even, an Ethiopian doctor. It goes without saying that creating these power rankings week by week is going to be a very tall task (If you understood that pun there, I appreciate you.)
7. The Chateau At Nemacolin
I get what you may be thinking. How the hell are we going to start our power rankings with an inanimate object? And to that I say, here me out for a second. The Bachelor/Bachelorette mansion is spectacular, but the showcase that The Chateau At Nemacolin put on last night, is like nothing I have ever seen before. The opening shot of our beloved Chris Harrison, standing behind this absolute palace, was nothing short of breathtaking. And we also have to remember, that this esteemed location was chosen, during the midst of a global pandemic, making it ever the more impressive. The La Quinta Resort was okay, but The Chateau At Nemacolin has taken everything, to an entire new level.
6. Katie
Our first women of the power rankings comes in the likes of Katie AKA the Dildo girl. And listen, I understand that this may be a hot take to some. Social media did not take very kindly to the 29 year olds devilish antics, but if anything, I actually respect the move. It takes a lot of courage to walk up on national television and reveal such a personal part of yourself, right off the bat. And while I do feel that Katie at times, overdid the entire "Look, I'm the girl with the dildo act," you can automatically tell that she is one of the more bubbly women in the house. Excited to see where she goes in this game and if we will get to see another appearance from MJ 2.0.
5. Khaylah
One of the more memorable moments of night one came by virtue of some good old fashion, home town cooking. Kaylah, a health care advocate from Durham North Carolina, is the only women of the bunch to come from James home state of NC. And to nobody surprise, she used this asset to her advantage. Whether it was rolling up in a pickup truck, or sipping on some sweet tea, Kaylah made it a priority that she wanted to make James feel right at home. I thought these moments were super sweet and felt as if the two had one of the better connections we saw the entire night.
4. Mari
Aside from being one of the most beautiful girls I have ever seen in my life, I think Mari has some real potential of making it a long way during this season of The Bachelor. For whatever reason, Mari gave off an energy about her, that was super down to earth and was in a way, relatable to the common folk. I also was a super big fan of the conversation she and Matt had about her home country of Puerto Rico. She allowed herself to be honest and venerable early, and I think that is going to go a long way. It is just a shame that her heartfelt convo got abruptly interrupted but a sparking dildo.
3. MJ
MJ. MJ. MJ. What can you even say about MJ. Each year, a girl comes on the show that immediately catches your eye. Whether is is Hannah Brown, Hannah Ann or Madison Prew, you knew from the moment they stepped out of the limo that they were special. And while its hard to tell just yet, if MJ is going to have that sort of impact on Bachelor nation, I myself, was struck with that vibe when she stepped out of the pizza car. Maybe it's the hair, maybe it's the smile. Who knows.
2. Rachel
I have a strong hunch that my final two for the inaugural edition of this seasons power rankings, will be the final two women in Matt James life. And I know that sounds crazy, but I did have Hannah Ann and Madison P as the top two during last seasons inaugural edition of my power rankings. And sure, that could be an anomaly, but something about Rachel and Abigail just seems to be different about the rest. Let's start with Rachel, a 24 year old graphic designer from Georgia. Like most, my first reaction when Rachel first stepped out of the Limo was "Holy shit, this girl is stunning." But as we all know, you can't win somebody's heart by just being beautiful. What I liked about Rachel night one was that she seemed super genuine when conversing with Matt. Nothing was forced, she was just herself. She also cried at the end of James opening prayer which I thought was sweet. Who knows, maybe my hunch is completely off, but I think Rachel is just getting started when it comes to finding this Bachelor rookies heart.

1. Abigail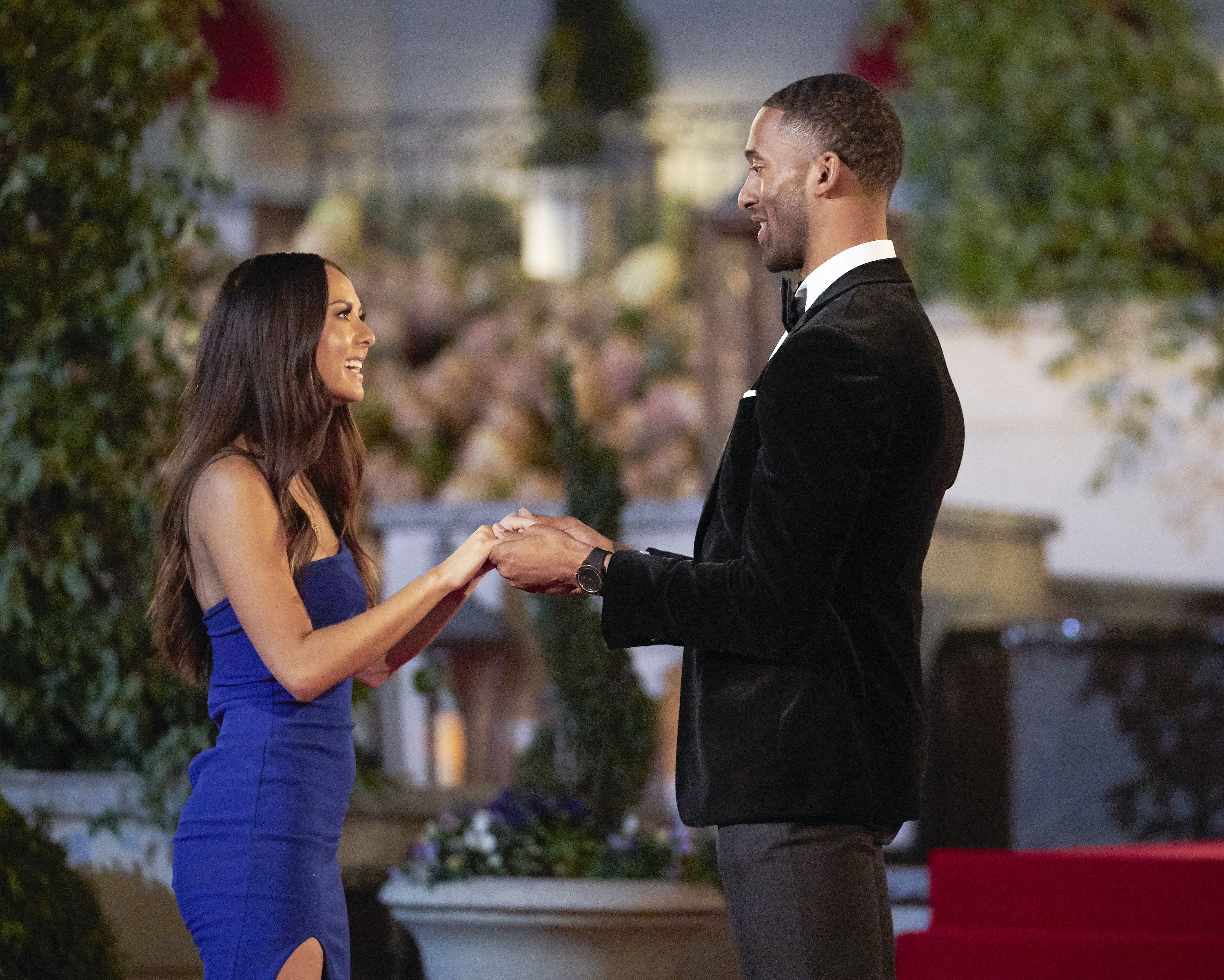 The clear winner of night one was my girl Abigail. Listen, there have been A TON of fake people who have entered this show over the years, with the intentions of looking for fame and clout. It is very clear that Abigail is not that kind of person. I know we are only one night in, but I am ready to already pronounce Abigail as one of the most genuine girls we have had on the history of this show. Abigail is not going to start drama, but rather hit you with that heart melting smile of hers. Also, Abigail is completely deaf, but is able to speak and hear using a Cochlear implant. Being the first deaf person to ever be on the Bachelor, Abigail is going to inspire a whole community of people, which I think is super awesome in itself.
Towards the end of the night, James and Abigail sat down to have one of the most adorable conversations I have ever witnessed, which concluded in the ONLY kiss of the night (Depending on if you count that stupid lady and the tramp kiss at the beginning of the program.) Abigail was then presented with the first impression rose which as we know, goes a long way in terms of one's journey on this show. Abigail is a star in the making, and I cant wait to see where this show takes her.