I don't care how long "Queen" Victoria stays, that girl is never cracking, nor even sniffing these power rankings. Go home, sis, the act is up.
7. Anna
I'll be honest, I don't have much to say about Anna. I think she is a super positive person and that positivity should translate to good things for her this season. Also it is just me, or does Anna give off some major Hannah B vibes? I don't know. I see it.
6. Serena C.
During last weeks episode, I was convinced that Serena C was going home. The flight attendant from (San Fransisco?) got absolutely no air time and made a dent that was about as big as a truck getting rear ended by a punch buggy. However, as Serena got more air time during this weeks episode, I found myself being more fond of the 24 year old beauty.
What I like about Serena is that she is the type of girl who you could get a drink with. She seems super chill and does not take the magnitude of any moment too seriously. For example, during queen Victorias antics at the beginning of this weeks episode, Serena was in the corner, living life, sipping on her champagne. I feel like Serena is someone who lives by the motto of "Don't sweat the small stuff."
PS. I also saw a Tik Tok of Serena and her friends this week and she seemed super down to earth.
5. MJ
If MJ doesn't win this season of the bachelor, I may start my own show in hopes to win MJs heart. Listen guys, we all know how I feel about MJ after last weeks edition of the power rankings. However, after seeing MJ absolutely dominate this weeks group date, I can now say that I am fully in love. Beauty, brains and athleticism. Where have you been all my life?
All jokes aside, I felt as if MJ had a good week. If you don't get a one on one date right away, it is important to establish yourself, and make yourself stand out in different ways. I felt that by capturing the heart, MJ did just that and secured her spot in this game of love for quite some time.
4. Mari
There is something about Mari that makes her stand out from the rest of the women in this house. And to be honest, I can't yet put my finger on it to exactly what it. Obviously, Mari is absolutely gorgeous, but it's not just that. I think Mari is also a super charismatic individual, who is not afraid to be herself.
As we have talked about before, there are plenty of people who go on the bachelor or bachelorette with a masked faced. And what I mean by that is that some people tend to go on this show, and act as if they are a character of sorts, rather than themselves (Cough, cough Victoria.) With Mari, I don't see her putting up that front. Instead, I feel as if she is just being Mari, a former beauty queen from Maryland.
3. Sarah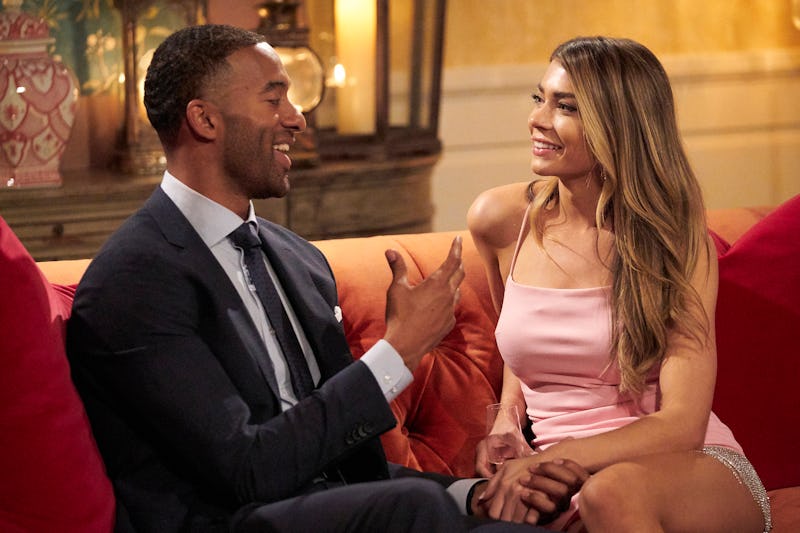 The most impactful moment of the this weeks episode, came when Matt James and Sarah sat down for dinner and had a conversation about Sarah's father, who currently battling ALS disease. Sarah, who was gifted with the second one on one date of the episode, was initially hesitant to open up about her family hardships.
After the two become more comfortable with one another, Sarah revealed to James that her father, who is one of the most influence and important people in her life, was in the midst of battling Lou Gehrig's disease. Sarah also revealed that she had recently quit her job of being a broadcast journalist, in order to become a full time caretaker to her father. While this story was both sad and heartbreaking, it allowed James to see the amount of Sacrifice that Sarah was willing to put in towards her family well being. This conversation personally, had me feeling very emotional and felt as if it was one of the more genuine conversations this show has witnessed in quite some time.
PS: I am almost positive she was the one to black out at the end, I really hope she is okay!
2. Bri
Hand up, I completely missed the mark leaving Bri out during last weeks edition of the BPW. After getting the first one on one date of the season, it became clear that Matts and Bris connection became deeper than just your run of the mill across the bar attraction. The two road ATV's in the mud, sipped champagne in a hot tub, and completed their date with a make out sesh over fireworks.
What I like most about Bri, aside from the fact that she reminds me of a young Kerry Washington, is that she keeps it completely real. During her and Matt's dinner, Bri opened up about her family life which left her with a sense of vulnerability, that is extremely pure. You could tell that Matt appreciated the moment, and I have feeling that we are just starting to get to know this 25 year old from California.
1. Abigail
Not a TON of air time for Abigail this week (Kind of disappointing tbh.) However, when the two did have a conversation towards the end of the night, it was clear that their chemistry is already off the charts. As I mentioned during last weeks rankings, Abigail is one of the most genuine people to have ever entered the Bachelor franchise. And even though she only got a total of 30 seconds during this weeks episode, her genuine nature could be seen exploding through your TV Screen. Team Abigail for the win!