Fall. A time for harvest, Halloween and Big Ten Football. When one thinks about the second best conference in the land, they may be thinking about defensive battles, chubby fullbacks or rainy afternoons on the gridiron. However, one case study that does not get talked about when discussing The Big Ten, is the practice of the QB.
Although it can be widely agreed upon that the QB is the most important position on the field, Big Ten QBs seemingly always get unvalued in more ways than one. When was the last QB from the Big Ten to win the Heisman you may ask? You would have to go all the way back to 2006 when Ohio State Buckeye legend, Troy Smith took home the coveted award.
Now, while the national media may not always pay homage to the gunslingers from the B10, we here at GBD certainly do. And with that, I present to you the official QB rankings of the Big Ten heading into the 2021 season.
14. Noah Vedral – Rutgers
Now listen, before all you Rutgers fans come after my neck and say that I made this pick based sheerly off of the fact that I am a "RU Hater," I would like to say this. I actually am a fan of Rutgers athletics. I think what Steve Pikiell is doing with the Scarlet Knights basketball program is admirable and am actually a pretty big supporter of Greg Schiano. However, the matter of fact is this.
Rutgers football, at least competitively does not match up with the big boys of the Big Ten. And frankly, they don't necessarily come close when it comes to comparing talent.
When talking about RU's Senior QB Noah Verdral, a Scott Frost product from UCF, you are immediately directed to the inaccuracies that he shows with every given start. Last year, during his first full year as a starter for the Scarlet Knights, Vedral found himself compiling a measly stat line at best, throwing for just 1,253 yards to go along with 9 TD passes and 8 INTs. For those of you keeping score at home, that is an abysmal TD-INT ratio.
Rutgers is a program that is slowly, but surely trying to get back to the winning ways that they once had when playing in the Big East. Unfortunately, that success will never come with Vedral under center.
13. Payton Thorne – Michigan State
For the great people of East Lansing, last year was not one to remember as their beloved Michigan State Spartans went just 2-5 on the year, which included brutal, and I do mean brutal QB play from Rocky Lombardi. Apparently, Lombardi, who is still on the team entering summer camps, has an outside chance of remaining the starting QB for the Spartans come this fall. With that being said, if Mel Tucker knew what was good for him, he would be naming Payton Thorne the starter ASAP.
Throrne, a Redshirt Freshman from Naperville, Illinois is a very hard code to crack. For starters, the film on Thorne is very limited. Last year, during the Spartans season from hell, Thorne attempted just 85 passes which included a trio of both touchdowns and interceptions.
If I were to pay Thorne a compliment, I would say that it is NIGHT AND DAY when it comes to the confidence that he processes, compared to the fear stricken nature seen in Lombardi. There is a very realistic chance that Payton Thorne knew that when he battled Ohio State last year, Justin Fields was much better than him. However, you would of never guessed it if you were to watch the game, as Thorne played with a swagger and fearlessness that was flat out laudable. I don't expect the Spartans to be great next year, but they will be in a slightly better spot with Thorne commanding the ship.
12. Ryan Hilinski – Northwestern
If the name Ryan Hilinski sounds familiar it is because well…it should. In 2019, Hilinski was front and center of almost every newspaper in America after leading his Gamecocks into Athens to shock Georgia. The moment gave the Freshman some well deserved fame, but it didn't necessarily equate to future success. After a sloppy second half to finish the season and a 2020 that was filled with injuries and time spent on the bench, Hilinski decided it was time for a change. So change he went, to the defending champions of the Big Ten West, Northwestern.
If I am going to be 100% transparent with you all, I am not exactly sure how Hilinski will fit into Evanston. On one hand, I think the 6'3 Californian will be in great hands, as he will be supported by one of the best coaches in America, Pat Fitzgerald. On the other however, I just can not see Ryan Hilinski's play style fitting in with the makings of the Big Ten. This is a conference that is loaded with big, fierce defensive linemens that are looking to take your head off with every given snap. I am not exactly sure that this California boy is ready for all of that just yet.
11. Brandon Peters – Illinois
Here it is, the first hot take of our list. Now, let me be super frank. I liked Brandon Peters at Michigan. And I actually really liked him during his first year at Illinois when he upset Wisconsin and threw for 18 TD passes. But last years version of Brandon Peters was NOT a memorable one.
Coming into the season with fairly high expectations, the Illinois Fighting Illini did we like to call…flat out stink up the joint. They went 2-6 and for the kicker, did not win a home game all year long. Peters, being one of the leaders of the team, can be much at fault for his teams demise. The Indiana native threw for just 429 yards to go along with a measly 3 TD passes and a lackadaisical completion percentage of 48.8.
Now, does this mean that Brandon Peters is going to absolutely suck in 2021? Not necessarily. Peters will have a new HC to work with in Bret Bielema in addition to a new play caller in the likes of Tony Petersen. If I was a betting man, I would not be betting on Illinois to win the Big Ten West this season, nor would I be betting on Brandon Peters to win the Heisman Trophy, but hey, crazier things have happened.
10. Jack Plummer/Aidan O'Connell – Purdue
We now enter our only duo on the list. And the reason for this is quite simple. I have absolutely ZERO idea who is going to win the starting job between Jack Plummer and Aidan O'Connell. Both men pretty much shared playing time last year and are similar enough where you wouldn't be losing too much if either were to to sit on the bench.
Starting with Plummer, I actually am pretty intrigued by the Sophomore out of Gilbert, Arizona. When you watch film of Plummer, it becomes clear that the man has a TON of raw talented that needs to be sculpted through the eyes of Jeff Brohm and company. Plummer has a very strong arm, is decently aware of his surroundings and is the type of QB that is not afraid to stand in the pocket and take a lick, if it means hitting a WR in stride. Last season, Plummer was able to compile a final stat line of 938 passing yards, 8 TD passes, 2 INTs, and a phenomenal completion percentage of 71.0. If I was Brohm, Plummer is my guy come week one.
Shifting to O'Connell, a 6'3 Junior who started the Boilermakers first 3 games of their 2020 campaign (In which they went 2-1,) a lot can be said about the crafty pocket passer. O'Connell, a product of Long Grove, Illinois, is the type of QB that does just enough to get buy. He is not the type of guy that is going to amaze you with his arm strength, or who is going to wow you with his football IQ, but, to his credit, seemingly always does enough to get the job done, or at least close to it. During O'Connell's three starts last season, the field general threw for a total of 916 yards to go along with 7 TDs and just 2 INTs. While I personally, would go with Plummer as the starter, I could certainly see the argument for both men.
9. Cade McNamara – Michigan
I think it goes without saying that the Joe Milton experience failed miserably in Ann Arbor. The guy with the golden arm never panned out to be but to the Michigan faithfuls delight, I think last season, we all we were witnessed to a diamond in the rough.
McNamara, a sophomore slinger from Nevada, expected 2020 to be a year spent on the bench. However, after Joe Milton became…..well Joe Milton, McNamara name was called and he did…..not…..miss. The highlight of McNamara's season came on a cold November night in Piscataway, when the 6'1 playmaker threw for 260 yards to go along with 4 TD passes in route to a thrilling triple OT win against the Scarlet Knights.
Is McNamara going to be the best QB in the Big Ten this season? For sure not. But I do feel as if he has a TON of untapped potential that Jim Harbaugh is going to have a field day with. And maybe…just maybe…McNamara could be the guy to lead his men past the great Buckeyes of Ohio State.
8. Tanner Morgan – Minnesota
When I did these same rankings a year ago, I had Tanner Morgan ranked as the second best QB in the Big Ten. And to be honest, could you really blame me? Morgan had just came off a season for the ages in which he threw for over 3,000 yards, had tossed for 30 TD passes and led his Gophers to a Outback Bowl win against the Auburn Tigers.
Now before I go on, I do want to acknowledge a few things. I understand that coming into 2020, Morgan did not have the same supply of weapons that he was supplied with from a year ago. That was a very special WR core and was one that we may not see again in the Big Ten for quite some time. However, that still does not excuse the fact that Tanner Morgan was not only a different QB in 2020, he was a flat out bad one.
Morgan, who I had known to be one of the most composed pocket passers in America, began to look as erratic as a runaway bride. Easy completions suddenly became skips on the turf. Wide open TDs turned into wide open misses and before you could bat an eye, the Golden Gophers had found themselves with a record of 3-4 and were bowless for the first time since 2017.
Morgan, who is about to enter his Senior year in Minneapolis, has a lot to prove to a lot of people. Boosters, the University, HC PJ Fleck, the whole 9 yards. We know he is capable of meeting these expectations, it is now up to him to go out there and do it.
7. Adrian Martinez – Nebraska
It seems as if anytime anyone talks about Adrian Martinez, they are constantly talking about the "What if?" "What if Martinez finally learned how to stop turning the ball over?" "What if Martinez learned how to really deliver in the pocket?" Its all a bunch of mumbo jumbo. The matter of the fact when talking about Adrian Martinez is this. Martinez has the talent of a Heisman caliber QB. He is that gifted athletically. However, and this is probably the most frustrating part when talking about Martinez, is that the dude can not stay out of his own damn way.
Need some examples of what I'm talking about. How about we go back to 2018 when during his first year in Lincoln, Martinez threw for 2,617 yards to go along with 17 TD passes and 629 rushing yards. Pretty promising right? 2019, 1,956 passing yards; 2020, 1,055 passing yards. COMBINED TD total in those two years; 14. I rest my case.
Adrian Martinez has the ability to be a very special QB one day. He has the arm, he has the speed and he sure as hell has the athleticism. But this is a guy that continues to decrease his game year after year and for that reason, he can not be in my top 5.
6. Graham Mertz – Wisconsin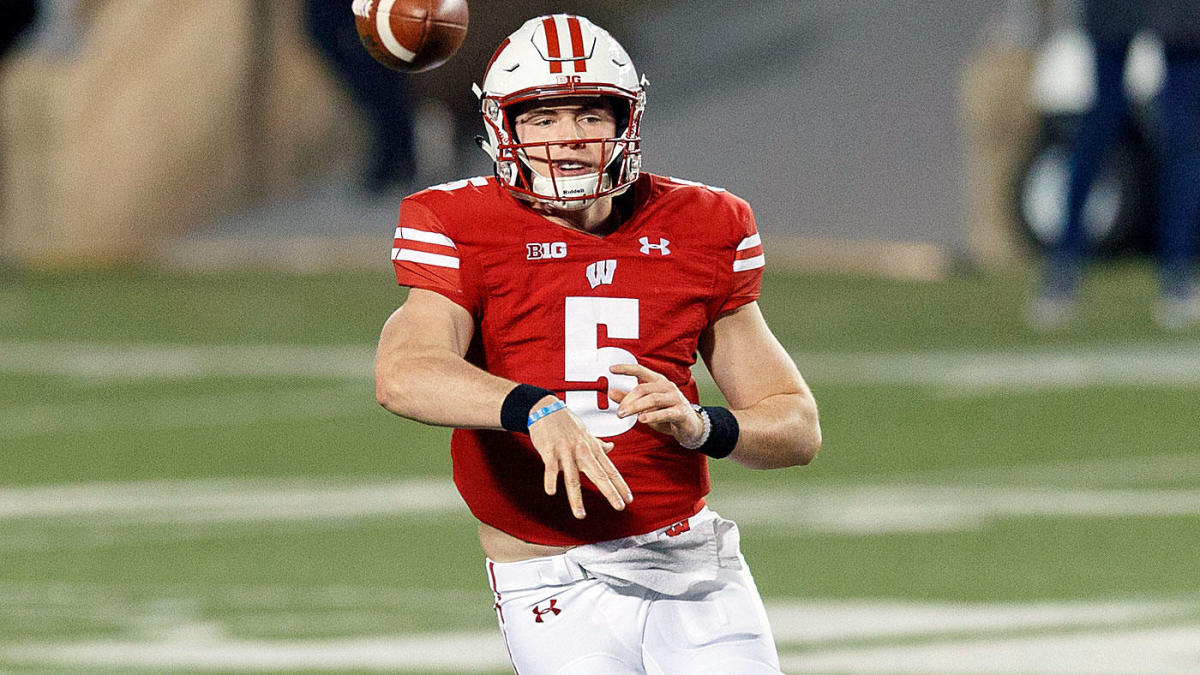 I have been waiting patiently all night to talk about the interesting case study that is Grahm Mertz! For those of you who are not aware, Graham Mertz is the definition of a roller coaster QB. Last year, during the Badgers season opener against Illinois, Mertz put on one of the most dazzling displays we have ever seen at the collegiate level, going 20-21 to go along with 248 passing yards and 5 TD passes.
So why am I calling Mertz a roller coaster QB? After going to a wedding and getting Covid, the 6'3 playmaker from Overland Park Kansas would go on to lose 3 of his next 4 games and throw for 5 pics (To just 3 TDs) in the process.
After watching week one of last season it would be very easy to call Mertz a top 5 QB in this conference. The skillset is certainly there and for the most part, the poise and composure seemed to be present during certain parts of the year. With that being said, I just feel as if there is way too much raw talent in this young mans game that has to be fixed. Will it? Probably. And when it does, the rest of this league better watch out.
5. Spencer Petras – Iowa
I am going to go out on a limb here and say that not only is Spencer Petras the most underrated QB in the Big Ten, but is one of the most underrated QBs in America. Petras, a native of San Rafael, California, had one of the most impressive closeouts the CFB world has seen in quite some time, going 6-0 which included 8 TD passes, 1,480 passing yards and just 2 INTs. Petras wasn't just good, he was flat out dominant is every possible way.
When watching Petras play, the thing that stands out most to me is his ability to get the ball out of his hand quick. Hawkeye head coach, Kirk Ferentz has always preached a fast woking QB and Petras fits that mold to a tee. I also am a big fan of the way Petras moves laterally, in addition to his ability to throw on the run. Stereotypically, Iowa football has been known for the "Stiff" QB, essentially meaning a player that doesn't move well. And while Petras isn't going to necessarily burn you with his legs, he is athletic enough to keep plays alive and avoid getting sacked. With Petras under center, I think Iowa has a real chance to run the table in the Big Ten West come fall.
4. Sean Clifford – Penn State
After starting the season off 0-5 a year ago, it would be very easy to write Sean Clifford off into the abyss. The 6'2 Junior looked about as lost as a starting QB can look and frankly, was asking to be benched.
However, after throwing for just 1,070 yards to go along with 8 INTs in his first five starts of the season, Clifford found a sudden switch. The gunslinger from Cincinnati, Ohio began to rekindle what he does best; which is to become the most underrated duel threat QB in the Big Ten.
When I watched Clifford play in the second half of the season, I saw two things that I felt were of key importance to the Nittany Lions successful, 4 game close out.
For starters, Clifford began to regain his confidence that the Nittany Lion faithful fell in love with during the seniors sophomore year in 2019. The moment did not feel to big for him and rather than force things, Clifford began to let the game come to him. I also noticed that during Penn State's 4 game winning streak to end the season, Clifford regained feel to both accuracy on his passes, and the touch on the deep ball. When Clifford is off, he becomes one of the more erratic QBs you will ever see. However, when he is dialed in, such as he was to end the season, he is a craft-full assassin that can slice up a secondary like a world renowned Hibachi chef.
By seasons end, Clifford had established a stat line of 1,883 passing yards, 16 TDs and 9 INTs. Are these the type of numbers that are going to jump out and kiss you on the mouth? For sure not. But it is the vast improvement during the second half of the season, along with a tremendous upside, that is reason for landing Clifford at this spot.
3. CJ Stroud – Ohio State
Is it overzealous of me to place a QB at #3 on our list that has yet to start a collegiate game? Perhaps. But like….how many times have we seen this song and dance before in Columbus? Braxton to Barrett, Barrett to Haskins, Haskins to Fields, the recipe to success surely works.
And while it may be unrealistic to place the same expectations on Stroud, that were placed on Fields, it is important to acknowledge that CJ Stroud has all the makings of being Americas next rising star.
Stroud, a former 4 star recruit from Rancho Cucamonga, California, is everything you would want in a prototypical pocket passer. He has an incredibly strong arm (Which was put on full display during the Buckeys spring game,) holds the pocket well and has the ability to keep plays alive with his freakish athleticism.
It is also worth noting that Stroud will have the luxury to throw to arguably, the best two receivers in the Big Ten in the likes of Chris Olave and Garrett Wilson. Mix that with the wisdom from Mr. QB guru himself, Ryan Day and I think Stroud is lining up to have a special debut season.
2. Taulia Tagovailoa – Maryland
Perhaps the surprise of the 2020 Big Ten season came through the likes of Taulia Tagovailoa. Tagovailoa, brother of Tua and transfer from Alabama, came into College Park with little to any expectations. Although Taulia was a 4 star recruit out of high school and had a decently large upside, the most people actually knew about him was that he was the brother of a National Champion hero. That quickly changed on October 30th, 2020.
During a foggy Friday night in College Park against Minnesota, Tagovailoa put on a show that we will be talking about for quite some time, compiling 395 passing yards to go along with 3 TD passes, 2 rushing TDs and a completion percentage of 74.3 in route to a 45-44 OT thriller.
If that performance isn't enough to move the needle for you, let's take a look at the following week, where Tagovailoa threw for 282 yards, tossed 3 TD passes and averaged over 10.8 yards per pass attempt in route to a shocking road defeat over the Penn State Nittany Lions. Starting to believe the hype?
Now yes, Tagovailoa does have a ton he needs to work on before he can be considered as an elite QB. He's young and with that youth, comes the innate ability to make youthful mistakes by lue of the turnover (Had a TD;INT ratio of 1:1 in 2020) However, I would be an absolute moron if I did not acknowledge the potential that this man has. If he can stay healthy, I truly believe we could be looking at the next GREAT QB this league has to offer.
1. Michael Penix Jr. – Indiana
Was there ever any doubt on who was going to be #1 on our list? Michael Penix, Jr. is not only good, and he is simply not even great, this is a guy who is without a question, one of the best QBs in the entire country.
When talking about the Junior QB from Tampa Florida, one can not help but be enamored by the raw athleticism that Penix shows on a weekly basis. The OT leap, the Columbus heroics, the accounts of his stardom are endless. To show you all just how special I think Penix Jr. really is, I am going to share an expert that I wrote after last seasons loss to Ohio State.
"There are no such things as moral victories in college football. But if there were, Indiana's performance on Saturday against the Buckeyes of Ohio State would be considered as one. The Hoosiers, who lost by a score of 35-42, had no business of being put in the same stratosphere with the Ohio State Buckeyes (At least, according to experts.) Ohio State was a better team who had better players and much more talent. But there is an immeasurable object out there entitled grit, which Indiana has held the keys to all season.
The Hoosiers knew that they had an outside chance to go on the road and shock the third ranked team in the nation. Heck, they were even three touchdown underdog according to the spread. They didn't care. They didin't let that narrative, define who they were. For every punch that the buckeyes would throw, Indiana would counter with a haymaker of their own. And yes, Indiana lost, which at the end of the day is all that matters. But if you can not admire the fight that this football team showed, you are not a fan of college football.
Finally, I want to highlight the guy who I felt had the most fight, out of ANYBODY in the country this past week. Michael Penix Jr. came into Columbus knowing that his counterpart, Justin Fields, was currently in the running for a Heisman trophy. He knew that Fields was host to the nations best QBR and was very aware that Fields was going to be the QB that was going to be getting the brunt of attention leading up to the contest. That was fine with Penix Jr., because as game time came, the sophomore southpaw out of Tampa not only matched Fields level of play, he bettered it.
Justin Fields would go on to have the worst game of his collegiate career, throwing for 3 INTs to go along with just 2 TD passes (1 rushing.) Penix Jr. on the other hand, would go on to have the best start of his life, throwing for a total of 491 yards to go along with 5 TD passes. And if you were to ask Penix Jr. after the game if he could trade placed with Fields, I guarantee you he would say, without a doubt, yes. Because at the end of the day, no matter how poorly Fields played and Penix shined, what truly matters is who won; a harsh reality that will stick with the young phenom for years to come."
Unfortunately, when talking about the greatness of Penix Jr., you must also address the elephant in the room that has been following the young playmaker for most of his young career. That elephant being, that Penix Jr. has a very hard time staying healthy (Penix has sustained a season ending injury during the last three seasons.) Some may label the show stopper as "injury prone," but frankly, these injuries come as a result of him laying his body on the line during every single snap. Greatness is not painless.
Finally, I would like to make a prediction on not only Penix Jr., but the team that he commands, The Indiana Hoosiers. Indiana, who is led by one of my favorite coaches in America Tom Allen, is one win away from making their first playoff appearance in school history. Yes, you heard that right…one win separates them from the big stage. What is that game you may ask? October 23rd at home vs Ohio State. I suggest marking your calendars.