I remember sitting at my desk a year ago, writing this same piece through the eyes of the unknown. I told readers to head into the fall with slim expectations because honestly, I did not know how much college football we were going to see. When I wrote this article a year ago, the Big Ten had postponed their season, along with the Pac 12, Mountain West and MAC. I was aware that conferences such as The SEC, ACC and Big 12 were scheduled to play on per usual, but was unaware as to how exactly the game would look without the pride and pageantry that comes with it. No bands…no fans…no tailgates….was this going to be a season worth watching at all?
And while it is worth noting that 2020 will go down as one of the strangest years in recent memory, it is also important to acknowledge that it was certainly worth the watch. We as fans, got to experience a Cinderella Story dressed up as a mullet-wearing Chanticleer. We saw a WR Heisman Trophy winner for the first time since 1991 and the awaking of the Mormon Manziel. 2020 brought us the rise of Cincinnati and the fall of LSU. We witnessed a shoe throw and a Red River shootout that will be talked about for years to come. And who can forget, the not so socially distance field storm in South Bend. If 2020 taught us anything, it was that no matter the circumstance, this sport will rise and prevail as the greatest game ever created.
As the old saying goes, "As one door closes, another one opens." And as the country begins to slowly open up again, through the help of vaccines and scientific practices, it would be expected that the 2021 CFB season will both look and sound about as "normal" as possible. 110 thousand will be expected to pack in Beaver Stadium on September 18th as Penn State will be set to host Bo Nix and the Auburn Tigers. The Grove will be back and rocking come Saturdays in the fall and Rocky Top will be sung with pride at historic Neyland Stadium. College football is a sport ingrained with tradition and pride, and one can only imagine the atmospheres that we are going to see in the coming weeks. Fans have been waiting to cheer on their alma maters for two years now and are not going to want the party to stop any time soon. And with that I say, let's get this party started with your 2021 complete CFB Season Preview.
Pac 12
We start our preview with what I believe to be the least competitive conference in the power 5. And that is not to take anything away from the Pac 12, but the matter of the fact is this. The Pac 12 has had just two schools make the CFP. Oregon in 2014-2015 and Washington in 2016-2017. That's it. Compare that to let's say the SEC, which has had 8 CFP appearances, and the P12 is on the outside looking in.
With that being said, I do think 2021 could offer a fair amount of competition when it comes to in conference play. As I currently see things, I think their are 4 programs that have a legitimate shot at winning this years Pac 12 championship. Those teams being; USC, Washington, Oregon and my sleeper to win it all, Arizona State. Let's start with the favorites.
The Favorite; USC
Coming off a 2020 campaign in which the Trojans of USC went 5-0 in the regular season and suffered a meer defeat to Oregon in the P12 Championship game, I think it is safe to say that this bunch is heading into the fall with revenge on the brain.
In my eyes, USC is the most talented team in this conference, and it's not relatively close. To start, the Trojans are host to one of the most gifted QBs in the nation, Kedon Slovis. Slovis, a Junior from Scottsdale Arizona, is the type of talent that you will be seeing on Sunday afternoons very soon and has the potential to be a top 5 pick during next years NFL Draft. Last year, in which Slovis transformed from a good, to elite QB, the 6'3 game manager compiled a stat line of 1,921 passing yards, 17 TDs, 7 INTs and a marked a completion percentage of 67%. If Slovis can continue to stay healthy and improve with every given start, I like this team to compete with almost anybody in the country.
Another asset to USC's game that really intrigues me is that they have arguably, one of the best secondaries in the entire country. Senior Safety, Isaiah Pola-Malo is a pro level talent who is coming off of a 40 tackle season. Chris Steele is one of the best corners in the conference and Isaac Taylor-Stuart is about as lock down of a defender as you are going to find. While USC will be a team that puts up plenty of points in 2021, do not sleep on this Trojans defense.
Overall, I think USC has a really promising season ahead of them. If they can navigate key road tests, such as a trip to South Bend in late October, we could be looking a potential NYB6 squad.
The Runner Up; Oregon
I'm sure to most, me saying that USC is the most talented team in the Pac 12 came as a bit of a surprise. Because at least on paper, Oregon is the most complete team in the conference. Ranked 12th nationally in the 2021 preseason coaches poll, the Ducks from Eugene enter the fall ready to pack a punch.
When talking about the Oregon Ducks, one must first start by discussing the strength of their team; which is their tantalizing defense. Oregon enters the year host to the conferences best defense which is surrounded by superstar caliber talent. Starting with the LB trio of Noah Sewell, Mase Funa and Isaac Slade-Matautia, and then heading over to the DE force that is Kayvon Thibodeaux, there is just no telling of how good this defense can be.
Another thing that could separate the 2021 Ducks from a good to great program is the production they see from Senior QB, Anthony Brown. Brown, a former transfer from Boston College is getting the starting job this fall after Tyler Shough, who started all seven games for the Ducks a season ago, enrolled to Texas Tech as part of a grad transfer. Brown is not the type of guy who is going to blow you away with his versatility, but does have the ability to make big plays thanks to a high football IQ and natural gifted athleticism. Want me to pick out a problem in the New Jersey native's game? He has 20 career INTs to just 40 TDs. That is not an awesome TD/INT ratio if you were to ask me.
Overall, I think Oregon is going to be a very good football team in 2021. They are not going to score 40 points a game, but have a good enough defense where they will be able to grind out and win key, low scoring affairs. Mario Cristobal, who is one of my favorite football minds in America, has done an outstanding job thus far during his time in Eugene, and I do not expect that to change any time soon.
Surprise Surprise, Washington is Good Again
The big story coming out of Seattle this summer is which QB we will be seeing on September 4th against the Montana Grizzles. Will it be Dylan Morris, the Sophmore gunslinger who threw for 897 yards during his debut stint a year ago? Or will it be Sam Huard, the 5 star mega-recruit from Washington who is said to be the next Mark Brunell. And to be honest with you, I think there's nothing wrong with a good old fashion QB competition. It benefits both men by that it pushes them to be better and in the end, there is a good chance that the leader of your team is going to rise to the top before the season even starts.
QB drama aside, Washington has plenty of other assets to their game that make them a dangerous bunch. Cade Otton, who is the one of the best TE's in the Pac 12, has the potential to not only have a big year, but have a year that the Huskie faithful will be talking about for years to come.
Another component of this program that makes them a true contender in this conference is the Huskies incredible amount of depth. Washington is entering the fall returning their entire offensive line, 3 starting WRs, 4 RBs who saw playing time last year and a plethora of returning defensive talent. News flash folks…..when a team returns this much talent to the field, it usually equates to some sort of success. Expect the Huskies to be in the hunt all season long.
The Dark Horse; Arizona State
If you were to tell me at the beginning of Herm Edwards tenure in Tempe, that the once NFL head coach would be 17-13 three years in, I would have called you crazy. And that isn't to say that I didn't believe in what coach Edwards was preaching, but I think we all can agree that he has thus far, surpassed any expectations that have been placed on him.
With that being said, I am about to place perhaps the highest expectation that Edwards has received in his illustrious career. I believe that this Sun Devils team has the talent and grit to not only compete in the conference this season, but win the Pac 12 for the first time since 2007.
There is a lot, and I mean A LOT to like about the 2021 Arizona State Sun Devils. For Starters, Jayden Daniels, who is only showing growth and improvement with age, is entering his 3rd season under center in Tempe and is bound for a monster bounce back year. The California native, who has already accounted for over 4,000 yards of total offense and 29 TDs, has the ability to become one of the conferences elite talents.
Additionally, State plays host to a ferocious running back core which is complimented by Junior Rachaad White and Sophomore, DeaMonte "Chip," Trayanum. If there is going to be anyone who will be able to crack the big defenses of this conference, it is going to come from the Grand Canyon State.
Big 12
Enjoy it while you can folks, this may very well be the last we see of the Big 12. As you may of already heard, Texas and Oklahoma, two of the conferences most prominent Universities, have decided to pack ship and leave for the SEC….well in the coming years that is. And in addition to that, there is a good chance that many school in this conference are going to follow suit and before you know it, the Big 12 won't be very big after all. Let's not worry about the future though, and instead preview a conference that has been run by one program for over half a decade.

The Favorite; Oklahoma
To say that Oklahoma's 2020 season was an up and down rollercoaster would be a drastic understatement. The Sooners, who entered the fall as a legitimate playoff contender, started their year 1-2 after getting stunned at home by Kansas State, and then going to Ames and getting manhandled by Iowa State by a score of 37-30. For most, people thought the Sooners chances at any sort of a successful season were all but over. They clearly hadn't met the resilient Spencer Rattler.
Rattler, a Sophomore QB from Phoenix Arizona, is the type of QB you love to play with, but hate to play against. The versatile playmaker has an above average arm, an incredible awareness of the pocket and can put a ball on a face mask no matter how tight the pocket is.
After Oklahoma had started 1-2 and found themselves treading water to stay afloat, Rattler took it upon himself to put the program on his back. He, along with a resilient passing attack and high tempo offense, would go on to win not one, not two but the final 8 games of the season, which were capped off by the Sooners 6th straight Big 12 Championship and a blow out win against Florida in The Good Year Cotton Bowl Classic. Rattler had finished the year with 3,031 passing yards, 28 TD passes, 7 INTs and 6 rushing TDs. These numbers were not only good, but gave Rattler some serious Heisman hype. As we begin to wrap up Summer camps, Rattler is currently the odds on favorite to win this years Heisman Trophy (+500.) I expect the once Pinnacle high school great, to have one hell of a sophomore season.
Along with the greatness that comes with Spencer Rattler, the Sooners come stacked with talent which make them the clear odds on favorite to win their 7th straight Big 12 title. Rattler will have plenty of targets to throw to this fall, including sophomore, Marvin Mims, junior, Theo Wease and Arkansas transfer, Mike Woods, who I believe has the potential to be a 900 yard receiver this season. The Sooners also play host to another new shiny toy, this time in the form of RB Eric Gray, a transfer from Tennessee who has rushed for over 1,300 yards in his last two seasons of play. I expect Oklahomas offense to be one of the fastest and highest scoring units in the entire country.
As far as the Sooners defense goes, what you see is usually what you get. Since DC Alex Grinch took over in 2019, Oklahomas defense has become noticeably better, but they are still…..a Big 12 defense. And what I mean by this is that when you put a Big 12 defense up against an elite offense, they are going to get slashed 10/10 times. It's just how it is. This is, and always will be an offensive driven conference. With that being said, Oklahoma does have some returning defensive talent that is worth talking about. The Sooners return a very solid pair of DTs in the likes of Perrion Winfrey and Isaiah Thomas who are sure to make some noise come Saturday's fall. Additionally, Grinch will call upon LB, Nik Bonitto to be the leader of his defense as well as LB Brian Asamoah to clog up the rushing lanes like a toilet on thanksgiving eve. While I don't expect Oklahoma's defense to be one of the best in the country this year, I certainly think they have a chance to be one of the best in the Big 12.
Is Texas Back?
Ahh the age old question…….. is Texas in fact….back? Well you tell me. Is a home loss to TCU last season considered back? Is a convincing Valero Alamo Bowl win against "Colorado" considered back? I'm not necessarily sure. Listen, this is what it all really comes down to. Texas football will always be one of the biggest football programs in America. It comes with the territory. So when you do not live up to the expectations that are constantly put on your program, people are going to hold you, and boy do I mean hold you, very accountable.
With that being said, I am actually quite excited for this years edition of the Texas Longhorns. The Tom Herman era in Austin is officially over and I am genuinely enraptured as to how Steve Sarkisian is going to handle to the reigns.
Additionally, the Sam Ehlinger era is also officially over which means it's time for TU to find their new QB1. As things stand today, it is more than likely that we will see either redshirt junior, Casey Thompson or sophomore Hudson Card start week one against the Rajun Cajuns of Louisiana Lafayette. If I had my pick, I would go with Card, who has the much more accurate arm and a higher upside. Either way though, the void that Ehlinger has left will be quite the task for either QB to fill.
Another aspect to Texas' new-look game that I particularly like, is their flashy rushing attack which is lead by star Bijan Robinson. Robinson, who came to Austin a year ago as one of the biggest RB recruits in recent history, quickly showed the CFB world as to why so much praise was surrounding his name. On 86 carries, Robinson was able to gather 703 rushing yards, score 4 TDs and average a tick over 8 yards per attempt. If Robinson can stay healthy, I think we could be looking at a potential Doak Walker Award winner.
Texas also returns the teams leading receiver from a year ago in Joshua Moore, as well as TE Cade Brewer, who is one of the best pass blocking TE's in the country. On the defensive side of the ball, the Longhorns will be welcoming back LB DeMarvion Overshown, as well as DT Keondre Coburn Jr., two men who you can expect to have massive fall campaigns.
All and all, I expect Texas to be good this year, but not great. I do not think they have the talent to compare to a team such as Oklahoma, but do feel as if they will have the moxy to hang in some tightly contested games. Rome wasn't built in a day, so you Texas fans better be ready to be patient with my man Sark.
Do Not Sleep on the Cowboys
Last year, my hot take coming into the season was that the Oklahoma State Cowboys were going to make the CFP. I thought the lethal combination of Tylan Wallace, Spencer Sanders and Chuba Hubbard would be way too much for B12 defenses to contain and felt as if this was going to be a team of destiny. I was wrong, very wrong.
Although the Cowboys finished the year with a respectable 8-3 record, they lost games they shouldn't have, had trouble keeping talent on the field and instead of playing in the CFP for the first time in program history, found themselves settling in the world famous…Cheez-It Bowl. At least they won.
As we now look ahead, I feel as if it is important to acknowledge that the expectations that will be placed on Mike Gundy's squad this year, will be drastically different than the one's put on the Cowboys a year ago. Wallace and Hubbard, who provided much of the offensive production for the last three years are now gone. And Spencer Sanders, who is entering Junior year with the team, will have lean on new and unproven faces.
With that being said, anyone who is willing to completely write off the 2021 Oklahoma State Cowboys may want to pump the breaks. Sanders' new top target, Tay Martin showed a lot of promise during last years bowl game win, by collecting 73 receiving yards on 6 catches. Martin is a go get it type of playmaker who does not quite have the explosiveness that Wallace possessed, but does have a big enough upside to make an impact this fall.
Additionally, the Cowboys will look to rely on their new RB1, Dezmon Jackson to provide much of the rushing attack in 2021. Jackson, a Senior from El Dorado Arkansas, is coming off a junior campaign in which he ran for 547 yards on 100 carries to go along with 4 rushing scores. It goes without saying that Jackson will not be able to provide the same type of production that Hubbard brought, but for the Cowboys sake, he better come damn near close.
Overall, fans should expect the Oklahoma Cowboys to have somewhat of a successful season. It would be overzealous to say they have enough in the tank to win the Big 12 this year, but it would also be foolish to say that they will be apart of the conferences bottom feeders. I think a 4th place finish would be a fair assessment for a team who will be constantly trying to look for a new identity.
Iowa State is Going to Win the Big 12
Yes, you read that right. The Iowa State Cyclones, who are fresh off their first ever Big 12 championship game, are going to win the Big 12. And not just that, I firmly believe that this team has enough talent on their roster to make the College Football Playoff. Boom.
So, where do we even begin with this team. Well for starters, we can talk about one of the best pocket passers in America, Brock Purdy. Purdy, who is about to embark on his Senior year, has been nothing short of spectacular since stepping foot in Ames back in 2018. In three years as starter, Purdy has compiled a career stat line of 8,982 passing yards, 62 TD passes, 25 INTs, a career completion percentage of 66.1, has averaged 8.5 yards per attempt, has rushed for 939 yards and has 18 total rushing TDs. Not to shabby if you ask me. Additionally, Purdy is just 518 passing yards away from surpassing Bret Meyer for the most passing yards in school history. By the time Purdy throws his last pass this winter, he will go down as without a doubt, the best QB this University has ever seen.
The second part of Iowa States three headed monster that I would like to discuss is Junior RB, Breece Hall. Hall, a native of Wichita Kansas, is entering the fall as the premier back in college football. Najee Harris is gone, Chubba Hubbard is gone, Travis Etienne is no more and it is time for Breece Hall to command the spotlight. Last season, Hall put on a sophomore clinic for the ages, leading the nation in rushing with 1,572 yards, leading the nation in carries with 279, scoring 21 TDs and averaging 5.6 yards per carry. In what is a stat that still blows my mind today, Hall rushed for 100 or more yards in 9 out of the 12 starts he made last season. The 6'1 speedster would go on to finish 6th in Heisman voting and become a finalist for the Doak Walker Award. If Hall can have even close to the year he had a season ago, the Cyclones are going to be in for one hell of a season.
Finally, I would like to talk about a guy who I feel is probably the most underrated, yet dangerous piece to this Iowa State team, and that is Senior TE, Charlie Kolar. Kolar, a native of Norman Oklahoma, is what we like to call in the biz, "Mr. Reliable." Collecting 591 receiving yards last year to go along with 7 TDs, Kolar is a player who does not drop the ball….like ever. In fact, Kolar is one of only 4 players from last season to have a total of 0 end zone drops. Standing at 6'6, this is a big time target that Purdy really likes to rely on in the Red zone and I expect Kolar to have as productive of a season as any TE in America.
Overall, if you are a betting man (or women,) I suggest that you get on the Iowa State bandwagon now. This is a team with offensive weapons everywhere you look and is a unit that is going to be virtually impossible to slow down throughout points of the season. As far as the Cyclones defense is concerned, I look at guys such as LB Mike Rose and Safety Greg Eisworth and expect them to do enough when need be. Oh, and we haven't even talked about the brilliance that is Matt Campbell yet. This is a guy that turned down multiple NFL head coaching jobs in order to pursue his quest at bringing home a National Title to Ames. If that doesn't fire you up I don't know what will. Roll Clones!!
ACC
Ah, the ACC or should we more properly call it, Clemson and everybody else. Look, I expect everyone who reads this to be fairly knowledgeable when it comes to CFB. And with that, I think we can all agree that the ACC has been run by one team and one team only for the better part of half a decade now. And sure, having Notre Dame last season was fun for a minute. It gave us one REALLY special game and a championship game that you just knew was going to be disappointing. But we are now back down to reality. There are 14 teams chasing the King and the King has a 100 mile lead.
The Favorite; Clemson
I think it goes without saying that Clemson is entering the fall as the HEAVY favorite to win their 7th straight ACC championship. And just how good are things for Clemson you may ask? Let me just say this. Trevor Lawrence, who will go down as arguably the greatest QB in school history is now gone to the NFL. For most schools in America, losing a guy like Lawrence would take years to replace. You wouldn't be considered a national title contender the very next year. So why is Clemson? Well let's start with my pick to win the 2021 Heisman trophy, DJ Uiagalelei.
November 7th, 2020. It is a cold and rainy night in South Bend as the number one ranked Clemson Tigers get set to face the number 4 ranked Notre Dame Fighting Irish in one of the most anticipated games of the year. Trevor Lawrence, who tested positive for COVID-19 a little bit over a week ago is unavailable to go. The Tigers turn to 6'4 Freshman, DJ Uiagalelei to take the reigns in just his second ever collegiate start. For most, this spells disaster. For DJ however, a product of high school powerhouse, St John Bosco, this spelled an opportunity to show the nation his god given talents.
Clemson would go on to lose the game but the bigger story (at least for this purpose,) would be what Uiagalelei accomplished during his first road start. By nights end, the Freshman had set a record for the most passing yards against Notre Dame in a single game with 439. With each punch that was delivered, Uiagalelei would respond with a blow that was twice as hard.
As we now enter the fall, with the California native being handed the keys to his team, one can only imagine what may transpire.
Aside from Uiagalelei, Clemson enters 2021 with one of the deepest rosters in the entire nation. Junior WR, Justyn Ross, who had to miss the duration of last season due to a congenital fusion in his spine, has been medically cleared to play and will be sure to make an immediate impact on this already lethal offensive attack. The Tigers also return a very dangerous WR core in EJ Williams, Frank Ladson and Joseph Ngata which will be highlighted by one of the best TEs in the ACC, Braden Galloway. Additionally, with Travis Etienne gone, you can expect Lyn-J Dixon to become the premiere back of the offense and will see a bit more than the 42 touches he got a year ago.
On the defensive side of the ball, I expect Brent Venables squad to be once again, one of the best defensive units in America. I look at guys like LB's James Skalski and Baylon Spector and am reminded of the physicality and grit that the Tigers defense throws at you on any given Saturday. And oh yea, how can we forget former mega recruit, Bryan Bresee, who is coming off of a monstrous true freshman campaign. There is a reason why Clemson has one of the highest rated defenses year in and year out, and it is because they continue to recruit, shape and mold talent like this.
Overall, when I look at Clemsons schedule this season, I see one potential loss and it is against a non conference opponent in Georgia. Truthfully, unless there is some serious conference realignment in the nearby future, Clemson is going to continue to dominate this conference and as a result of that, continue to make appearances in the CFP. Rinse, wash, repeat.
Watch Out For The Wolfpack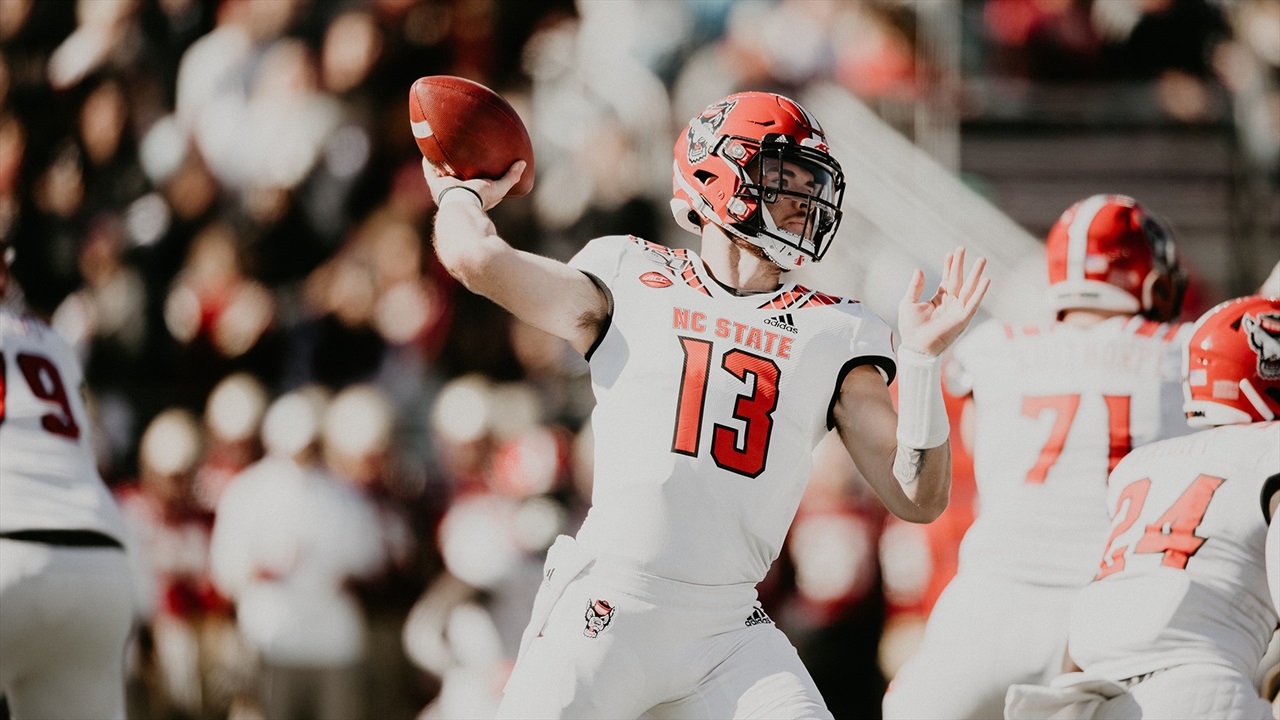 If there is any team in the ACC that is going to have an outside chance of beating Clemson in the regular season this year it is going to be the NC State Wolfpack. Coming off a surprising 8-4 season, the pack feel as if they can compete with just about anybody in America.
One major aspect that will equate just how much success we see from this team come fall is the production that comes from Sophomore QB, Devin Leary. Leary, a 6'1 playmaker from Sicklerville, New Jersey was in the midst of having a tremendous 2020 before having his season cut short due to a broken fibula. He ended up compiling a (Mid) season stat line of 890 passing yards to go along with 8 TD passes and 2 INTs. What I really like about Leary's game is how tall he stands in the pocket when he delivers a pass. I can't tell you the amount of times I see a college QB become small the second he smells an once of pressure approaching the pocket. With Leary however, it seems as if he almost welcomes the pressure, as he has the capability to make incredible plays under duress. For the Wolfpack, as well as my own personal sake, I hope Leary can remain healthy and continue to grow as a rising star.
Another few details that are worth noting surrounding the Wolfpack is that they come into the year as a very experienced bunch. The Wolfpack return all three of their top offensive targets from a year ago in the likes of Emeka Emezie, Devin Carter and Dylan Parham who is one of the best pass blocking TEs in the ACC. Additionally, the Pack return two really solid backs in Ricky Person and Zonovan Knight, who scored 10 TD a year ago. Make no mistake about it, this is not an offense that will be able to keep pace with a powerhouse like Clemson, but they will be able to hold their own on more occasion than one.
Overall, I think NC State has the potential to be a 7-8 win team. Dave Doeren has done a fantastic job turning this program around and who knows, maybe the Pack will be leading the headlines on September 26th.
It's All About the U
One of the most surprising developments of the CFB offseason came when QB, D'Eriq King announced that he would be foregoing the NFL Draft and returning to The University of Miami for his (Super) senior season. Now, it goes without saying just how big of a deal this is for Manny Diaz and his program. King is one of the most explosive QBs in America and is coming off of a season in which he threw for over 2,500 yards, tossed 23 TD passes, had just 5 INTs and rushed for nearly 600 yards, all in route to a very productive 8-3 season for the Canes. If King can continue to produce at the level he has for the last 4 years, I expect south beach to be very happy with the product they will be getting.
SIDE NOTE: It is very much worth noting that D'Eriq King tore his ACL during Miami's bowl game last season but should still be ready to go by, or close to week 1.
Unfortunately for Miami, one of the biggest stories for them heading into 2021 is how much talent they lost from a season ago. Superstar TE, Brevin Jordan is gone to the NFL as is Stud LB, Jaelan Phillips and sack getter, Quincy Roche. All is not lost however, as Miami is set to return key pieces to last years success such as Safety Bubba Bolden, Senior WR, Mike Harley and 10 TD scorer from a year ago, RB Cam'Ron Harris.
Last season, I felt that Miami really showed their true colors when they went up to Clemson and got shellacked by a score of 42-17. It showed me that although Manny Diaz and company may beat up on the bottom feeders of the conference, they are in nowheresville when it comes to competing with the big boys of the coast. I think that pattern will continue to stay true when the Canes get an opening week spanking against the Tide of Alabama.
Are They Worth The Hype?
There is one more team I would like to talk about when discussing the ACC. This is a team that may have had 4 losses a year ago, a program that may not have gotten a shot to play in the ACC Championship game, but is a team that certainly has the talent to compete with anybody in the country. I am of course talking about Mack Brown and the North Carolina Tar Heels.
I think if you were to ask most UNCs fans how they would assess the 2020 season they would tell you it was a bit of a disappointment. And the reason for this disappointment stems from the fact that the Tar Heels simply, lost too many games that they were supposed to win. A road loss to a depleted Florida State team? Avoidable. A road shootout @ Virginia? Very Avoidable. What it ended up coming down to was that UNC was the team that could have been, and that fractured a lot of hopeful Chapel Hill residents.
With that being said, the Tar Heels are getting set to enter a new year, which will be surrounded by a bevy of expectations. It doesn't matter what publication you read, they will tell you that UNC enters the fall as talented as any team in college football. Heck, I read somewhere that UNC should come into the season with a "CFP or bust," type of approach.
So what is warranting all these expectations you may be asking? Well for starers, UNC is host to a legitimate superstar in QB, Sam Howell. Howell, who is getting set to embark on his Junior year in Chapel Hill, is the type of playmaker most programs could only dream about. In just two years at UNC, Howell has already taken the nation by storm, throwing for a total of 7,227 yards to go along with 68 TDs and 14 INTs. For those keeping track at home, those are video game type numbers. I expect Howell to only continue to improve his dominance and by years end, we should see him in New York as a Heisman finalist.
If there is any aspect of North Carolina's game that concerns me coming into the fall, it is the fact that they are going to be without some of the key pieces that helped them be one of the nations premiere scoring offenses a year ago. In 2020, UNC was host to one of the greatest rushing duos the ACC has ever seen in the likes of Michael Carter and Javonte Williams. Both men are now in the NFL. The Tar Heels also will be without their top two receiving targets from a year ago, as Dyami Brown is part of the WFT and Dazz Newsome is a Chicago Bear. To replace that must offensive talent will be nearly an impossible task so the bigger question needs to becomes how much of a step back will the Tar Heels offense take in 2021?
Overall, I think we may be getting a little bit ahead of ourselves when talking about this years North Carolina squad. I understand how special of a talent Howell is and am aware of Mack Browns brilliance, but I also have to be realistic and acknowledge the amount of sheer offensive firepower that will no longer be with this program. I think we are looking at an 8-9 win team here at best.
Big Ten
I don't think there is any conference that I am more excited to watch this season than the Big Ten. And no, it is not because I am Penn State fan (okay maybe a little,) but more so over the fact that out of all the power 5 conferences, the Big Ten looked the least "Normal" a season ago. The conference didn't allow fans, had a shortened, conference only season, dealt with a ton of Covid cancelations and even bent the rules so the kings of their tea party could play in the conferences championship game. Needless to say, 2020 was not the best year for the Big Ten. However, this is a loaded conference that promises to bring a ton of competition and I can not wait to cover it all season long.
We ARE in Need of a Bounce Back Season
When Penn State started their 2020 season 0-5 for the first time in program history, panic spread throughout the mountains and valleys of Centre County, PA. The Nittany Lions had looked about as unrecognizable as a snow storm in Florida and were one of the few teams in the conference that could not find their identity even if it was standing two feet in front of their face. However, thanks to a second half resurgence by junior QB, Sean Clifford, Penn State was able to win their final 4 games of the season and enter the new year with new found momentum.
If Penn State wants to avoid the disaster that was much of their 2020 campaign, they are going to have to ride the coat tails of Senior QB, Sean Clifford.
After throwing for just 1,070 yards to go along with 8 INTs in his first five starts of the season, many were calling for the versatile playmaker to find a seat on the Penn State sidelines. However, Clifford found a sudden switch. The gunslinger from Cincinnati, Ohio began to rekindle what he does best; which is to become the most underrated duel threat QB in the country.
When I watched Clifford play in the second half of the season, I saw two things that I felt were of key importance to the Nittany Lions successful, 4 game close out.
For starters, Clifford began to regain his confidence that the Nittany Lion faithful fell in love with during the seniors sophomore year in 2019. The moment did not feel too big for him and rather than force things, Clifford began to let the game come to him. I also noticed that during Penn State's 4 game winning streak to end the season, Clifford reclaimed his feel to both accuracy on his passes and the touch on his deep ball. When Clifford is off, he becomes one of the more erratic QBs you will ever see. However, when he is dialed in, such as he was to end the year, he can become a craft full assassin that can slice up a secondary like a world renowned Hibachi chef.
By seasons end, Clifford had established a stat line of 1,883 passing yards, 16 TDs and 9 INTs. Are these the type of numbers that are going to jump out and kiss you on the mouth? For sure not. But Clifford is the type of dude who loves to compete and I expect him to have a monster Senior year.
Along with Clifford, Penn State returns some key pieces that could be beneficial to the Nittany Lions overall success. Jahan Dotson, who lead the team with 884 receiving yards a season ago is back, along with Parker Washington, a speedy wide out from Texas who showed glimpse of stardom during last years freshman season. The offense will take a hit losing TE Pat Freiermuth, but all is not lost as the Lions will welcome back RB Noah Cain who missed much of last season due to an injury. Throw in the down hill rusher from Virginia in Devyn Ford and Penn State could be looking at a dangerous offensive attack come fall.
On the defensive side of the ball, Penn State will look to key pieces such as Safety Jaquan Brisker, LB Brandon Smith and CB Tariq Castro-Fields to pick up the missing pieces that men in the likes of Micah Parsons, Shaka Toney and Jayson Oweh left behind.
Overall, Penn State is a program that has a lot of potential heading into the fall, but will have to execute during key situations throughout the year to avoid another disastrous start.
Can Iowa Win the West
Since the Big Ten started playing a championship game in 2011, the Wisconsin Badgers have never had consecutive seasons without making an appearance. And of course, the Badgers did not appear in the B10 championship last year, as that spot was earned by Pat Fitzgerald and the Northwestern Wildcats. So will history be made in 2021?
I think so. And the reason for this is not because I think Wisconsin will be bad per se (I will talk about them later on,) but rather that I feel as if their is a more talented team in the west division entering the season. That team being, The Iowa Hawkeyes.
Led by the longest tenured head coach in America (Kirk Ferentz), and a QB that can sling it like the sun don't shine, Iowa is entering September with hopes that are through the roof. The Hawkeyes are also riding waves of momentum as they won the final 6 contest of their season which gave them the title of one of the hottest teams in America.
Spencer Petras, remember the name. Petras, a 6'5 Junior from San Rafeal, California is not only the most underrated QB in the Big Ten, but is one of the most undervalued QBs in America. The game manager first made a name for himself a year ago as he had one of the most impressive closeouts the CFB world has seen in quite some time, going 6-0 which included 8 TD passes, 1,480 passing yards and just 2 INTs. Petras wasn't just good, he was flat out dominant is every possible way.
When watching Petras play, the thing that stands out most to me is his ability to get the ball out of his hand quick. Kirk Ferentz has always preached a fast woking QB and Petras fits that mold to a tee. I also am a big fan of the way Petras moves laterally, in addition to his ability to throw on the run. Typically, Iowa football has been known for the "Stiff" QB, meaning that they usually lean towards a player that doesn't move well. And while Petras isn't going to necessarily burn you with his legs, he is athletic enough to keep plays alive and avoid getting sacked.
Along with Petras, Iowa brings talent to the field that can hurt opposing defenses in a plethora of ways. TE Sam LaPorta returns to Iowa city looking to continue the legacy of great Iowa TEs. Tyler Goodson is a sneaky talented running back and center Tyler Linderbaum is one of the best offensive linemen's in The Big Ten. This is not an offensive attack that is going to be able to win a track meet, but should be able to score enough to win some tightly contested ball games.
Where Iowa should, and frankly have always been able to shine is through the defensive side of the ball. The Hawkeyes have had a history of hosting some of the stingiest defensive units in the nation and 2021 should be no exception. Some players you should keep an eye on include DE Zach VanValkenburg, Safety Jack Koerner and one of my favorite defensive players in the Big Ten, LB Seth Benson. Since taking over as defensive coordinator in 2012, Phil Parker has done a tremendous job of turning his defense into a tenacious pack of wolves and I can't see what his unit does during those cold, Iowan afternoons….when defense really matters most.
Overall, I really like this Iowa team man. I believe that they have the most talented roster in the west division and like them to be making an appearance in Indianapolis come December 4th.
How About Those Hoooosiers
There may not have been a more surprising story from the 2020 CFB season than the Indiana Hoosiers. What started with an OT leap against Penn State, ended with a startling 6-2 record and a top 10 national ranking. The question now becomes…can they follow it up?
If Indiana is going to repeat any sort of success they had from a year ago, they are going to have to rely on their superstar, Michael Penix Jr. Penix Jr. is not only good, and he is simply not even great, this is a guy who is without a question, one of the best QBs in the entire country.
When talking about the Junior QB from Tampa Florida, one can not help but be enamored by the raw athleticism that Penix shows on a weekly basis. The leap, the Columbus (near) heroics, we could go on about this mans stardom for days.
Unfortunately, when talking about the greatness of Penix Jr., you must also address the elephant in the room that has been following the young playmaker for most of his young career. That elephant being, that Penix Jr. has a very hard time staying healthy (Penix has sustained a season ending injury during the last three seasons.) Some may label the show stopper as "injury prone," but frankly, these injuries come as a result of him laying his body on the line during every single snap. Greatness is not painless. I believe if, and it is a verrrrry big if, Penix Jr. can stay healthy this season, we could be looking at a potential heisman candidate.
In an ideal world, Michael Penix Jr. would be able to put his team on his back during the duration of the season and single handedly, win every game by his lonesome. However, we all know that can not be the case. Indiana will also have to rely on playmakers such as WR Ty Fryfogle and deep ball threat Miles Marshall to help carry some of the offensive load. Additionally Indiana's rushing attack, which has been seemingly underwhelming over the last couple of years, will need to step up through guys such as Tim Baldwin and Sampson James. Can Indianas offense be great in 2021? Yes. But, this question can only be answered through a slew of dependent variables.
Finally, I want to talk about perhaps the biggest challenge that lies ahead for Indiana, which is their grueling schedule. Tom Allen and company open the season up in Iowa city which is never an easy environment to compete in. They then host Desmond Ridder and Cincinnati in week 3, before heading to play a sneaky talented Western Kentucky team in week 4. If that wasn't enough, the Hoosiers will have to head to Happy Valley to play Penn State in week 5 before hosting their biggest game of the season against Ohio State on October 23rd. If that is not one of the most challenging schedules you will ever see, I don't know what is.
If Indiana can somehow, someway navigate this behemoth of a schedule, we may be looking at one of the most deserving CFP teams of all time.
Pressure is an 8 Letter Word
If you were to ask me what team in America was entering the year with the highest amount of pressure I would tell you that it would undoubtably be The Michigan Wolverines. In analogical terms, Michigan is like an underground geiser at Yasmine Park waiting to explode at any given second. Jim Harbaugh, who I can not believe is still employed by the Wolverines, will have plenty to prove this season as he enters his 7th year in Ann Arbor. Will this be the year he finally beats Ohio State? Only time will tell.
If Michigan is going to get out of the 2021 gates fast, they are going to have to ride the horse that is sophomore QB, Cade McNamara.
I think it goes without saying that the Joe Milton experience failed miserably in Ann Arbor. The man with the golden arm never panned out to be but to the Michigan faithfuls delight, the Wolverines may have found a diamond in the rough.
McNamara, a sophomore gunslinger from Reno Nevada, expected 2020 to be a year spent on the bench. However, after Joe Milton became…..well Joe Milton, McNamara's name was called and he did…..not…..miss. The highlight of McNamara's season came on a cold November night in Piscataway, when the 6'1 playmaker threw for 260 yards to go along with 4 TD passes in route to a thrilling triple OT win against the Scarlet Knights of Rutgers.
Is McNamara going to be the best QB in the Big Ten this season? For sure not. But I do feel as if he has a TON of untapped potential that Jim Harbaugh is going to have a field day with. And who knows, maybe McNamara will become the guy to lead his men past the Ohio State for the first time since 2011 (Probably not though.)
In addition to McNamara's rising upside, the Wolverines will be tasked with turning to key returning talent as the year goes on. Michigan returns three of their top four receivers from a year ago, and will look to playmakers such as  Ronnie Bell and Cornelius Johnson to carry most of the offensive load. As far as the rushing attack goes, Michigan will have to rely on senior Hassan Haskins, who was decent last season, but is not the type of back that is going to take over a game. When Josh Gattis got hired as Michigans offensive coordinator in 2019, people expected the Wolverines offense to be the next big thing in college football. But so far, and I am going to be brutally honest here, it has been nothing more than mediocre at best.
With all this being said, the biggest variable that will determine whether or not the Wolverines have a successful 2021 comes through the lens of the defensive side of the ball. Don Brown, who has been Michigans DC since 2016 is now gone, giving Mike Macdonald a chance to step up and retool what was terrible season for the boys in Mason Blue. Last season, Michigans defense allowed 434 yards and 35 points per game, which landed them as the 3rd worst defense in The Big Ten. If things are going to change, Michigan will need to see more production from men in the likes of LB Josh Ross and sack getter, Aidan Hutchinson. If they don't, we could be looking at another catastrophic season.
Will this be the year that Michigan finally beats Ohio State? Probably not. Will Jim Harbaugh be the head coach of the Michigan Wolverines come 2022? It's likely….but only because the school is too scared to pull the trigger. Look, the matter of the fact is this. I do not believe that Michigan will be very, to good at all this season. But because they are Michigan and are one of the most storied programs in the country, I am of course going to add them to this season preview. If I didn't, it would be like leaving the Yankees out of prime time on Sunday night when their playing the Sox. There's just some things you don't do.
Welcome to WR-U
OH-IO….you one. Now listen, was Ohio State a very talented team in 2020? Of course. Justin Fields was a Heisman caliber talent and Ryan Day continued to solidify himself as one of the best offensive minds in all of CFB. However, did Ohio State deserve to play in the 2020 CFP? No they did not and I will tell you why. Due to many COVID complications within the Buckeyes program, and frankly within the Big Ten in general, Ohio State finished their regular season with just 5 games under their belt. 5 wins…but 5 games never the less. And according to Big Ten Commissioner Kevin Warren, who laid out a set of multiple guidelines prior to the season, it was stated that to be eligible to participate in the Big Ten Championship game, a team MUST complete at least 6 regular season games, which Ohio State failed to do. So how did the Buckeyes get in you may ask? Well, when you are Ohio State and make the conference millions upon millions of dollars per year, they are willing to bend a few rules to make sure their sugar daddies are satisfied. Is that fair? You bet your biscuits it aint. But it is important to remember that college football is not fair…it is a business.
Rant over, lets start talking about the 2021 edition of The Ohio State Buckeyes. I think it is pretty clear to say that Ohio State is coming into the fall as the heavy favorites to win The Big Ten. Although Justin Fields is now gone, the Buckeyes have far and away the most talented and deepest roster the conference has to offer. And truthfully, it has been that way for quite sometime. Ohio State's conference dominance has not quite reached the level that Oklahoma and Clemsons has, but we are getting pretty darn close.
Is it overzealous of me expect a guy like CJ Stroud, who mind you, has yet to start a collegiate game, to jump in and have ravishing amounts of success right away? Perhaps. But like….how many times have we seen this song and dance before in Columbus? Braxton to Barrett, Barrett to Haskins, Haskins to Fields, the recipe to success surely works.
And while it may be unrealistic to place the same expectations on Stroud that were placed upon Fields, it is important to acknowledge that CJ Stroud has all the makings of being Americas next rising star.
Stroud, a former 4 star recruit from Rancho Cucamonga, California, is everything you would want in a prototypical pocket passer. He has an incredibly strong arm (Which was put on full display during the Buckeys spring game,) holds the pocket well and has the ability to keep plays alive with his freakish athleticism.
It is also worth noting that Stroud will have the luxury to throw to the best two receivers in the Big Ten in the likes of Chris Olave and Garrett Wilson. Olave, who is coming off of a 50 REC, 729 YDS and 7 TD year, is the type of wide out who can go up and out muscle you with 50/50 balls, but also has the ability to burn you with his blazing speed. Combine that with Wilson, who recorded 723 receiving yards a year ago, and we are looking at the Big Tens version of Justin Jefferson and Ja'Marr Chase. Oh, and how did I forget to talk about the coolest running back in America, Master Teague. Teague is coming off a 514 yard season in which he scored 8 times and averaged just under 5 yards a carry. This offense has danger every which way you look at has the potential to be one of America's best.
On the defensive side of things, I expect the Buckeyes to be perhaps not be the most dominant unit in the conference, but rather a group that may go through some growing pains throughout the course of the season. With Chase Young now way out of the picture, guys in the likes of Haskell Garrett, Zach Harrison and Tyreke Smith will have to start getting in the frame and making their presence much more known. In my earnest opinion, I think the only thing that could slow this Buckeyes offense down, as well as hurt their chances as making another trip to the CFP…. is their lack of defensive talent.
SEC
There is a reason as to why I decided to put The SEC as the final power 5 conference in this preview. The SEC is the most talented, the most competitive, the most tradition based and the most fun conference in all of college football. I could talk about SEC football until the damn sun goes down. Now, I am just going to warn you guys, this is going to be the longest section of our preview and for good reason. This should be the best content of our preview, as we are going to be talking about legitimate division races and meaningful conference rivalries. You ready?
Hotty Toddy Gosh Almighty… We Got Ourselves a Team!
When Lane Kiffin first arrived in Oxford dressed to the nines, you just knew things were about to get a whole lot more exciting at the place they call Ole Miss. And boy, did they. Mississippi, who were one of the only teams to challenge Alabama all year long, found themselves with a 5-5 record which was capped off by an Outback bowl victory against Indiana. Now, with a star QB returning and a fiery head coach getting comfortable, Ole Miss enters the fall as one of the must watch teams in the SEC.
What would a college football preview article be without a few hot takes? So far, I feel as if my takes have been, for the most part, lukewarm at best. But what I am about to say may stir the great people of Oxford up to a whole new degree. Here goes nothing.
I am not a buyer of Matt Corral. And I know what you are all gonna say. "Did you watch last season bro? The dude threw for over 3,000 yards, tossed 29 TD passes and was absolutely phenomenal!" And while I can acknowledge that and even understand the Heisman hype surrounding the Junior QB from Ventura California, I am here to tell you to not buy into the hype. Listen, Matt Corral is a very talented QB. But he also has a tooooon of flaws that often times go unaddressed by the national media. For starters, when watching Corral play last year, I saw a ton of inconsistencies when it came to the accuracy on his passes. Corral finished the season with 14 INTs, 8 of which came during a two game stretch against Arkansas and Auburn. Is that Heisman material to you? Additionally, Corral is the type of QB that just makes way too many rash decisions. I can't even tell you how many times I saw him try to play hero ball on a 3rd and short, as opposed to making the smart decision and throwing the ball away. If Corral can clean up his mistakes, does he have the potential to be a star in the SEC? For sure. I just think that is way easier said than done.
Another reason as to why Ole Miss is getting so much love heading into the season is the amount of speed they will be presenting on the offensive side of the ball. The Rebels are no longer with speedster Elijah Moore and TE  Kenny Yeboah, but return explosive playmakers in the likes of Dontario Drummond and Braylon Sanders, who I expect both to have break out years.
As far as the Rebels defense is concerned, Ole Miss is going to come at you with an aggressive 3-4 attack, which will be led by LB Sam Williams and star safety, AJ Finley. I'll be honest with you folks, this is a defense that is going to give up a lot of points this season. For Kiffin's sake, lets hope they can make some big stops when the moment calls.
I saw a headline today that read "Why Ole Miss will win the SEC West." And to that I say, that person may need to be checked into an insane asylum. Ole Miss has the potential to be a very exciting team come fall. But they have nowhere near the talent to compete with powerhouses such as Alabama, Texas A&M, LSU or even Auburn. It would be a great cinderella story, seeing how a team outside of LSU, Alabama or Auburn has not won the SEC West since 2006, but it just isn't going to happen.
Is This the Year Jimbo Does It?
Jimbo Fisher is 0-4 against Nick Saban. To do you one better, in the last three seasons, Nick Saban is 11-0 against his former assistants. Could this be the year? Well, I will tell you this. If there is ever a year to do it, it's gonna be this one. At least on paper, this is one of the most talented teams Jimbo Fisher has ever coached and is coming into the fall as a legitimate national title contender. And the Aggies get a shot at Bama in their own back yard. If not now, then when?
There are three key components that will determine of whether or not the Aggies of Texas A&M will be in the CFP. The QB, the RB and the defense. We start with component number one.
The Kellen Mond era, although fun, is now over in College Station. And the next man up for the Aggies has yet to be fully decided. As things stand today, Jimbo Fisher has two QBs competing for one starting spot. Those QBs being, Haynes King and Zach Calzada. What I am hearing is that the 6-3, 200-pound King has the job all but won, but you never know. Either way, the job to replace Mond will not be an easy task.
The second component to Texas A&M's success will be the production they get from their superstar running back, Isaiah Spiller. It should come as no surprise to anyone that with Mond gone, Spiller will be asked to provide much of the Aggies offensive production. And frankly, this is a task that is more than achievable for a guy who in my eyes, is the second best RB in the conference (Auburns Tank Bigsby being one.) Last season, during Spiller's sophomore year with the program, the 6'1 down hill rusher compiled 1,036 rushing yards on 188 touches to go along with 9 rushing TDs. I expect Spiller to have a monster junior campaign and help catapult A&M to one of the best rushing attacks in the nation.
The third, and arguably most important component to Texas A&M's success, comes through the eyes of their defensive attack. The Aggies have always had a good defense, but I am not sure people are fully aware of just how dominant this defense has the capability of being. Defensive Coordinator Mike Elko should be counting his lucky stars that he is surrounded by talent such as LB Aaron Hansford and DT DeMarvin Leal. I expect playmakers in the likes of McKinnley Jackson and ball hawk Leon O'Neal to ball out and have All-SEC types of seasons. This bunch has the potential to be not only the best defense in the SEC, but the most dominant defensive unit in the entire country.
Realistically, I think there are two teams that can win the SEC West in 2021. Alabama and Texas A&M. That's it. I also think that a playoff birth could very well be earned during their matchup in College Station on October 9th. If not now, then when……

Geaux Tigers!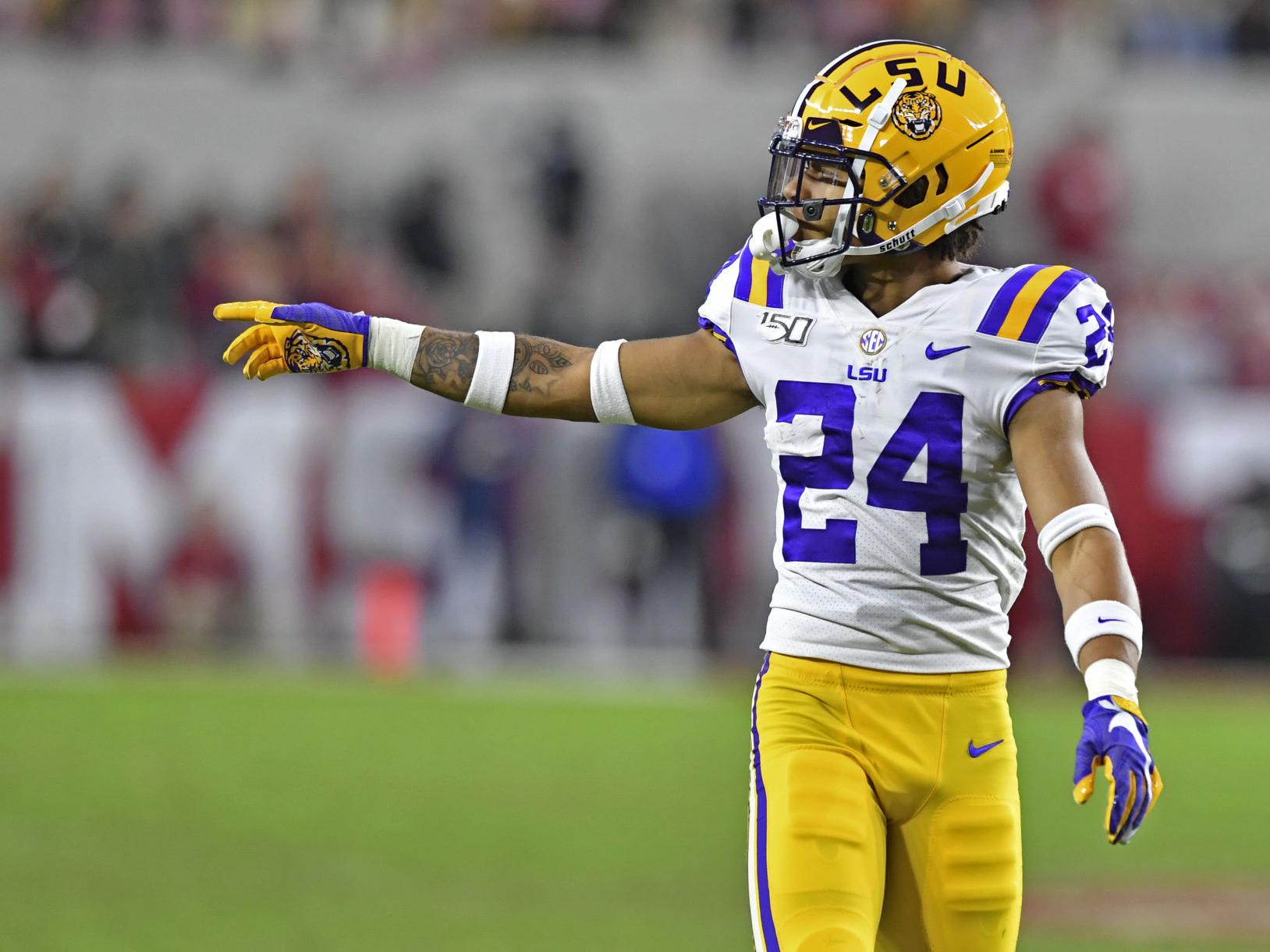 There may not have been a more dominant team in the history of college football than the 2019 LSU Tigers. A program that went 15-0, averaged over 500 yards per game, was host to the Heisman trophy winner and won a National Title, simply could do no wrong. However, 2020 was a completely different story. The Tigers lost their starting QB, were without their two leading receivers, had said ban voyage to their passing coordinator and were entering the fall with a nearly naked defense.
With all that being said, LSU had still managed to enter the fall as a top 10 ranked team in the country. However, it was very clear from the jump, that things were about to head south very fast. The Tigers opened up their season at home, where they were upset by a bad Mississippi State Bulldogs team by the score of 44-34. This would then be followed by many effortless attempts at success and if it were not for a thrown shoe in Gainesville, LSU would be trying to bounce back from an under 500, 2020 campaign. The question now becomes, what does LSU have to do to even gain a waft of the success that was experienced two years ago.
Unless you either A. live under a rock or B. Don't follow SEC football closely, you are more than likely aware of the current state of the Tigers QB dilemma. As first reported roughly 2 weeks ago, Myles Brennan, who had been LSU's starting QB from a year ago, had broken his non throwing arm during a fishing incident and is expected to miss significant time of the upcoming CFB season. If that doesn't spell disaster all over it, I'm not sure what will.
All things considered, all hope is not totally lost for the Tigers as they will now be relying on sophomore gunslinger, Max Johnson. Johnson, a 6'5 pocket passer from Athens, Georgia is coming off of a solid freshman year in which he threw for a tick over 1,000 yards, which included two very impressive starts against Florida and Ole Miss. When I watch Johnson play, I see shades of Kyle Trask mixed in with a little bit of Jake Fromm. Johnson is not going to throw the prettiest ball you will ever see, but he knows how to get it there and does a great job of putting balls in tight windows.
Along with Johnson, LSU brings a offense into the fall that should be a bit more impressive than a season ago. Kayshon Boutte, who raked up over 700 receiving yard last year, is ready to lead LSU's receiving core and put this once dominant unit back on the map. Additionally, LSU is going to have to rely on a really solid offensive line to help improve a rushing attack that was flat out non existent last year.
As for as the Tigers defense is concerned, I expect this unit to be the glue of the team. We all know how special of a player CB Derek Stingley is. DE Ali Gaye has the potential to be a one man wrecking crew and LB Damone Clark may just be a top 5 linebacker in America. If LSU is going to get back to the promise land any time soon, it is going to be in part to their defense picking them up and getting them there.
Is LSU going to win the SEC West in 2021? For sure not. However, I do expect Ed Orgeron, who is bringing in one of the best recruiting classes in America, to have a much improved season. When you look at the individual talent that is on this roster, LSU is just way too good to be a .500 program. My prediction is that they will win anywhere from 7-8, to even possibly 9 games by seasons end.
The Champ is Here!
Was there any doubt as to who was the most talented, dominant and flat out special team in CFB last season? From the jump, it became clear that Alabama was on a different level than anybody else and was not going to allow a single soul to get in their way from conquering the programs 18th National Title. The Crimson Tide now enter the fall as the kings of mountain, and will be looked to get knocked down with any and every opportunity that passes by.
One thing that made Alabama such an unstoppable force in 2020 was their patented offensive attack. Led by offensive coordinator Steve Sarkisian, The Crimson Tide averaged 542 yards per game to go along with 49 points per contest. Alabama's offense was so good in fact, that they were held to under 40 points just twice during the duration of the season. Do you understand how ludicrous that is?
With that being said, Alabama is going to have to revamp their offensive attack as they may be losing the most offensive talent as anybody in the country. Steve Sarkisian is off to Texas. Heisman winner Devonta Smith is an Eagle, Davey O'Brien Award winner Mac Jones is a Patriot, Doak Walker Award winner Najee Haris is a Steeler and Jaylen Waddle is now a Miami Dolphin. I understand these types of talent dumps come with the territory in Tuscaloosa, but damn is that a lot of star power jumping ship!
However, if you are an Alabama fan, there is absolutely zero reason to panic. Nick Saban has been in this business for quite sometime and knows how to turn a program around in record time. For example, no more Steve Sarkisian? That's fine, Saban will just go ahead and hire Bill O'Brien who was an OUTSTANDING play caller during his time spent in the college game. No more Mac Jones you say? How does one of the biggest former recruits in America in the likes of Bryce Young sound to take his place? Young is said to be the next big star in the SEC and could very well put up Heisman type numbers throughout the season.
As far as who Young is actually going to throw the ball to, the Crimson tide return one of the most underrated wide outs in America, John Metchie III. Metchie, who was totally overshadowed last year by Devonta Smith, put on a campaign that would be considered by most programs in America, as WR1 material. The 6'0 junior was able to rack up 916 yards to go along with 6 TD receptions, all while averaging 16.7 yards per catch. That in itself should give you reason to believe that Alabamas offense will have no problem picking things up right where they were a year ago.
Defensively, Alabama is also losing some key pieces that helped them win last years national championship. Dylan Moses, who was the heart and sole of the Crimson Tide defense is gone, along with CB Patrick Surtain and DT, Christian Barmore. Fortunately though, this dump in talent is nowhere near as substantial as it is on offense, and the Tide should have no problem filling in the missing pieces. I look for guys in the likes of LB Christian Harris and ball hawk Henry To'o To'o to really step up this season and continue the Crimson Tides legacy of always having one of the nations most polished defensive attacks.
All and all, Alabama may look a bit different than they did a year ago, but we all know that they are going to achieve success. It is what Nick Saban and this prestigious program do on a year in and year out basis. Win…Win….and win some more. The Crimson Tide are the Yankees of the CFB world. The only difference is that Alabama knows how to take care of business in the 21st century. I expect Alabama to have a very successful year and see them making their 7th CFP appearance. (Fun Fact: The Crimson Tide have only been left out of the CFP once in 2019. That should tell you all you need to know.)
Can They Finally Win With a QB?
For as long as I can remember, the narrative surrounding Georgia football has stayed the same. The Bulldogs have always been a competitive program, but seem to be a missing variable away from turning into a national champion. What is that variable you may be asking? None other than the most important position on the field, the QB.
In 2017, Georgia made it all the way to the national title game where they were led by a dominant defense, an elite RB room and an above average QB in true freshman, Jake Fromm. And while Fromm was good during his time in Athens, he never established a level of preeminence that allowed his team to be elevated to the next level.
When Fromm left Georgia at the end of 2019, Kirby Smart called upon D'Wan Mathis, a duel threat presence from Belleville, Michigan to be the next man in charge. The experiment failed miserably, as Mathis was benched after just one game. Next up came Stetson Bennett, a former walk on in Athens turned feel good story. Bennett played surprisingly well for the Bulldogs, but still did not quite fit the criteria that was being asked from an aspiring title contender. Then came along J.T Daniels.
When J.T Daniels first stepped foot on campus in Southern California, he was expected to be the next Matt Leinart. The Irvine native entered his freshman season as one of the biggest QB recruits The University Of Southern California had ever seen. Then, on September 31, 2019, during Daniels first collegiate start, the 6'3 game manager tore his right ACL, causing him to miss the remainder of his freshman season. Insert Kedon Slovis and by the spring of 2020, Daniels has a new home in Athens Georgia.
Here is where things start to get really interesting. In my opinion, Kirby Smart waited entirely too long to give Daniels his first start of the 2020 season. Now, he can say Daniels was still nursing that injury all he wants, but you and me both know he was just trying to ride out the mail man's (Stetson Bennett) train as long as he could.
When Daniels finally did get the opportunity to start in late November, he grabbed the occasion by the throat, throwing for 1,231 yards in 4 starts to go along with 10 TD passes and just 2 INTs. Daniels is as poised and polished of a starting QB as you are going to find in the SEC, and with weapons to throw to in the likes of Kearis Jackson, Jermaine Burton and potentially George Pickens, there is no telling as to the type of season he is about to have.
Georgia, who has cemented themselves over the last half decade as one of the best defensive units in the nation, is entering the fall loaded with defensive star power. LB Nolan Smith and DT, Jordan Davis are two of the best defensive players in the country and will be getting their numbers called on Sunday in the very near future. Additionally, the Bulldogs are going to be very hard to move the ball on, with CB Derion Kendrick locking down WR1s and DE Travon Walker and LB Adam Anderson clogging up running lanes. I fully expect this defensive constituent to continue their dominant legacy come Saturdays this fall.
Put up or shut up. That has to be the message for the 2021 Georgia Bulldogs who have not won a national title since 1980. The talent is there. The QB is now there. The coaching is certainly there. What else could this program possibly ask for? Georgia will go to Charlotte, NC on September 4th where they will face The Clemson Tigers in what is one of the most anticipated matchups of the entire CFB season. You wanna know if this years Georgia Bulldogs team will be legit or not? I suggest tuning into that game to find out.
Swamped Out
One of my favorite teams to watch during the last years CFB season was the Florida Gators. I loved watching the cinderella story that was Kyle Trask absolutely dominate opposing defenses on a weekly basis and I enamored over the Philadelphia born TE Kyle Pitts, as he made the very difficult game of football look like a children's hobby. And frankly, if it were not for a Kyle Field upset and a thrown shoe in the fog, we could potentially be talking about a team coming off a CFP year. But we're not, and instead will have to settle with a team coming off an SEC East title, which is certainly nothing to hang your head on.
As Florida begins to prepare for their 2021 campaign, many issues will have to be addressed on the offensive side of the ball. With Kyle Trask now gone, The Gators will be turning to QB Emory Jones, a former super recruit who was used primarily in goal line packages a year ago. When watching Jones film, I see a lot of Tim Tebow and feel as if the Gator faithful are going to absolutely love the amount of Grit that Jones brings with every start.
Additionally, Florida enters the fall without their top two receiving targets from a year ago, as Kyle Pitts and Kadarius Toney are both enjoying their lives in the NFL. Dan Mullen hopes guys such as former Penn State transfer Justin Shorter and Jacob Copeland will be able to pick up some of the missing pieces that will be inevitably, left behind.
As we get into Florida's ground game, I am going to honestly be looking at Emory Jones to carry most of the heavy lifting. I mean, the Gators do have senior rusher Dameon Pierce to rely on, but with only 503 yards to show last year, I feel that Jones is the much more reliable running option.
Defensively, Florida is going to have to improve tremendously from a year ago if they want to experience any sort of success. And the reason for this is because last year, Florida had a good enough offense where it didn't really matter how good the defense was because the Gators would just score 40 points a game. That is not going to be the case this year. You are going to have to see major production from guys like DE Zachary Carter and LB Ventrell Miller. If you don't, we may end up seeing the Gators turn into some Gator bait.
Look, are the Gators going to be a good football team in 2021? Yes. This is a very talented roster that is very well coached. With that being said, I just do not see them repeating as SEC East champions. Georgia is the much deeper team on paper, has the better QB and has much more to play for. But hey, you still gotta line up on Saturdays so I guess we will just have to wait and see.
5 Teams That Will Exceed Expectations During the 2021 CFB Season
1. Cincinnati
What a storybook season it was for the 2020 Cincinnati Bearcats. Led by one of my favorite coaches in America Luke Fickell, the Bearcats experienced a 9-1 season that included an AAC championship and an appearance in the Chick-fil-A Peach Bowl, where they were just one stop away from shocking the bulldogs of Georgia. Can the cardiac kids from Cincinnati play copycat come fall? I say why not.
One of the key reason as to why I am so high on the Bearcats coming into the fall is because they are returning one of my favorite playmakers in America, Desmond Ridder. Ridder, who many thought was a sure bet to enter this years NFL draft, decided to stay on campus and ride one last wave out for his senior year.
When I watch Ridder play, I am constantly reminded of why I am in love with the sport of college football. Ridder does not have the physical accolades of a Trevor Lawrence, nor does he have the skillset of a Kyler Murray, but what he lacks in god given abilities, he makes up with grit and toughness. Ridder is one of the few men in the AAC that is not afraid to take a big lick, if it means getting a solid throw off to one of his WRs. I recommend watching film of last seasons contest @ UCF, where Ridder took blow after blow, yet continued to deliver dime after dime. That kind of toughness can not be measured and is a trait that should be cherished. It may not hit, but it sure wouldn't hurt to put a long shot bet on Desmond Ridder winning the 2021 Heisman Trophy.
Another thing that I really like about this Cincinnati team is that they have arguably, the best defense outside of the power 5. If you look at what Marcus Freeman and the Bearcats defense were able to do a year ago, allowing just under 330 yards a game, it is of no surprise to the success that they were able to experience. Although Freeman is off to Notre Dame, Cincinnati returns a ton of defensive fire power, including sack getter, Myjai Sanders, CB Coby Bryan, LB Darrian Beavers and DT Marcus Brown. If you are a fan of watching quality defenses play, then I suggest tuning in to watch the Bearcats compete.
When I look at the overall landscape of college football, there is not another group of 5 team in the country that matches up with the talent of Cincinnati. This is a team that probably should of earned a playoff spot a year ago, and is returning over 70% of their starters. I sure wouldn't want to face this team on my schedule.
2. Nevada
One program that fell under the radar a season ago was The Wolfpack of Nevada. The Wolfpack, who are coached by offensive mastermind, Jay Norvell, went 7-2 and were crowned champions of the Famous Idaho Potato Bowl, defeating Tulane by a score of 38-27. Is this a team that should contend for a Mountain West championship in 2021? I'll raise you one better; I think they should be considered as the favorites.
Perhaps the biggest story coming into the Wolfpack's 2021 season is the ongoing hype that is surrounding junior QB, Carson Strong. Strong, a 6'4 game manager from Vacaville, CA is widely considered as not the only the best QB in the Mountain West, but one of the most dynamic QBs on the planet. Last season, in which Strong threw for a total of 2,858 passing yards, 27 TD passes and 4 INTs, the Californian looked so sharp that many were already putting him as a future top 5 draft pick in their "Way too early mock drafts." Strong is a lateral mover who has one of the stronger arms you are going to find, can get the ball out of his hands at a rapid rate and has a football IQ that is through the roof. The people of Reno better get ready, because it is about to become the fall of Carson.
Along with Strong, there are a few additional components that make me excited to watch Nevada football in the year 2021. Senior RB, Romeo Doubs is coming off a 1,000 yard season and in my opinion, is the most explosive back in the MW. WR Elijah Cooks is back after missing last season with injury and LB Lawson Hall has a real shot of winning MW defensive player of the year.
Nevada is going to be a high scoring, hard hitting machine come fall and I am officially putting them on my Group of 5 must watch list.
3. Coastal Carolina
Perhaps my favorite story of the 2020 CFB season came from the likes of The Coastal Carolina Chanticleers. I mean, whats not to love about mullet wearing, skull bashing, bad asses playing on teal turf. The Chanticleers finished last season with an 11-1 record, which included wins @ Kansas, vs #8 BYU, a national ranking for one of the first times in program history and an appearance in the Sun Belt Championship game (The game would later be canceled due to COVID complications.) Now, with a returning starting QB and a more than favorable schedule, the sky is the limit as to what the fellas from Conway can achieve this fall.
Ready to ball, here comes Grayson McCall. The Sophomore QB from Indian Trail, NC was not only good during last years freshman campaign, he was flat out dominant. What impressed me so much about McCall's 2020 season, in which he threw for a total 2,488 yards, tossed 26 TD passes, and hurled just 3 INTs, was that he played with a poise and composure that you would typically see from a 5th year senior. Head coach Jamey Chadwell has said time and time again that no moment seems to big for McCall, and that sentiment couldn't have rang more true then during last years win against BYU. The 6'3 gunslinger controlled the game from the kick, using some of the best clock control I have ever seen in route to a 22-17 win over the 8th ranked team in the nation. With a full year under center now beneath his belt, you should expect to see McCall's game begin to ramp up and develop come Saturday's this fall.
Although Coastal Carolina has the luxury of returning their starting QB, the same can not be said about the rest of their offensive attack which was commanding in 2020. RB CJ Marable, who perhaps was the Chanticleers most effective offensive weapon last year, is now off to the NFL and is leaving a major void in coastal's offensive scheme. Junior back Reese White and senior rusher Shermari Jones will look to pick up the missing pieces but that will be much easier said than done. As far as coastal's receiving core goes, the Chanticleers are absolutely loaded. Senior Jaivon Heiligh is back and is fresh off of a season in which he was just two yards away from a 1,000 yard year. TE Isaiah Likely returns and is looking to continue his momentum from a season ago in which he hauled in five scores and averaged over 20 yards per catch. And perhaps the most underrated, yet dangerous weapon in this offense comes in the likes of senior WR, Kameron Brown. This has the potential to be a very, very menacing offensive attack that will give opposing defenses headaches all season long.
Now lets talk about the glue of the 2020 Coastal Carolina Chanticleers; which was their tantalizing defense. The boys from Conway were one of the best defensive units in the country, allowing just 352 yards and 20 points per game. Edge rusher Tarron Jackson, who was a stand out for the Chants, is gone to the Philadelphia Eagles, but other than him, everyone returns. DT CJ Brewer is a star, as is LB Silas Kelly and shut down corner, D'Jordan Strong. Defensive coordinator, Chad Staggs is aware of the talent he has and is ready to roll with the best defense in The Sun Belt. This is a very talented group that is going to very fun to watch in the near future.
Can Costal Carolina make a run at Cincinnati for the group of 5 representative on New Years Day? I don't think so. And the reason for this is simply because they do not have a hard enough schedule. I will say this though. I do not see a loss on coastal's schedule and if this team can go undefeated during back to back regular seasons, we are going to have to start giving them the respect they deserve.
4. UCF
Let the Gus Malzahn era begin. One of the most surprising moves of the CFB offseason came when UCF decided to open their check books and hire Gus Malzahn to the tune of a 5 year, 11.5 million dollar contract. Malzahn, who had been the HC of Auburn since 2013, clearly needed a change of scenery as the Tiger faithful were just about ready to run him out of town with fiery pitchforks. Could the group of 5 be the answer he needed?
One reason as to why I believe the Malzahn experiment will succeed in Orlando (At least in 2021,) is because the Golden Knights are host to one hell of a QB in Dillon Gabriel. Gabriel, a junior from Mililani, Hawaii is one of the better Pro-Style QBs that you are going to find in CFB. The junior has a ridiculously strong arm, is above average when it comes to touch and accuracy and does a good job of trusting his line when pressure is felt. In 2020, Gabriel had a very quality season, throwing for a total of 3,570 yards to go along with 32 TD passes and just 4 INTs. This is a guy that can fill up a stat sheet quickly and I expect him to have a monster 2021.
Along with Gabriel, UCF returns some key offensive pieces that should make them one of the more dangerous offensive attacks in the AAC. Junior Jaylon Robinson will be the Knights WR1 and is almost a sure fire bet to have a 1,000 yard season. However, what could really make this offense special is the talent they will be receiving from the transfer portal. Nate Craig-Myers is a deep threat from Auburn who will make an immediate impact, as will WR Brandon Johnson from Tennessee and former big-time Notre Dame get Jordan Johnson. If this offense can develop a rapport in summer camps, opposing defenses better watch their backs.
Defensively, the Golden Knights have the chance to be decent, but are in no way going to be a dominant unit. LB Eriq Gilyard is entering his senior season as a leader of this defense and is looking to make a lasting impact during his final ride. Safety Derek Gainous is good, but I would like to see him doing a better job of creating turnovers in 2021. And finally, UCF has to do a better job stopping the run, and to do that men in the likes of DT Cam Goode and transfer Big Kat Bryan are going to have to step up in more ways than one.
Is UCF going to win the AAC in 2021? I doubt it. I still think that title belongs to the Bearcats of Cincinnati. I will say this however. UCF is going to do a much better job than the 6-4 record that they finished with a year ago. And I believe that come next year, Gus Malzahn, if not already, will become a very popular man in the great city of Orlando.
5. Louisiana Lafayette
If the 2020 CFB season taught me one thing, it was that Billy Napier knows how to coach up a damn football game. The Rajin' Cajuns had a season for the ages last year, going 10-1 which included wins @ Iowa State, @ Appalachian State and a win in the Servpro First Responder Bowl vs UTSA. With nearly everyone returning from a year ago, the Rajin' Cajuns are not expected to just compete in The Sun Belt, but could very well win the whole darn thing.
One major competent to Lafeyette's game that really makes me excited to watch them play this fall is the production we are about to see from 5th year senior, Levi Lewis. Lewis, a 5'10 playmaker from Baton Rouge, Louisiana is your standard model of what a good duel threat QB is all about. He is a very slippery athlete and if given open space, is a man gone quicker than the holiday season. Last year, Lewis was able to compile a final stat line of 2,274 passing yards, 19 TD passes, 7 INTs, 335 rushing yards and 5 rushing TDs. What impressed me most with Lewis last year however, was that it seemed with every start that went by, the duel threat playmaker grew stronger. Lewis was able to quickly fix mistakes that may have been exposed the week prior and while this should be partially credited to the coaching staff, Lewis is the guy who has to go out there and execute it.
Although Levi Lewis can be considered as the leader of the Rajin' Cajuns offense, he is not the only weapon they have. LL is host to arguably the best OL in the Sun Belt and will be relying on big bodies in the likes of Max Mitchell O'Cyrus Torrence to literally, pave the way. Additionally, Lewis will have his top two targets back from a year ago, as both Kyren Lacy and Jalen Williams return ready to do damage. As far as the rushing attack is concerned for the Cajuns, Elijah Mitchell and Trey Regas, who were two mainstays of the Cajuns offense a year ago, are now gone, and the backfields focus will need to be turned towards the less intimidating duo of Chris Smith and Michael Orphey. I expect Louisiana Lafayette to have a very balanced offensive gameplan come fall and would not be surprised if they end up with one of the conferences top rated offenses.
Defensively, Louisiana Lafayette is a force that allowed just 22 points a game last season and was one of the best units in the country when it came to creating takeaways. I expect guys such as LB Ferrod Gardner and tackle monster Lorenzo McCaskill to come into 2021 and immediately make quality impacts. Additionally, a player you may want to keep an eye on this year is junior DT, Zi'Yon Hill, who should help the ongoing issue of not being able to stop the run.
Overall, I think Louisiana Lafayette has one of the bigger upsides in all of CFB entering the fall. This is a program that is riding a huge high from last season, is returning a stellar QB, has offensive weapons everywhere you look and has a defense that has the potential to be dominant. Billy Napier and the Rajin' Cajuns start their season @ Texas and I may just have to put the Longhorns on upset alert.
5 Teams That Will Disappoint During the 2021 CFB Season
1. Notre Dame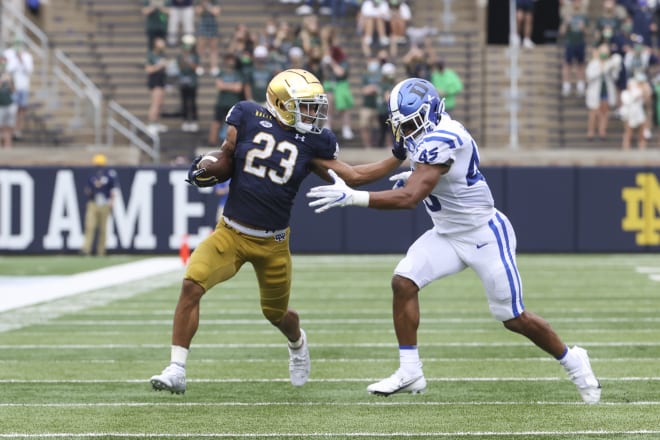 I know, I know. This one is going to come off as a shock to a lot of people. Coming off a season in which the Fighting Irish went 10-0 in the regular season, appeared in the ACC Championship Game (Weird, I know), and made their 2nd CFP appearance in 3 years, I'm sure a lot of you are expecting me to roll over and let ND rub my tummy. That however, will not be happening. Due to a daunting schedule and a huge dump in talent, I expect ND to fall off a cliff in more ways than one.
One of the biggest reasons as to why I believe ND is going to have a down year is due to the loss of Ian Book. Book, who was the starting QB for the Irish for the better part of 3 seasons, was one of the most successful QBs in school history. The 6 foot game manager from El Dorado Hills went 30-5 as a starter which gave him the record as the Universities all time winningest QB.
Now, I'll be honest, when Book first first took over the starting job in South Bend, I was not his number one fan. I felt as if he lacked in a lot of areas and judged him as a mediocore QB at best. And While I still do not believe Book should have a seat at the same table as lets say Trevor Lawrence, he certainly gained my respect and admiration throughout the years.
So who is going to (attempt) to replace Book you may be asking? As things stand today, it looks like Brian Kelly will be handing the keys to Wisconsin transfer, Jack Coan. Coan, a pocket passer from Sayville, NY missed the duration of the 2020 season due to a foot injury that required surgery. During his time spent in Madison, the kid they call "Jackie Heisman," was able to collect 3,278 career passing yards to go along with 23 TDs and 8 INTs. While Coan has a very strong arm and is decently versatile in the pocket, I am a bit concerned over how he will adapt into a completely new offensive game plan, as well as if he will be able to evade the pocket with a post op foot.
Along with Book, ND's offense which was good, but not great will be saying goodbye to a ton of key producers from a year ago. The Irish enter the fall without their top two receivers in 2020, as Javon McKinley and Ben Skowronek are gone, but return Michael Mayer who is one of the nation's top tight ends and is coming off a 42-catch, 450-yard, two-score season. 1,000 yard rusher Kyren Williams is back, but will not have the same offensive line to run behind, as the Irish have lost key OTs in the likes of Liam Eichenberg and Robert Hainsey, as well as Aaron Banks and Tommy Kraemer at guard.
Additionally, we have to acknowledge the fact the ND, which had one of the best defenses in the country last year, is losing a ton of irreplaceable talent. I don't care how good of a recruiter Brian Kelly is, there is no replacing star LB Jeremiah Owusu-Koramoah. The same can be said about Daelin Hayes and Adetokunbo Ogundeji on the outside. Safety Shaun Crawford and Corner Nick McCloud are gone, leaving junior safety Kyle Hamilton to essentially fend for himself. With new DC Marcus Freeman getting ready to enter the mix, I expect the Irish defense to be good in 2021, there is just no possible way to be as dominant as they were a year ago.
@ Florida State, vs Wisconsin (Solider Field), vs USC, vs Cincinnati, @ Virginia Tech, @ Stanford, vs UNC. Those are only a FEW of the matchup's that are eagerly awaiting to face the Irish this fall. I don't care if you are Youngstown State or The 2019 LSU Tigers, that is a absolute GAUNTLET for any football team to face. On top of that, you are asking to face it head on with a new starting QB, a new defensive coordinator, a thin OL and a widely inexperienced secondary. All I will say to that is, they better hope the luck of the Irish is on their side…..
2. Wisconsin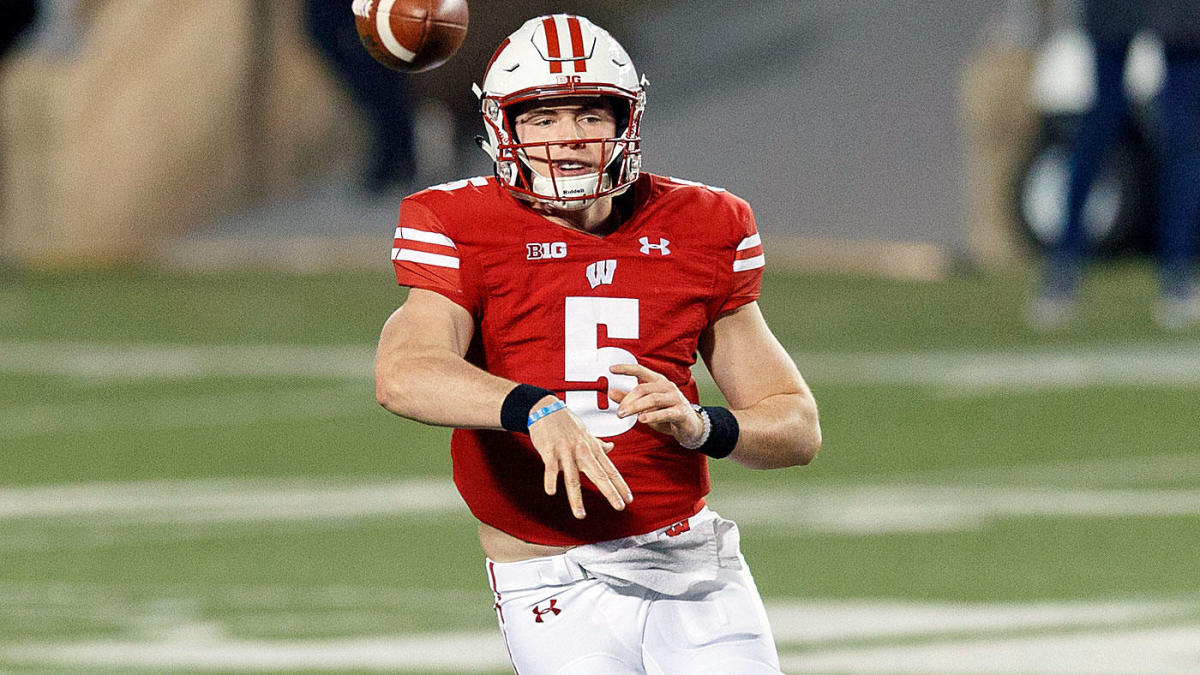 While I recognize it is hard to disappoint on expectations after going 4-3 and not making your conferences championship game, I want you to first hear me out. For whatever reason, the national media always loves Wisconsin coming into a new year. It doesn't matter if they are coming off of a 2 or 10 win season, they will always be ranked in the top 15 nationally and will be favored to win The Big Ten West. I am here to tell you all, do not buy in.
First things first, can we please stop with the Graham Mertz hype. Yes, I understand that the 6'3 sophomore out of Oakland Park, Kansas made a season debut for the ages, going 20-21 to go along with 5 TD passes, but after that game, he just wasn't……very…….good. The matter of the fact is this. Wisconsin's offense as a whole was as close to awful as awful get's for the majority of 2020. They turned the ball over way too much, had no rushing attack and had no playmakers who could make the big plays when they needed to be made. Now, does this all fall on the hands of Mertz? Of course not. But if he wants to be a future leader of this team, his offensive production is going to have to step up.
While all may not be peachy and cream on the offensive side of the ball, Wisconsin enters 2021 with a loaded defensive core. HC Paul Chryst, who has always been a defensive minded coach, will look to take the reigns and lead his defense to new found heights in 2021. Look for LBs Jack Sanborn and Leo Chenal, who are two of the most athletic and physical LBs in the country, to take over during the late stages of conference games.
However, if you were to pick one problem with this Badgers defensive unit, it would be that they are entering the year with a thin secondary. CB Rachad Wildgoose is off to the NFL, as is Safety Eric Burrell, so Wisco will now be tasked with sowing some pieces back together.
Overall, do I think Wisconsin is going to be a bad team in 2021? No. I just do not think they are going to be at the level people expect. This is not a team I like to win the BT West as I see multiple losses on the Badgers schedule, including Penn State to open the year, Notre Dame, Iowa and perhaps even an upset @ Minnesota.
3. BYU
Along with programs such as Coastal Carolina and Indiana, one of the more surprising stories of the 2020 CFB season came out of Provo, Utah. The Cougars, who many knew had the potential to be dangerous, finished their season with a 11-1 record which was capped of by a dominating 49-23 win in the Boca Raton Bowl vs UCF. With Zach Wilson and Jeff Grimes now gone however, many wonder how good, if at all BYU will actually be come September.
Who will replace Zach Wilson? That has been the million dollar question floating around Provo ever since The Mormon Manziel was taken 2nd overall by the NY Jets during this years NFL Draft. And frankly, the answer is quite simple. There is no "Replacing" that kind of talent. You can attempt to find a new QB, but it is going to be nearly impossible to fill the void that Wilson is leaving behind.
With that being said, HC Kalani Sitake is going to do everything in his power to mimic the same success that was experienced a year ago. Baylor Romney should be the next man up as QB1, but it is rumored that Jaren Hall will have all of fall camp to steal the starting job. The Cougars will also have their hands full replacing their receiving talent, as they will no longer be with last seasons WR1, Dax Milne. Junior wide out Gunner Romney is expected to be the new top target, while Neil Pau'u returns as a reliable deep ball target. The most reliable part of BYU's offense in 2021 will most likely come from their rushing attack, as 1,300 yard rusher as 13 TD scorer, Tyler Allgeier returns for his sophomore season. While it would be unfair to expect the same type of offensive production we saw from the Cougars a year ago, an offense which finished as the 3rd highest scoring unit in the country, I do expect this team to put up some quality starts.
While BYU's offense may not take too big of a hit from a year ago, their defense might as well be knocked out cold. The amount of talent the Cougars defense is losing from last year is almost hard to believe. BYU is losing 7, yes 7 of their top 10 tacklers from a year ago including DL Khyiris Tonga and LB Isaiah Kaufusi, two men who were the heartbeat of this Cougars defense. BYU is going to have to face a tun of high power offenses in 2021, and I am not of the belief that they have the facilities to stop any of them.
Finally, if you look at BYU's schedule, there is no possible way they come even close to achieving the breakthrough they experienced a year ago. The Cougars will play opponents such as USC (Road,) Baylor (Road,) Arizona State and Washington State (Road,) none of which were on last years favorable calendar. Oh, the joys of being an independent program.
4. Northwestern
Now, this one is going to be a little more difficult for me to write about. See, I will never have a problem saying that Notre Dame is going to have a down year or that Wisco's offense sucks, but Northwestern is a team I genuinely enjoy watching. I am a huge Pat Fitzgerald fan and when the Wildcats went 7-2 last season, winning the Big Ten West, I was as amped as an electric guitar.
With that being said, Northwestern is going to be nowhere near as good they were a year ago. For starters, the offense, which really wasn't even that good to begin with, is going to experience a ton of growing pains. QB  Peyton Ramsey, which helped a painfully bad 2019 Wildcat squad, is off to the NFL which leaves Northwestern to once again hit the reset button. The next man up will most likely be South Carolina transfer Ryan Hilinski, but his ceiling is about as tall as Kevin Hart. Skill position wise, the Wildcats will be turning to playmakers in the likes of Kansas transfer, Stephon Robinson, TE Charlie Mangieri and RB Cam Porter to do most of the heavy lifting, but be honest with me guys….do any of them really scare you? when I think about Northwestern's offense I am reminded of that dry, bland Turkey sandwich you have the day after thanksgiving.
One reason as to why Northwestern experienced so much success in 2020 was because they had one of the most dominant defensive units in the entire nation. Allowing just 341 yards and 16 points per game, the Wildcats were a tight knight squad that were not to be messed with. However, as we flip the calendar and look ahead, Northwestern will have to adjust to seeing some some new, but meaningful faces. Jim O'Neil is the new DC, after Mike Hankwitz, the programs defensive coordinator since 2008, announced his well earned retirement. O'Neil is going to have to ask guys to step up and contribute in new ways, as the Wildcats are losing key defensive pieces in the likes of Paddy Fisher and Blake Gallagher, Greg Newsome and Eku Leota and even Safety JR Pace is gone too. Let me put it to you this way, Northwestern is returning just five defensive starters from a year ago. Five.
In 2019, the Northwestern Wildcats finished the season with a brutal 3-9 record. In 2020, they somehow, someway figured out a way to improve to 7-2 and appear in The Big Ten Championship Game. If you were to follow that same trend, you would come to the conclusion that the Wildcats would be in quite fine shape entering the fall. However, I feel as if the Cats take two steps back next year, as opposed to one step forward.
5. SMU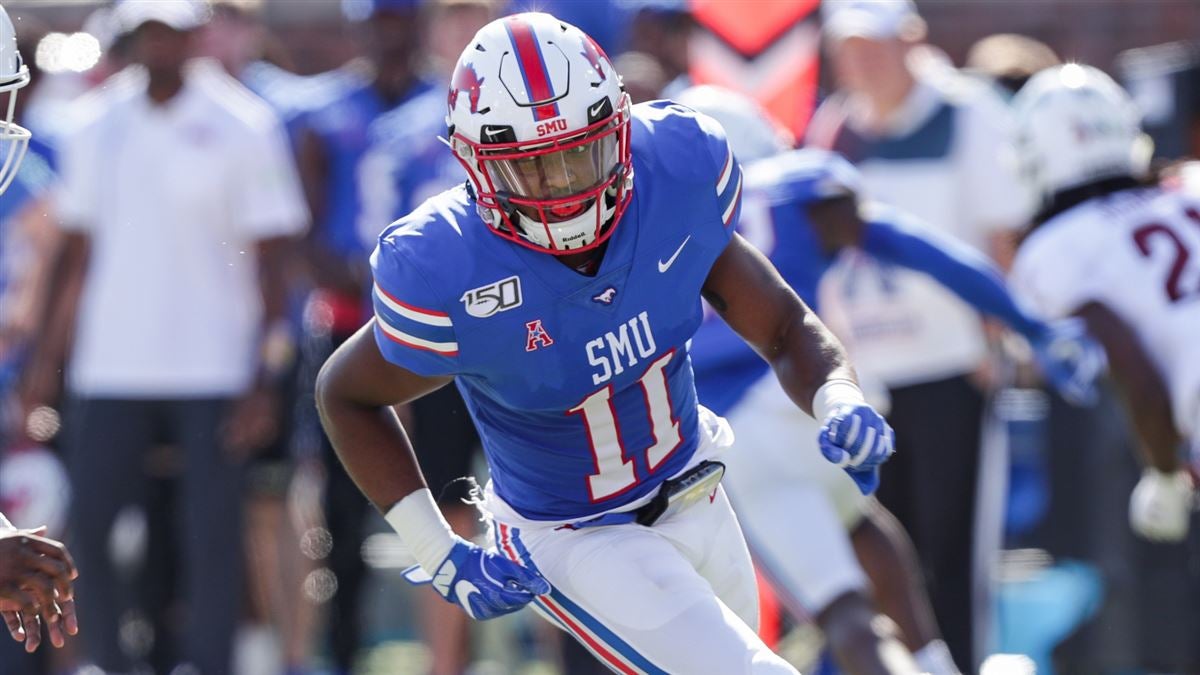 Giddy up! It is time to talk about the pony express. Over the last few season, the SMU Mustangs have become some of Americas most must watch TV, with their high tempo, high scoring, exhilarating offense. Since taking over the program in 2018, Sonny Dykes has flipped the script as to what Mustang football is all about. However, in 2021, the Stangs are going to have to learn the painful lesson of what happens when you lose a transcendent QB.
When Shane Buechele came to Dallas in 2019, he was a lost cause with loads of untapped talent. The former super-recruit from Arlington had spent the last 3 years at Texas, where he had won and lost the starting job more times than one could count. So, like any rational person would do, Buechele decided that it was time for a change of scenery, transferring to play for Sonny Dykes at SMU. It turned out to be the best decision he would ever make.
During his two years spent with the Mustangs, Buechele became the player that everyone first thought he could be, throwing for a total of 7,024 yards to go along with 57 TDs and 16 INTs. When Buechele clicked, the Stags offense thrived, averaging over 500 yards a game last year to go along with 39 points. With the native Texan now gone to the NFL, only time will tell as to just how lasting of a impact his departure will have. (Hint; It is going to be a VERY long lasting impact.)
So now what? Where do the Mustangs go from here? QB wise, it looks like the next man up will be Tanner Mordecai, a transfer from Oklahoma who is wildly athletic and showed glimpses of promise when Spencer Rattler got benched a season ago. Mordecai will have the luxury of throwing to one of the best receivers in the AAC in the likes of Rashee Rice, but will have to do without star TE, Kylen Granso. Rushing wise, SMU is going to attack you in multiple ways, with 1,000 yard rusher Ulysses Bentley returning as well as speedster Tre Siggers coming in from North Texas. While I don't necessarily expect this to be a 500 yard per game offense, I do see them being quite a prolific bunch.
On the defensive side of things, expect playmakers in the likes of sack getters Elijah Chatman and Turner Coxe to live in the backfield, as well as sophomore safety, Chace Cromartie to fly all over the field. This a very underrated defense that is led by a very talented defensive coordinator in Jim Leavitt, who will look to make a splash during his debut season in Dallas.
Listen, when all is said and done, I like this SMU team. And frankly, I was debating back and forth as to whether or not I should put them on this list. However, I am fully aware of the impact Buechele had on this program and know that this team will need to go through at least one season of growing pains over his departure.
Pete's Preseason CFP Prediction
Pete's Preseason National Champion