It's BAAAAAACK…..kinda.
Honorable Mention – The Return of Lee Corso
5. Artur Sitkowski – QB; Illinois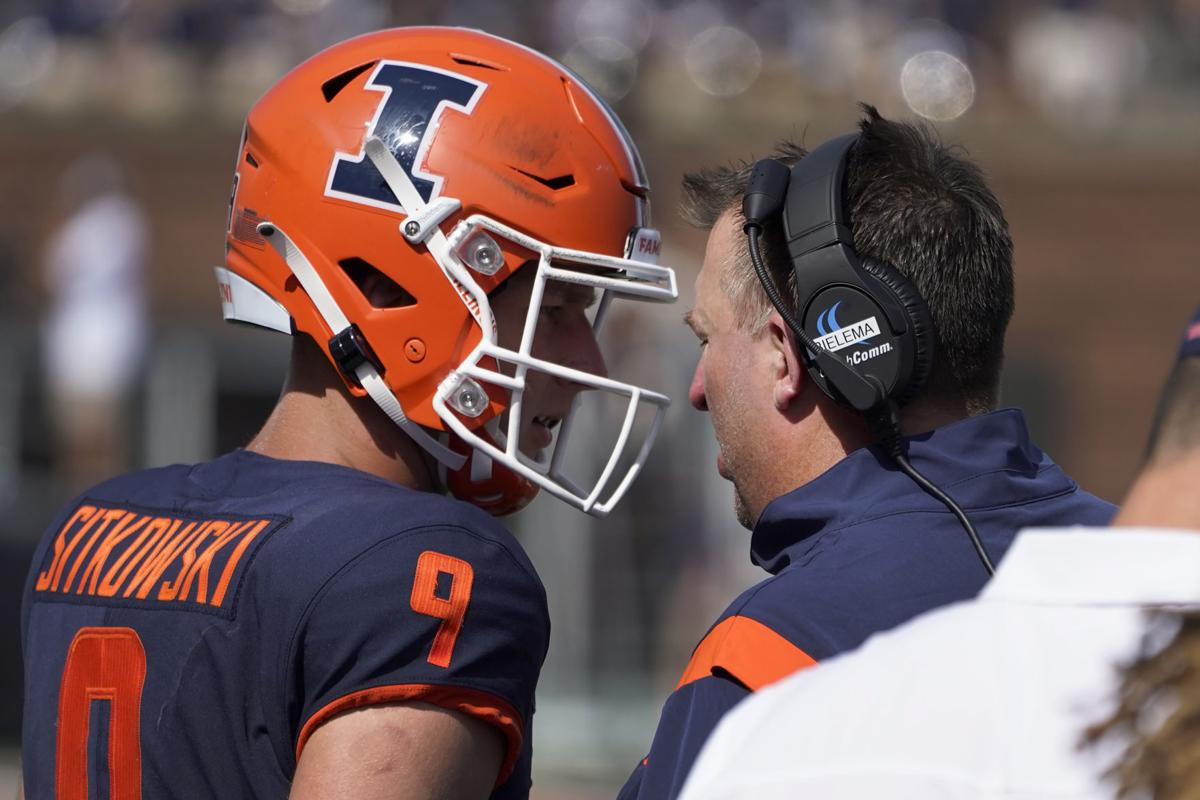 After game one of the Bret Bielema era concluded in Champaign, few could of predicted that Artur Sitkowski would be the main story. Sitkowski, a former product of IMG Academy and transfer from Rutgers, came into the season expecting to ride the bench behind Brandon Peters. However, after Peters injured his left shoulder during the first quarter of Saturday's affair, Sitkowski's number was called in hopes to salvage the Fighting Illini's season opener.
Did Artur Sitkowski blow me away on Saturday afternoon? No, but he did do three key things that really impressed me. The first being that Sitkowski played the hand he was dealt to almost a tee during different situations throughout the ballgame. And what I mean by this is that Illinois is by no means an Alabama or Clemson. They do not have the same athlete's other powerhouses might and by knowing this, Sitkowski avoided risks one may make if the roster were shaped differently. The New Jersey native did a nice job of hitting his check down routes which gradually moved the ball down field, as opposed to taking chances on one big play. Patience is a virtue my friends.
Secondly, and perhaps the most important thing that Sitkowski accomplished on Saturday afternoon was that he played turnover free football. A stat line of 12-15, 124 yards and 2 TDs is certainly not going to earn you any Heisman votes, but when you can play 4 quarters (In this case 3 and half,) and not turn the ball over, you are putting your team in a phenomenal position to win.
Winning, it's a great thing aint it. And that's exactly what Sitkowski helped the Fighting Illini to do. Listen, Illinois was not supposed to win on Saturday. Nebraska came into Champaign as a TD favorite and if the bets makers knew Peters would be going down in the 1st quarter, the line may very well have been in the double digits.
In what will go down as one of the more sloppy games of the season, Artur Sitkowski showed patience, poise and a whole lot of grit, and I could not think of a better, yet random candidate to kick off our season.
4. Jacob Cowing – WR; UTEP
The UTEP Miners may have only won 3 games a year ago, and may not win many more this year, but for the time being, the Miners can enjoy the 30-3 shellacking they placed last night on the Aggies of New Mexico State.
One of the prime reasons for the Miners Saturday night dominance came from the production of sophomore WR, Jacob Cowing. Cowing, who is one of the more reliable deep ball threats in Conference USA, put on a week 0 clinic, racking in 158 yards to go along with 1 receiving TD. Additionally, Cowing averaged 31.6 yards per reception which is a list landing statistic in itself.
As UTEP now make's their way home to El Paso to face Bethune-Cookman on September 4th, HC Terry Simms may want to consider doubling up the explosive playmaker from Arizona.
3. Zach Charbonnet – RB; UCLA
One of the bigger matchups in week one comes when Ed Orgeron and the LSU Tigers head west to play Chip Kelly and the UCLA Bruins. Both coaches, whether you want to believe this or not, enter the year on the hot seat and are looking to bounce back from wildly disappointing 2020 campaigns. However, before this headliner takes place, UCLA had to take part in a "Tune up" game of sorts on Saturday afternoon vs the Rainbow Warriors of Hawaii. How'd the game turn out you may be wondering? Let's just say, Todd Graham and his program couldn't get on the plane back to Honolulu fast enough.
With a score as lopsided as 44-10, you are bound to see at least one player assert their dominance on the final stat sheet. And while Bruins QB, Dorian Thompson-Robinson looked solid at times, the real story of the day came from junior RB, Zach Charbonnet.
Charbonnet, a former 4 star recruit from Camarillo, California decided to come back home this winter after playing the last two years for Jim Harbaugh and The Michigan Wolverines. In 2019, Charbonnet exploded as a true freshman, rushing for 726 yards to go along with 11 TDs. The Bruins hoped that this acquisition could perhaps, be the move that started to lead them back in the right direction.
And while it has only been one game, it has quickly become apparent that Charbonnet is going to have a major impact on the Bruins offensive attack. During UCLA's opening week win, Charbonnet was able to compile 106 yards on 6 touches, to go along with rushing 3 scores. The 6'1, downhill rusher had his way with Hawaii's defensive front, as for a majority of the afternoon, they were looking at the back of his royal blue jersey.
LSU is said to have one of the most physical defenses in the country, but I can guarantee you that Charbonnet will be more than up for the challenge.
2. Nick Starkel – QB; San Jose State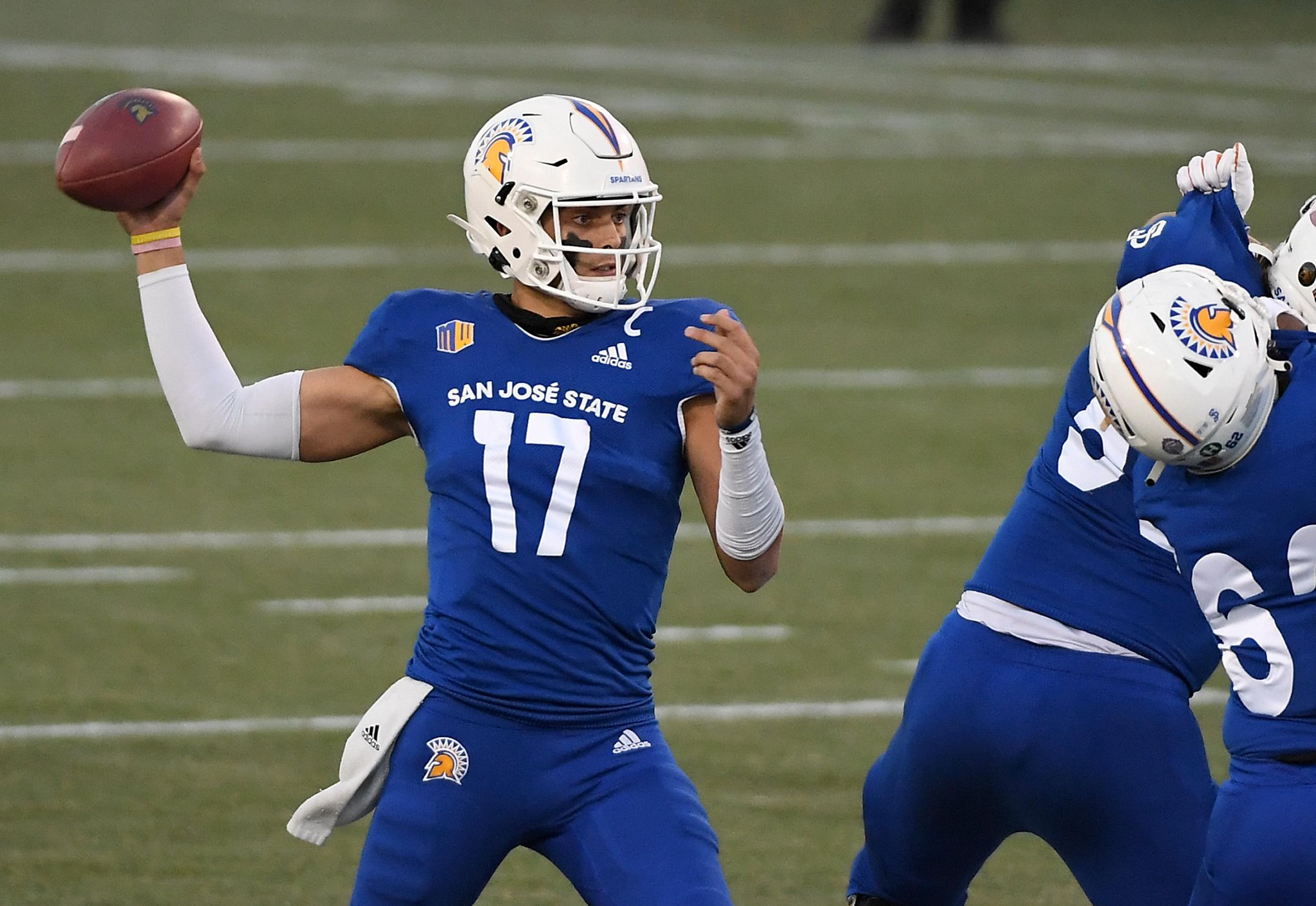 We now welcome in our first returning guest from last years performers of the week. If I am not mistaken, Nick Starkel did not only make the list, but was a guy who appeared on PSPOTW multiple times throughout the course of the season. And I mean, how could he not? This was a guy that threw for over 2,000 yards last year, hurled 17 TD passes, and lead his team to their first Mountain West Championship in program history (First conference championship since 1991.) Nick Starkel is a hot commodity that I will be keeping my eyes on throughout the course of the 2021 season.
And yes, while I understand a team like San Jose State is supposed to demolish Southern Utah, I was still wildly impressed with the play I saw from the native Texan. What impressed me most about Starkel's play on Saturday night, and frankly is a trait he possess every time he steps out on the field, is that he plays the game with a vast amount of confidence. It doesn't matter how tight the pocket is, how narrow the window gets, Starkel believes that he is going to deliver and connect on each throw he makes. A confident QB is a QB worth having on your side.
By nights end, the 6'3 senior had accounted for 394 passing yards to go along with 4 TD passes and a pass attempt average of 14.6 yards. And while it has been noted that Boise State is entering the year as favorites in the MW, I would not count out any team that has as good of a QB as Starkel behind center.
1. Jake Haener – QB; Fresno State
As the ball first left the air on a warm Saturday afternoon in Fresno, the temperature on the sidelines clocked in at a scorching 117 degrees. And while for most (AKA the entire Connecticut team,) these temperatures would be nearly impossible to play in, one man stepped up the the occasion and made the heat his little bastard.
Jake Haener is not a name you are going to be hearing about very often this fall. He has a below average arm, is not very agile when it comes to alluding pressure in the pocket and has a tendency to overthink. But, for whatever reason, the dude can endure heat like you would't believe.
As one would expect when watching players compete in 117 degree heat, athletes on both sides began to show significant fatigue as the game wore on. That is…..most athletes. For the life of me, I will never be able to figure out how Jake Haener managed to not only sustain the level of play that he did for the duration of the game, but actually got stronger as the matchup progressed.
By days end, Fresno State had placed a 45-0 beat down on Connecticut and sent the Huskies back home in a ocean of their own sweat (Bucket didn't feel appropriate.) Haener, who probably felt a little chilly at points, finished the game going 20-26 to go along with 331 passing yards and 3 TD passes.
The Bulldogs will now head to Eugene to face the Ducks of Oregon, where it is guaranteed to feel like a winter wonderland.