God bless college football.
Honorable Mention – The Power of The FCS
Lol Vandy
5. Desmond Ridder – QB; Cincinnati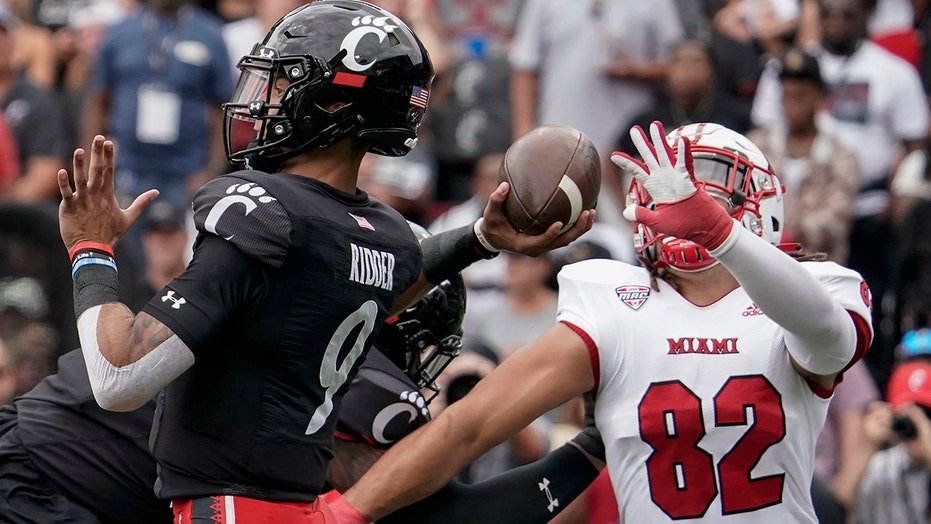 January 1st, 2021. The Cincinnati Bearcats, who are on the premises of a perfect 10-0 season, are leading the Georgia Bulldogs by a score of 21-10 in the Chick-fil-A Peach Bowl. As the fourth quarter begins, Junior QB, Desmond Ridder, who has been a phenom for the Bearcats all season long, loses the ball on a strip sack by Azeez Ojulari. The Bulldogs, smelling blood in the water, capitalize with a TD on their following drive. The score read, 21-16 (Failed 2 point conversion.) Two field goals later, and the Bearcats perfect season is over. They lost a game they should have won and Ridder walks to the tunnel with not only a sense of defeat, but a feeling of unfinished business.
So what was the point of that story? Well for starters, I think it is safe to say that if Cincinnati were to have won that game on New Years Day, Desmond Ridder would currently be getting ready for week 1 in the NFL. The Louisville native would have been able to to ride off into the sunset with the picture perfect ending. But, of course that is not the case and Ridder is the type of competitor that demands absolute perfection.
And as the ball launched in the air on a beautiful Saturday afternoon in Cincinnati, it was apparent that the once 3 star recruit out of St Xavier high school, had a whole lot more to prove. Desmond Ridder didn't just look good on Saturday, he looked like the best QB in college football. And while I understand that the Bearcats were playing a much lesser opponent in the Red Hawks of Miami of Ohio, Ridder was on a different stratosphere.
As the sun began to set over the Ohio sky with the scoreboard reading 49-14 in favor of the Bearcats, the man seeking perfection clocked in a mighty first step. 20-25, 295 yards, 4 TD, 1 INT, 1 rushing TD. Not a bad day at the office if you ask me.
4. Kenneth Walker III – RB; Michigan State
If you are a fan of the Michigan State Spartans, 2020 is a year you want to forget. Lead by first year head coach, Mel Tucker, the Spartans went 2-5 in which they were outscored by a combined score of 246-126. But hey, it was a COVID year, so for the sake of the great people of East Lansing's sanity, lets throw it out the window and start over.
And as the Spartans made their way to Evanston on Friday night to face the defending Big Ten West champions, the message from the jump was loud and clear. Run, run and run some more.
Kenneth Walker III, who will be a name you will be hearing about quite a bit this fall, is your prototypical down hill rusher. He's not the tallest back, standing at just 5'10, but what he lacks in height, he gains in physicality.
Led by an experienced offensive line, Walker put on a show under the Friday night lights that would make even coach Taylor stand up and cheer. On 23 touches, the Tennessee native was able to rack up 264 yards to go along with 4 rushing scores. And if you were to do the quick math at home, Walker averaged out 11.5 yards per carry. Video game type numbers from one of the best backs in the Big Ten.
3. Bryce Young – QB; Alabama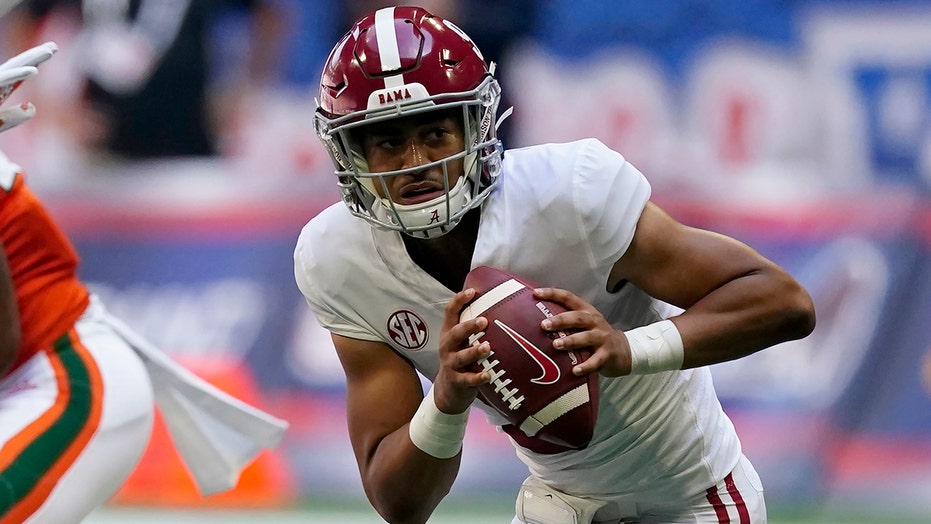 Pressure; It can be as tricky as it can be straight. Pressure is defined as the continuous physical (or in this case mental) force exerted on or against an object by something in contact with it. Pressure. Bryce Young is 20 years old. A kid to most. But when you sign to play for Alabama, THE Alabama, you are considered to be a professional the second you step foot on campus. Pressure. See, when Bryce Young took the field on Saturday afternoon, he wasn't just going behind center of any ordinary team. He was commanding a team that was lead by the greatest college football coach of all time, a team that was fresh off the helms of a National Championship, a team that was rewarded with the top ranking in the preseason poll, and a team that had some of the greatest football alumnus you have ever heard of. Oh, and on top of that, Young is said to be making well upwards of 6 figures in NIL deals before making his first collegiate start. Pressure….Pressure….Pressure.
Bryce Young eats Pressure for breakfast. I knew tuning in Saturday afternoon that I was going to see something special, but I had no idea just how good Bryce Young actually is.
See, we have to remember a few things here folks. For starters, when Bryce Young was recruited out of powerhouse, Mater Dei, he was said to be the next best thing. Young would have walked on most campuses in America and been the starter as a true freshman. But Young knew that by signing with Alabama he may have to sit for a year, and wait for his name to be called. If anything, it benefited him as he spent all of last season being surrounded by a championship culture.
We also have to keep in mind that Young is in a system that is built for success. There are not many QBs in America that have the privilege of throwing to playmakers in the likes of Jameson Williams or John Metchie III. These are superstars who are going to get open and make plays for you. With that being said, Young still has to go out there and execute.
I have watched Alabama football for a long time. And I don't remember seeing as impressive of a QB debut that I saw from Bryce Young on Saturday afternoon. And sure, I guess you could call Tua's National Championship heroics as a "Debut" but other than that, I think Young takes the cake. The sophomore from Pasadena showed a poise and composure to him that you would typically see from a 5th year senior. If pressure would come in the pocket, Young would calmly use his athleticism to scramble to the right and deliver a strike on the money. If receivers weren't open, Young wouldn't try to play hero ball like most young QBs may, but instead throw the ball away and reset. That is what experienced leaders do and that fact that we are seeing this from a kid making his first start….well that's just a scary thought.
By days end, Alabama had put their trunks on the necks of the Hurricanes in route to a 44-13 blow out win. But it was the play of the QB Young, which will be highlighted in newspapers across the countries come Monday morning. Going 27-38 to go along with 344 passing yards and 4 passing TDs, Young asserted his dominance from the jump. Additionally, the duel threat QB had set a record for the most passing yards and most passing TDs for a starting debut in school history. It is September 5th, and I am officially putting Bryce Young on Heisman watch.
2. Georgia's Defense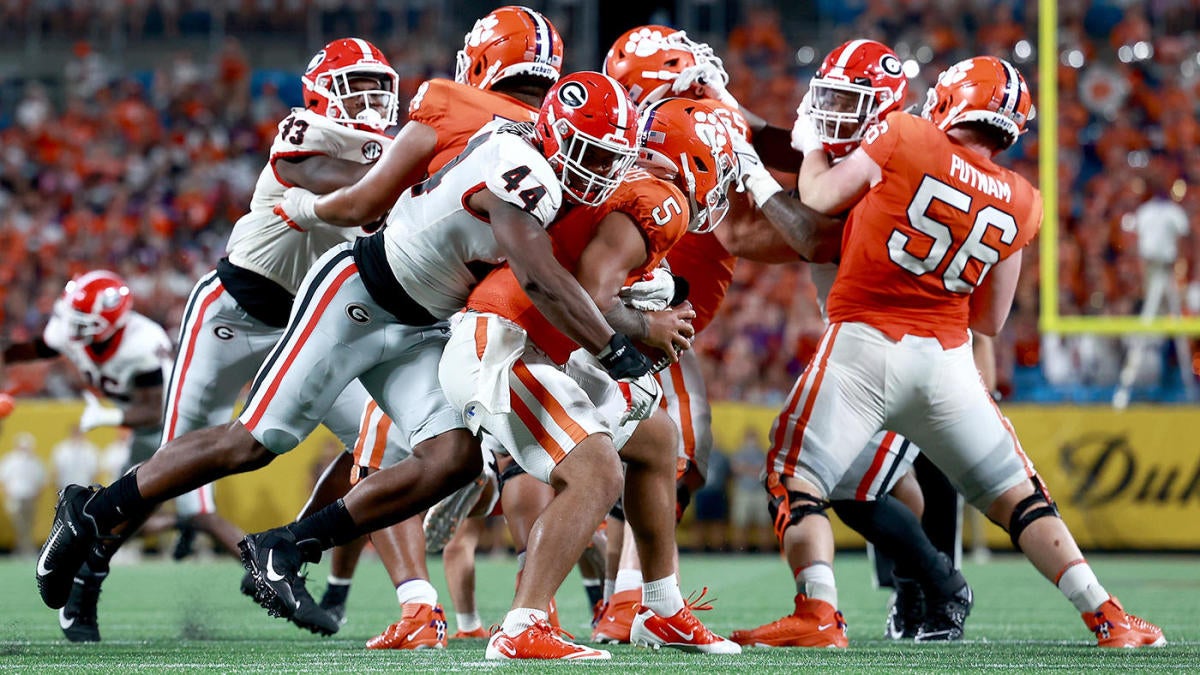 There are boys, there are men, and then there is Georgia's defense. In what was hyped up to be the biggest opening game of all time, turned to be one of the most dominating defensive performances you will ever see.
Georgia's defense has always been good, if not great. Head coach Kirby Smart, who has spent over a decade coaching defense in the college game, knows a thing or two about how to master the art of protecting the shield. Some may say, it's in his blood.
With that said however, what we saw last night from the dawgs, was a whole new level of dominance. I'm not sure what DC Dan Lanning and Kirby drew up in preparation for the week, but man do I want a sip of that kool-aid.
What impressed me most about Georgia's defensive showcase on Saturday night, was that they controlled the line of scrimmage like I have never seen it been controlled before. We have to remember that this is Clemson. They are recruiting the best OL in America and these dudes got absolutely MANHANDLED the entire night. Wanna guess how many rushing yards the Tigers had on Saturday night? 2. TWO! That's it. Do you understand how dominant that is to hold the number third ranked team in America to two rushing yards during all four quarters of a contest. You think Clemson isn't missing Travis Etienne right about now.
But just wait, there's more. DJ Uiagalelei, who was my preseason pick to win the Heisman trophy, had absolutely nothing going for him. A good defense can make you look like a bad QB, but a great defense can make you look like a JV backup. I'll put it this way, Georgia's defense made DJ look like he had never touched a ball before, sacking him 7 times to go along with o passing TDs and 1 pick six. Not a great start to your Heisman campaign.
In total, the Dawgs defense limited Clemsons offense to just 180 yards, kept them out of the end zone and held them to a 3rd down conversion rate to of 31%. Just how impressive is this? During last seasons CFP run, the Tigers averaged 43.5 points and 502.3 yards per game. Yea, that's pretty damn breathtaking if you ask me.
1. Ren Hefley – QB; Presbyterian
Who??? Presbyterian? I get it, let me explain. So usually, during this column, I like to stick to players in the FBS. It just keeps things more simple and in terms of research purposes, makes it a bit more manageable. But after seeing what Ren Hefley, the Michigan transfer did on Saturday, I had to make an exception. We may never see a stat line like this again and this is still a feat I am trying to wrap my head around.
On Saturday, during Presbyterian's 84-43 (Yes, that's the right score,) win over St. Andrews University (Who?), QB Ren Hefley had a record setting day, throwing for 538 yards to go along with 10 TD passes. This mark set a record for most TD passes thrown in a FCS game, surpassing Mississippi Valley State's Willie Totten in 1984 with 9. Let's unpack this.
First things first, I don't care who the St. Andrews DC is,he should of been fired yesterday. You are really gonna let a dude torch you like that? C mon man! Secondly, Ren Hefley is the most "Create a player," name of all time, which makes perfect sense in this situation. This dude definitely got his stats maxed out before the game and all of a sudden became 7'5 with 99 arm strength and 99 speed.
All joking aside, this is a ridiculously impressive performance. It doesn't matter what level the game or who the opponent was, the fact that we got to witness history on the first weekend of the CFB season is pretty darn cool. CFB has never been so back!