Moral of the story for week 2……SEC is king. It's that simple.
Honorable Mention; Viral CFB Gifs
5. David Bell – WR; Purdue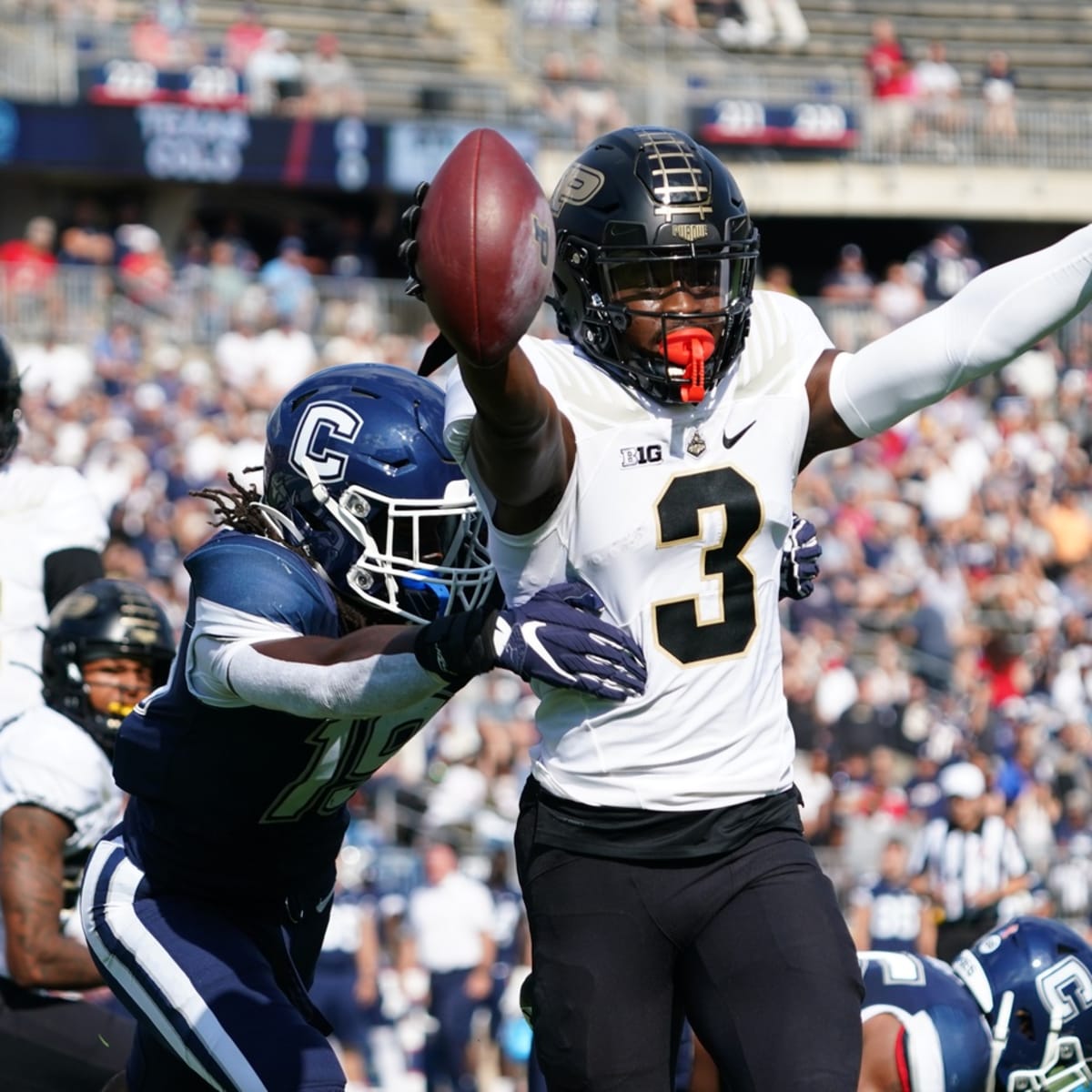 If you wanted to describe being at an all time low, one may lead you in the direction to Waterbury, Connecticut. After postponing their season a year ago due to the COVID pandemic, the Huskies began their 2021 in Fresno California, where they were beat down 45-0 in 117 degree heat. After then returning home to what I can only imagine to be a "Friendly," environment, UConn was defeated yet again, this time to FCS program, Holy Cross. Fast forward a week, and Huskies head coach, Randy Edsall, announces that he will be leaving the program….effective immediately. And that all leads us to this Saturday, where the Boilermakers of Purdue galloped into Waterbury and beat the Huskies by the score of…..wait for it………49-0. Talk about a shit show to the highest degree.
Is it okay to kick a man while he is down? Maybe, maybe not. Whatever the case may be, that is exactly what junior wide out, David Bell did during Saturday afternoons bloody massacre. Bell, a native of Indianapolis, was stronger, faster and more athletic then any corner the Huskies tried to throw at him. Having his way throughout the contest, the 6'2 playmaker racked up 134 yards on 8 catches, to go along with 3 receiving TDs.
Now, yes this performance comes off the backs of one of the worst secondaries I have ever seen, but it is a dominant performance either way, and deserves to make our list.
4. Sam Howell – QB; North Carolina
As Sam Howell made his way to the tunnel in Blacksburg a week ago, many scratched their heads as to what just took place. The Tar Heels, who had entered the season as the 10th ranked team in the country, got absolutely dominated by the Hokies of Virginia Tech by the score of 17-10. And what was probably the most surprising part of the night was that Sam Howell, who had gotten serious Heisman praise coming into the year, looked like he just gotten off of the bus of a JV tryout. Howell, who had thrown for over 7,000 yards during his first two years at Chapel Hill, looked extremely out of sorts, going 17-32 to go along with 208 passing yards, 1 TD and 3 INTs. And while the panic button shouldn't be hit just yet, Howell's leash may start to begin to tighten.
And listen, I understand that Sam Howell got the ultimate hand out by following a bad road performance with a home game vs St. Mary's sister hood of the traveling pants, but what we saw from junior from Indian Trails was much needed.
In route to a 59-17 blowout win, Howell showed much of America why he is deserving of such high praise, going 21-29 to go along with 352 passing yards, 3 passing TDs, 104 rushing yards and 2 rushing TDs.
When Sam Howell is locked in, there may not be a more talented, more explosive QB in America. Just how often will we see this version of Sam Howell however? Only time will tell.
3. Anthony Richardson – QB; Florida
There is an old saying that goes "Nothing is more healthy than a good old fashion, QB competition." And sure, I may have been the one who made the saying up, but you can't tell me it's not true.
And as we now make our way to Gainesville, Dan Mullen has the difficult decision of sticking with his week one starter, Emory Jones, or handing the reigns to his new shiny toy, Antony Richardson. Decisions, decisions.
Look, I like Emory Jones. I spoke highly of him coming into the season and feel as if he has quite the upside, but the decision here is pretty clear. Anthony Richardson is the future of Florida football. What we have seen from the duel threat QB from Gainesville in just two games thus far, is by far and away more exceptional then anything Jones has, or will accomplish during his time on campus. And while that may be harsh, it's the damn truth.
After rushing for 160 yards a week ago vs FAU, the explosive Floridian dialed up the notch once again, throwing for 152 yards on 3 passing attempts, to go along with 115 rushing yards on 4 carries and 3 total TDs. You want to talk about explosiveness.
If Dan Mullen is smart, Emory Jones will not take a snap for the rest of the season. The Gators welcome in the Crimson Tide of Alabama next Saturday and if Florida has ANY chance of pulling off the stunner, Richardson is going to have to be the man in charge.
2. Michigan's Rushing Attack
Is Michigan back? I think it is way too soon to tell. But I will say this. The 2021 Michigan Wolverines have an energy about them that I have not seen out of Ann Arbor in quite some time. And who knows, this could even be the team that cools off Jim Harbaugh's seat and saves the once Michigan QB greats', reputation forever.
On Saturday, in front of a packed Michigan Stadium, the Wolverines demolished the Huskies of Washington by the score of 31-10. And during that game, the men dressed in Mason Blue did what so many team have a hard time of doing in todays game, and that is to establish the old school, ground and pound rushing attack.
As the clock hit 00, Michigan had compiled a total of 343 rushing yards, which included a 171, 3 TD performance from sophomore back, Blake Corum and 155 yard, 1 TD display by senior, Hassan Haskins. Additionally, the Wolverines had rushed the ball a total of 56 times and had averaged over 6 yards per carry. Dominance is a 9 letter word my friends.
1. CJ Verdell – RB; Oregon
As the Oregon Ducks made their way into Columbus on Saturday afternoon, many thought they had about as good a chance to win as a bride has of winning the lottery. But that is why you play the damn game. Led by Mario Cristobal and a ferocious Duck rushing attack, Oregon went into the house that Woody built and shocked the Ohio State Buckeyes by the score of 35-28. "Quack, Quack, Quack, Quack Quack!'
And to talk about that rushing attack for a second, let's take a second to acknowledge the dominant day that the small, but mighty man from Chula Vista accomplished on Saturday afternoon. In my opinion, CJ Verdell is the most underrated RB in the nation. And the reason I say that is because when you play for the Pac 12, you have to do something exceptional to get your name printed on the national headlines. The SEC is always going to get that media crazed spotlight, as is the Big Ten and ACC, but for the Pac 12….well, let's just say they are kinda that little brother in the power 5 that is always fighting to get attention.
With that being said, Verdell saw an opportunity to be seen on Saturday afternoon and the junior did…..not…..miss. On 20 carries, the 5'8, downhill rusher compiled a total of 161 yards to go along with 2 rushing TDs and 1 Receiving TD. Seizing the moment, an act that should always be praised.