That…was your two point conversion play call Dan Mullen? oof.
Honorable Mention – Fake Injuries
5. Jaxson Dart – QB; USC
There may not be another team in America that went through a more an eventful, and frankly stressful week than the USC Trojans. On Monday, after an embarrassing home loss to the Stanford Cardinals, the University announced that it would be parting ways with HC Clay Helton, a man who has been with the program since 2010 and has been the HC since 2015. This abrupt, yet overdue decision sent shockwaves across the CFB world. And if you think firing your head football coach in the beginning of the season would be the most taxing part of USC's week, just wait until you hear what happened on Friday.
According to reports, after USC had landed in Lewiston, Idaho, on Friday afternoon, the Trojans' team plane tipped backward on the tarmac, sending the plane's nose into the air, after the grounds crew did not put the plane's tail stand in place. And to make things even weirder, several members of USC's coaching staff were apparently still on the plane when this debacle took place. When it rains, it pours.
Fast forward to Saturday afternoon. The Trojans, who I can only imagine having the moral comparable to Ebenezer Scrooge at this point, are set to face the Cougars of Washington State in a drenched Martin Stadium. When it rains, it pours. The game begins and the Cougars quickly strike twice, taking a 14-0 lead on a depleted Trojan bunch. To make matters worse, Kedon Slovis, who is The Trojans leader on the offensive side of the ball, had to exit the game with an upper body injury. Enter Jaxson Dart.
There are certain individuals that crumble when faced with adversity, and others that rise to the occasion when things start to get a little bit hard. On Saturday afternoon in Pullman, Jaxson Dart was the latter. Dart, a highly coveted Freshman from Kaysville, Utah, was in many ways, the answer to USC's hopeless prayers.
When Dart entered the game, it was as if a switch had went off. The offense, which had looked non existent to this point, found a grove to it and did not look back, scoring 45 unanswered points to close out the game.
By days end, Dart had a collegiate debut to remember, going 30-46 to go along with 391 passing yards and 4 TDs. Make no mistake about it, Kedon Slovis is the starting QB of the USC Trojans when healthy, but if we learned anything from Saturday afternoon, it would be that the future of Trojan football is pretty damn bright.
4. Tanner Mordecai – QB; SMU
When Tanner Mordecai made the decision to transfer to SMU, he knew he was going to have to fill some pretty big shoes. The once Oklahoma backup was entering a system that had just said goodbye to an offensive juggernaut that was beloved by the city of Dallas. See, Shane Buechele was SMU football. The once Texas transfer had thrown for over 7,000 yards and 57 TDs passes in just two years under Sonny Dykes to go along with an overall record of 17-6. Replacing Buechele's production was not going to be an easy task.
And while Rome wasn't built in a day, what Tanner Mordecai was able accomplish on Saturday afternoon, may just be what we like to call a foundation setting performance. In what became one of the games of the year, the Waco native could do wrong, throwing for a total of 395 yards to go along with 5 TD passes and a completion percentage of 75.
On top of that, Mordecai, in what can only be described as an "Ah ha moment," threw for a game winning, hail mary TD pass to Reggie Roberson as time expired.
If I know one thing about Tanner Mordecai, it is that he will not be scared of the footprint that Shane Buechele left behind. Bring it.
3. Josh Downs – WR; UNC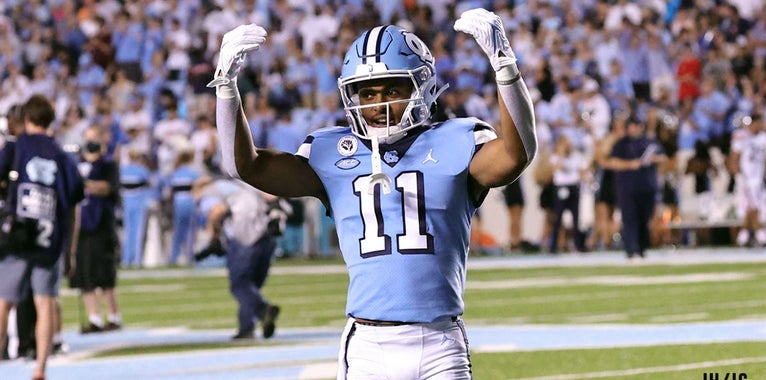 One of the biggest narratives heading into North Carolina's 2021 season was "How in the heck are the Tar Heels going to replace 4,000 yards of offense." And of course, this questioning comes off the heels of the departures of WRs Dazz Newsome and Dyami Brown, and RBs Michael Carter and Javonte Williams. Now, it goes without saying that losing such offensive production from a year ago is going to hamper your offensive flow in some way, shape or form. However, what we are seeing from certain Tar Heels who have been waiting for their number to be called, is what makes the spirit of good college recruiting oh so great.
In 2020, Josh Downs had 119 receiving yards on just 7 receptions. In many ways, the sophomore from Suwanee, Georgia was a shadow in Mack Browns offense and Sam Howell could have confused him for a stranger on the street. Fast forward a calendar year however, and the 5'10 wide out has suddenly become one of the nations elite playmakers.
On Saturday, during the TarHeels 59-39 shootout win over the Virginia Cavaliers, Downs put on a clinic that you would typically only see in Madden or NCAA 14 (I know you know what I'm talking about.) The explosive WR wracked up 203 yards (Almost doubling his season total from a year ago,) on 8 receptions, to go along with 2 receiving TDs.
There are days people remember, and then there are days where your WR1 averages 25.4 yards a catch. Have a night, Mr. Downs.
2. Matt Corral – QB; Ole Miss
There are good offenses, there are great offenses, and then there is Lane Kiffin's lethal attack. And listen, I understand that Ole Miss has thus far, faced three very poor defenses in Louisville, Austin Peay and Tulane, but what we are currently seeing out of Oxford, is an offensive explosion we have not seen in quite sometime. This is an offense that had 400 plus yards by half last night and if they wanted to, could probably have scored 90 in the pouring rain. And it is all lead by one man who we have got to talk about.
My biggest qualm with Matt Corral last year was that he turned the ball over too much. I was fully aware of the talent the gunslinger from Ventura had, but I would be foolish not to acknowledge the 14 INTs he threw. I also made the claim that if Corral could cut down on the turnovers in 2021, he was going to win the Heisman trophy….
Well, so far, so good. We are three games into the season and Corral has yet to throw an INT. What impresses me so much about this kids game, is that he is absolutely fearless when it comes to taking any sort of risk. Corral is the type of QB who is going to put the ball into tight space and most of the time, connect because he is so accurate with his touch. Even last night, we saw a sense of aggressiveness and confidence from the QB that frankly, I don't think you are finding anywhere else in the country.
As Ole Miss dismantled the Green Wave of Tulane last evening, by the tune of a 61-21 trouncing, it was Corral who once again made the morning headlines, grabbing 7 total TD (3 in the air, 4 on the ground,) on 335 yards passing.
The Ole Miss Rebels go into Tuscaloosa in two weeks time. Now, I am not saying that they are going to beat them, but when you have a QB as good as Corral under center, anything is possible.

1. TreVeyon Henderson – RB; Ohio State
One area of Ohio State's legacy that I believe often times goes unnoticed is just how gifted they are at recruiting, and or, bringing in talented RB's. Eddie George, Archie Griffin, Ezekiel Elliott, J.K. Dobbins..the list goes on for miles. In many ways, Ohio State is RBU and TreVeyon Henderson may have just be admitted with a full ride.
Henderson, a 5 star, mega-recruit out of Hopewell, Virginia arrived on campus in January with bright expectations. The wide-shouldered freshman was rated as the number one RB recruit in the country, as was said to be as explosive as a city block party on the fourth of July. And although the True-Freshman showed glimpses of promise during the first two games of his college career, compiling 69 yards to go along with a rushing score, it was what he did on Saturday in the horse shoe that has the people of Columbus ready to claim him as the next big thing.
Make no mistake about it, Ohio State did not look good during their win vs Tulsa on Saturday afternoon. CJ Stroud looked lost, the defense looked shaky, and if they played anyone who had a fighting chance coming in, they would have been run out of their own stadium.
With that being said, there was one positive takeaway from the Buckeyes lackadaisical performance. That being, TreVeyon Henderson going absolutely ballistic on the ground, accounting for 277 yards on 24 carries to go along with 3 rushing scores. This performance was so dominant in fact, that it broke Archie Griffin's freshman record for the most rushing yards in a single game (Record was set in 1972.)
Henderson, at the very least, will need to spend the next three years in college before becoming eligible for the NFL Draft. One can only wonder as to what his stat sheet may look like when all is said and done. Could we be looking at the next Eddie George in Columbus? Only time will tell.