It is September 26th and Clemson has officially been eliminated from playoff contention. Let that one sink in for a second.
Honorable Mention – Locker Room Dancing
5. Sincere McCormick – RB; UTSA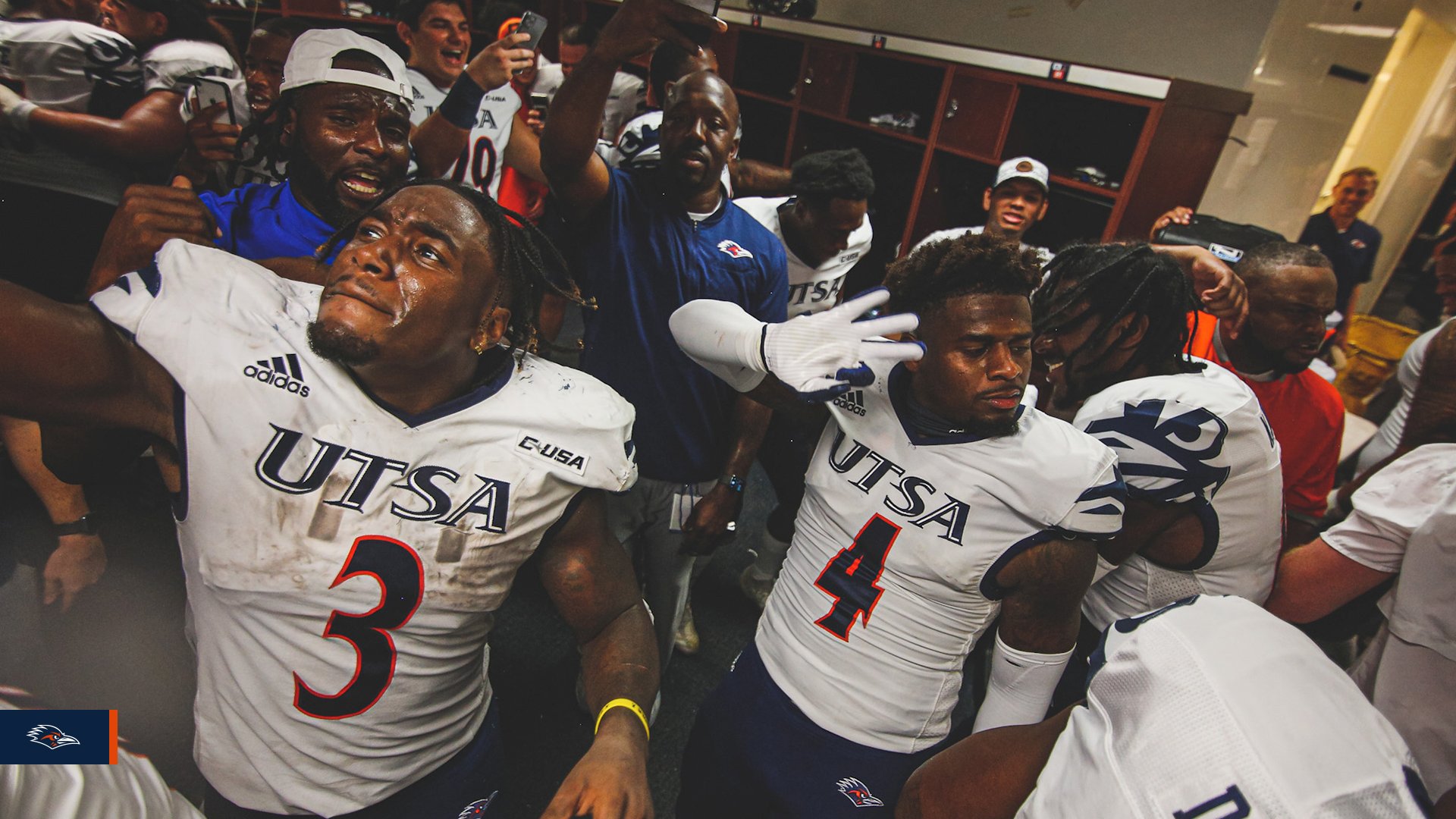 If you have not yet jumped on the bandwagon of the Roadrunners of UTSA, I suggest you hop on soon. What Jeff Traylor has been able to do with this program in just his second year in charge, is nothing short of exceptional. UTSA is 4-0, which include two monumental road wins; @ Illinois, and @ Memphis, which occurred this past Saturday. #Ranktheroadrunners
Sometimes, to come away with a win on Saturday afternoon, you need a performance that goes above and beyond. And for the Road Runners, who found themselves trailing at The Liberty Bowl by 14 points late in the 3rd quarter, that is exactly what they got.
Sincere McCormick is not the type of guy who is going to kill you with his speed, nor will he wear you out with his physicality. With that being said, the 5'9 junior from Texas has a motor like you wouldn't believe. During Saturday's win, in which McCormick collected 184 yards on 42 carries, to go along with 3 rushing scores it seemed as if the shifty back only got stronger as the game progressed. And it's almost symbolic, because if any of you watched the show "Looney Tunes," growing up as a kid, the Roadrunner was a character that never ran out of gas.
4. Kenny Pickett – QB; Pitt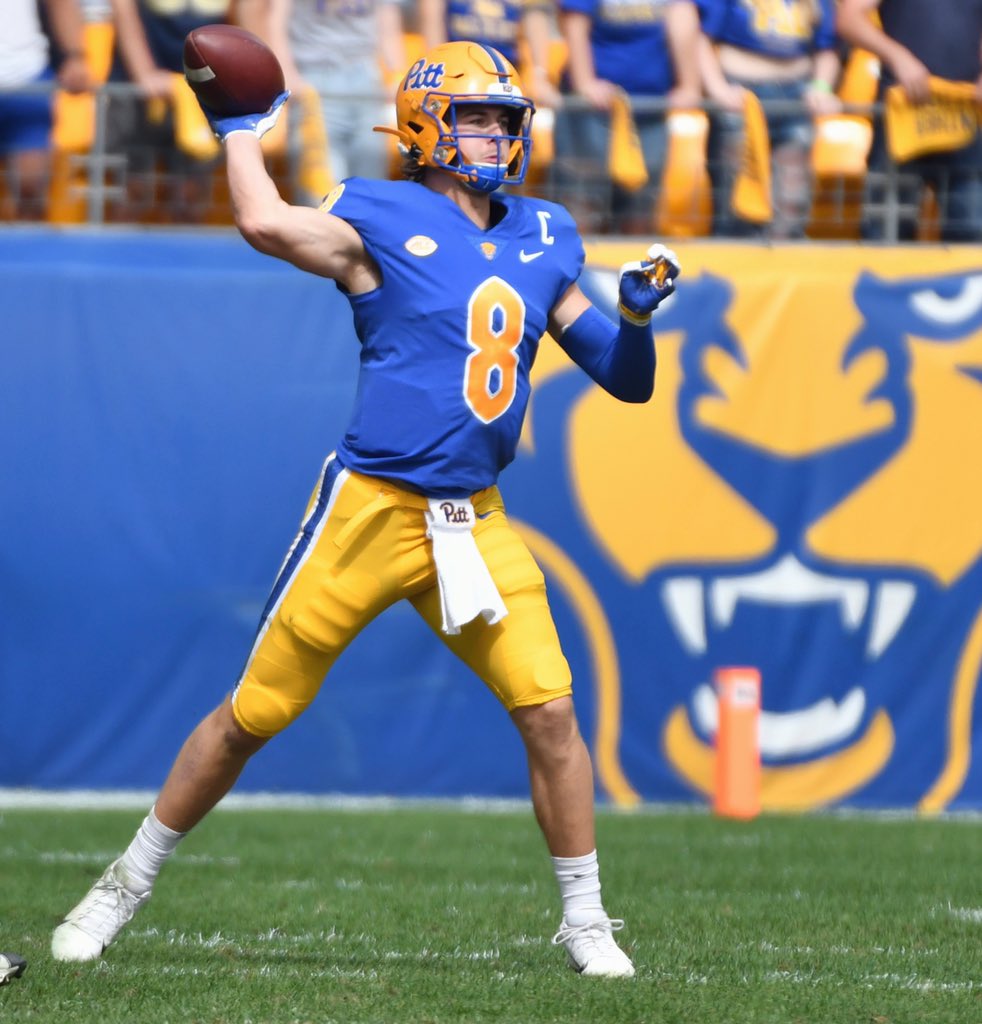 You want to talk about a rollercoaster of a season thus far for Pat Narduzzi and the Pitt Panthers. Three weeks ago, the Panthers made their way into Neyland Stadium, where they defeated a non conference, power 5 team on the road for the first time since 2008. Pretty impressive right? Well, that momentum was completely shot out of the sky when Pitt was defeated the following week at home by the Broncos of Western Michigan. And don't even try to ask me how a team can go from defeating a SEC team on the road, to then losing at home to a team from the MAC. Because frankly, that is a question I am still trying to figure out myself.
That now brings us to this week, where Pitt was victors against the New Hampshire Wildcats to the tune of a 77-7 drubbing. And while I understand that UNH is a FCS cupcake feeder, I still find it wildly impressive that you can go from losing a game to Western Michigan, and then 7 days later winning a game by 70 points. College football baby.
One player who you have to give a ton of credit to in terms of Pitts success on Saturday afternoon is Senior QB, Kenny Pickett. The 10th year senior (jokes) put on a good old fashion cupcake clinic, going 24-28 to go along with 403 yards in the air, 5 TD passes and 0 INTs. Pickett is the type of QB who can become unconscious when he starts to feel it. We saw it against Miami his freshman year and during that wild upset against UCF in 2019. I don't know about you, but I love QBs who run towards the fire.
3. Jameson Williams – WR; Alabama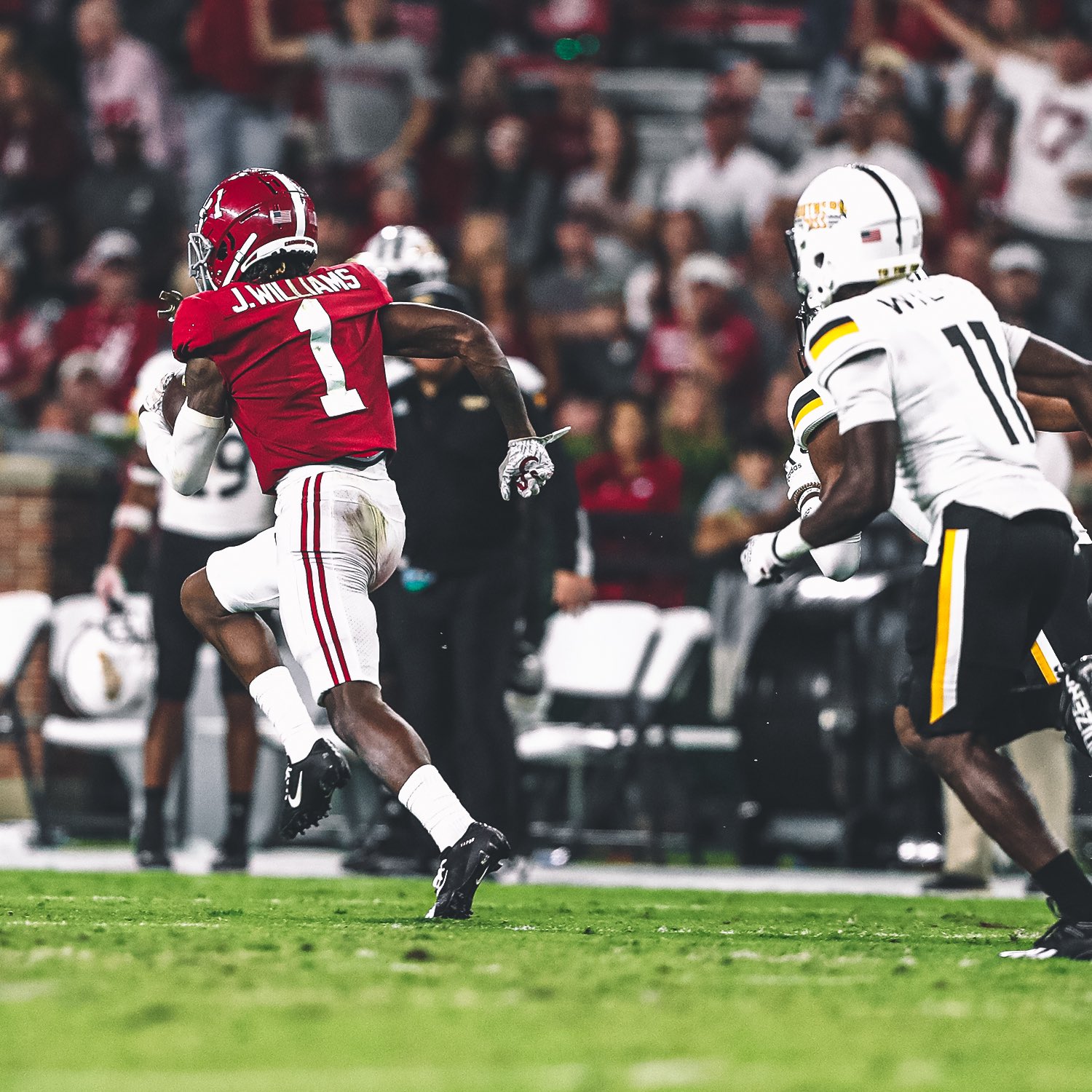 There is an old saying that goes, "The rich will always get richer." And when talking about the power structure of college football, I think that sentiment couldn't be more true. See Alabama is always going to be Alabama. And what I mean by that, is that is doesn't matter how many players they lose to the draft or graduation, they are going to restock with the best, most athletic recruits and transfers the country has to offer. See, everybody wants to play for a winner. And Alabama is as powerful, and successful as a program as you will find.
Jameson Williams. A 6'2, 189 pound wide out from St. Louis, Missouri. Never heard of him before? Well I guarantee you after the show the Ohio State transfer put on Saturday night, you will now. During Saturday's 63-14 win against Southern Miss, Williams showed glimpse of Devonta Smith, returning two kickoffs for TDs as well as hauling in one TD reception for 81 yards.
Williams became the first player in Alabama's illustrious history to return two kickoffs for touchdowns in the same game as well as the first player since 2004 to return a kick 100 yards. And mind you, this is a player who had just 9 receptions for Ohio State last season. Oh how the rich get richer.
2. Emory Jones – QB; Florida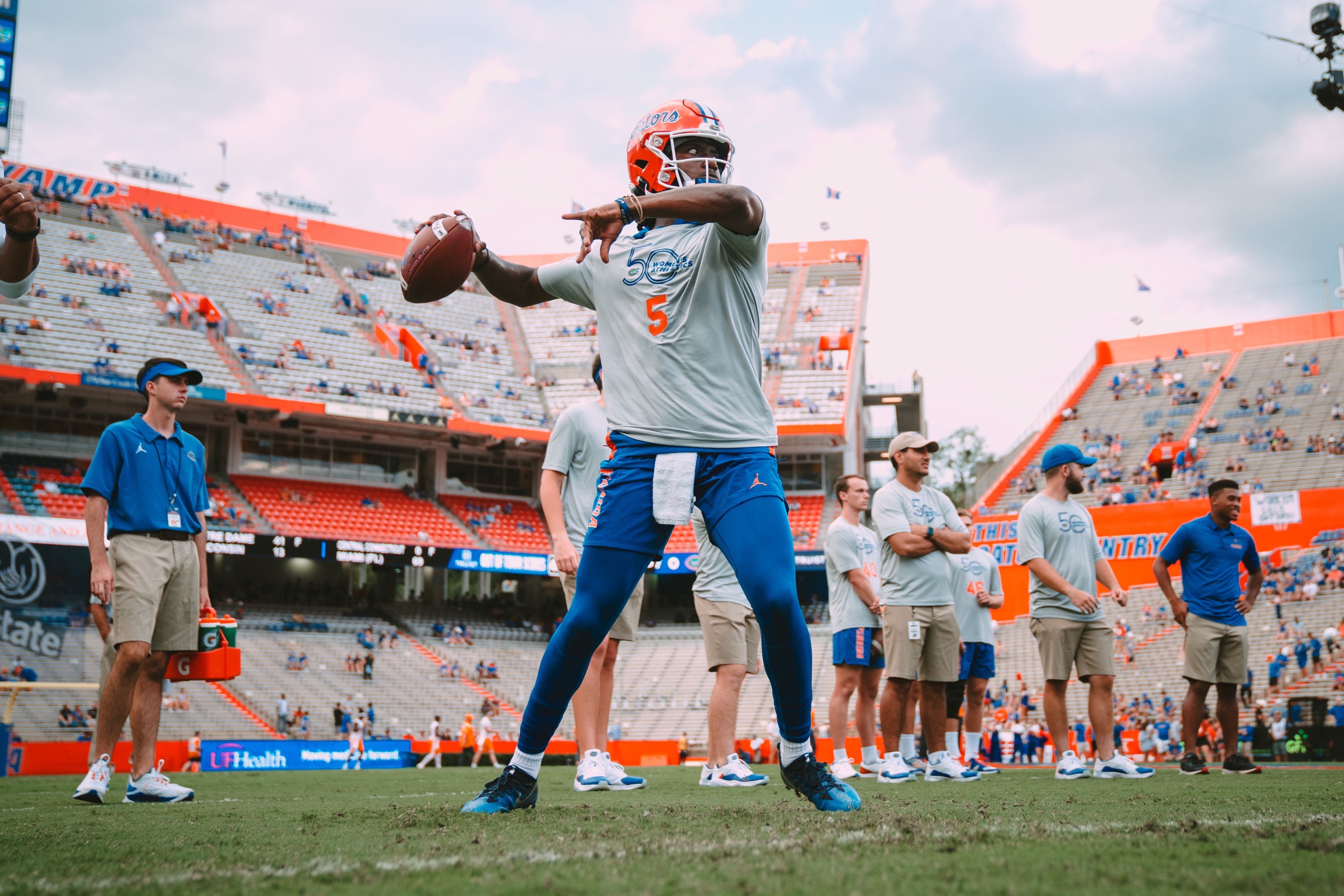 On this very site just a few weeks ago, I sat behind my laptop and wrote the following "If Dan Mullen is smart, Emory Jones will not take a snap for the rest of the season. The Gators welcome in the Crimson Tide of Alabama next Saturday and if Florida has ANY chance of pulling off the stunner, Richardson is going to have to be the man in charge." And I don't know if Emory Jones personally read my column and used it as motivation, but since I wrote that expert, the Junior QB has been a completely new man.
And yes, we have to acknowledge the fact that Anthony Richardson has not seen a down during the last 8 quarters, as he is in the process of nursing an injured hamstring. But still, Jones has earned his starting job over the last two weeks of the season.
During Florida's 38-14 win on Saturday night, the 6'2 dual threat playmaker took his game to a level that I have thus far seen before. It was almost as if he knew about the pressure the media was placing on him and said "Put this on tomorrow's headline's."
By day's end, Jones had finished with 209 yards in the air, 2 passing TDs and 144 rushing yards. Not a bad day at the office if you ask me. And look, do I still believe that Anthony Richardson has a higher upside than Emory Jones? Yes, But if this week showed me anything, it was that Dan Mullen has one of the deepest, and most talented QB rooms in the entire country.
1. Georgia's Defense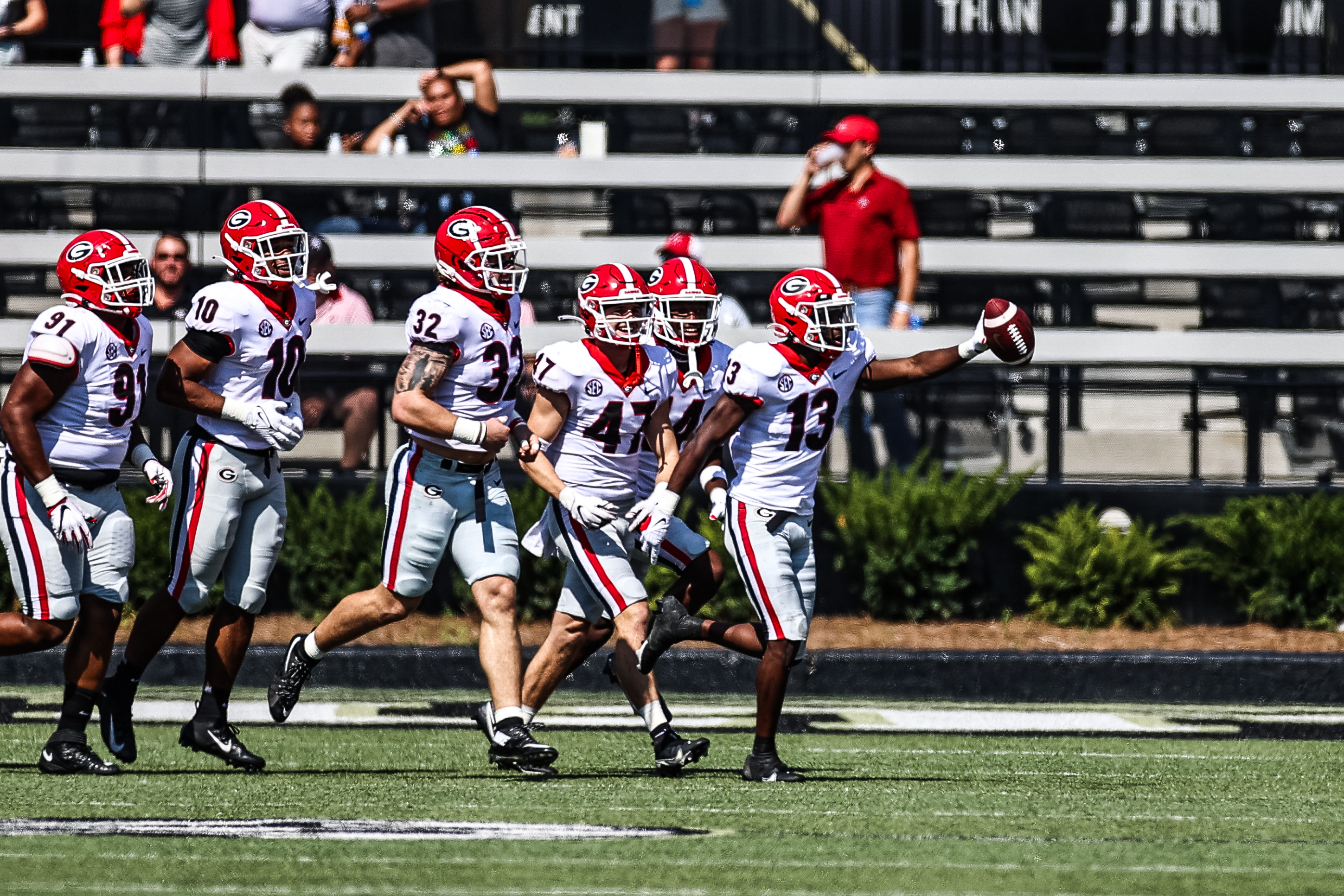 It should come as no surprise to anybody that I watch a lot of college football. I mean heck, I've been watching the greatest creation ever made since I came out of the womb. And when I tell you that this defense that Kirby Smart gets to trot out on a weekly basis may be the most talented unit I have ever seen, well….let's just let the numbers do the talking for themselves.
77. This is the amount of total yards Georgia's defense gave up during Saturdays win against Vanderbilt. And I just want to remind everyone at home that this was a road conference game. The bulldogs were not playing roast beef state in Athens. 4. This is the numbers of total first downs the Commodore's had. Not in the first quarter, not in the first half, but for the entire game. 24. This is the number of yards passing Vandy had. Twenty……Four. 0. The total amount of points Vanderbilt scored on their way to a 62-0 loss Saturday afternoon. I think you get the picture.
At the end of the day, Vandy is gonna Vandy. They just aren't a very good team. But we would be doing the world a disservice to not acknowledge the absolute brilliance that is the 2021 Bulldogs defense. I said on my podcast last week that all Georgia's offense has to do to win a National Championship is realistically score 20-25 points a game. But if I am being honest, I think the number can be even smaller than that.