If we learned anything from this week, it was that Georgia and Alabama are on their own stratosphere.
Honorable Mention: Cheerleader Belly Flops
Call me.
5. Will Rodgers – QB; Mississippi State
Image By: The Clarion Ledger
When Mississippi State hired Mike Leach to be the next head coach of their program, the thought was that the 60 year old California native would be able to bring a winning culture back to the city of Starkville. Leach, who is in his 35th year coaching collegiate football, has one of the most innovative minds the game has ever seen. And while year one of the Leach era in Starkville may have gone awry, seeing that the Bulldogs went 4-7, year two has already provided one of the signature wins in the coaches illustrious career.
To be a QB in Mike Leaches air raid system you are going to have to be aware of a few things. For starters, you are going to pass the ball more than you have ever passed anything in your life. The air raid offense requires upwards of 60 pass attempts per game and while that may seem egregious to some, it is what is needed in order for this system to work. And for Bulldogs starting QB Will Rodgers, this assignment has thus far, been aced with flying colors.
Another component that is key towards the success of the air raid offense is accuracy. This is a fast moving offense that requires pin point precision and high level thinking. And as the Sophomore QB from Brandon, Mississippi, made his way into Kyle Field on Saturday night, he was prepared to do just that.
It may have taken 59 passing attempts and 46 completions, but the once 3 star recruit had gone into one of the toughest environments in America, and had come away with a massive win. With 408 yards passing and 3 TD passes against one of the nations premier defenses, Rodgers sent a signal to the SEC that he belongs in the conversation as one of the conferences most dynamic QBs.
4. CJ Stroud – QB; Ohio State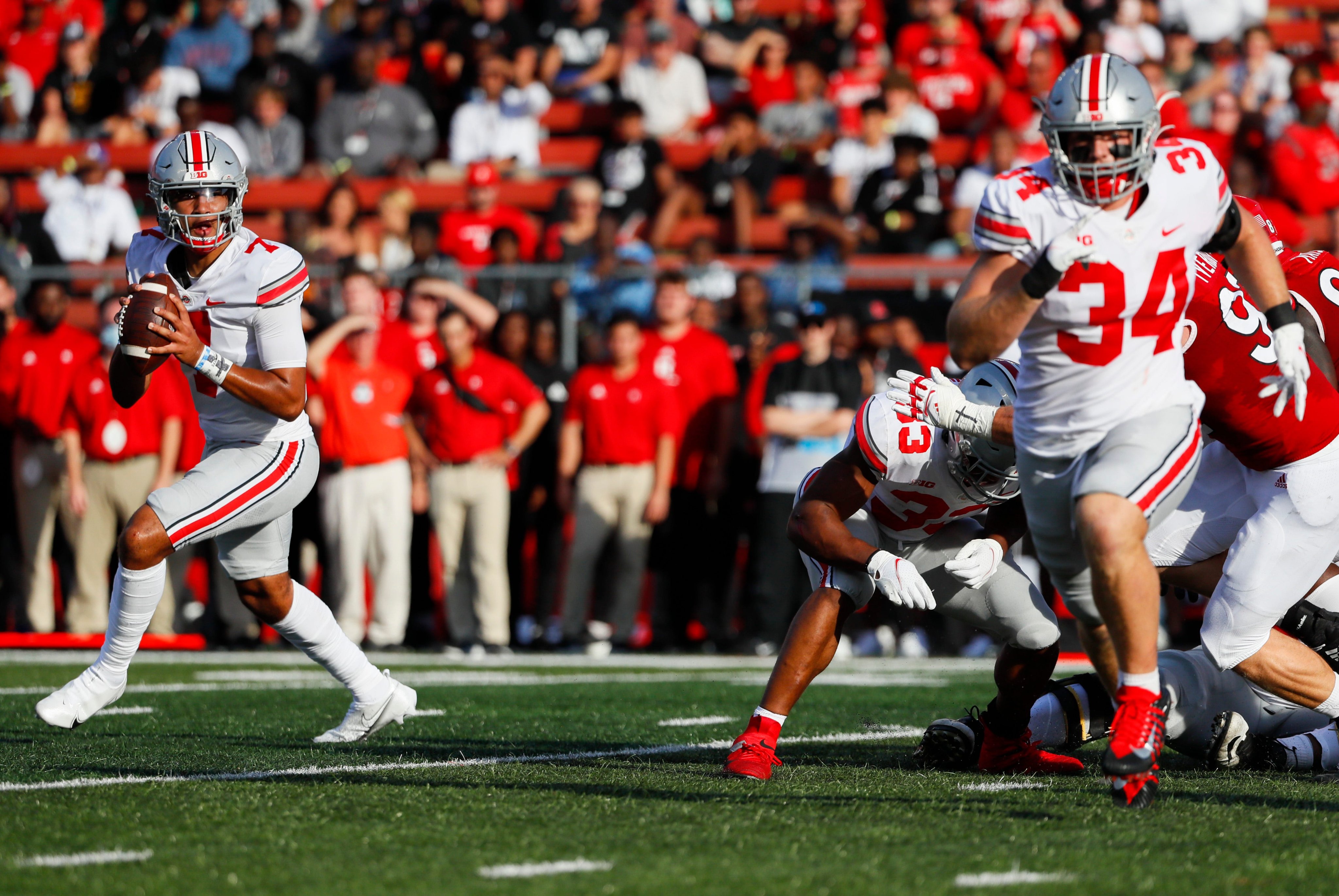 Preamble: This one goes out to all my beloved Rutgers fans. To the ones who were in my ear all week saying that the Scarlet Knights were going to AT WORST, keep things close with the Buckeyes on Saturday afternoon. I suggest you all stay seated at the kids table.
There are few positions in college sports that are as pressure packed as being the QB at Ohio State. With one of the most talented fraternities in the world mixed with perhaps the most demanding fan base in the country, the constraints put on students to perform can seem overwhelming. And while 20 year-old QB, CJ Stroud struggled during his first few games of the season, it seemed as if the entire city of Columbus was placing their weight and criticism on a man who is not yet able to enjoy an alcoholic beverage.
Having said that, there are few things sweeter in this world than being able to silent your doubters. And hand up, I was of the belief that CJ Stroud simply, was not that dude. I even went to the extent of making the take (Of which I still believe,) that Ryan day said that Stroud would be sitting out against Akron with a shoulder injury, when in reality the HC wanted a better look at his backups before conference play started.
And while Stroud carved up Rutgers secondary on Saturday afternoon, going 17-23 to go along with 330 passing yards and 5 TDs, I, along with all the other naysayers out there, had no other option but to. sit there and eat our words. Tip of the cap to you Mr. Stroud, you have won this round.
3. Georgia's Defense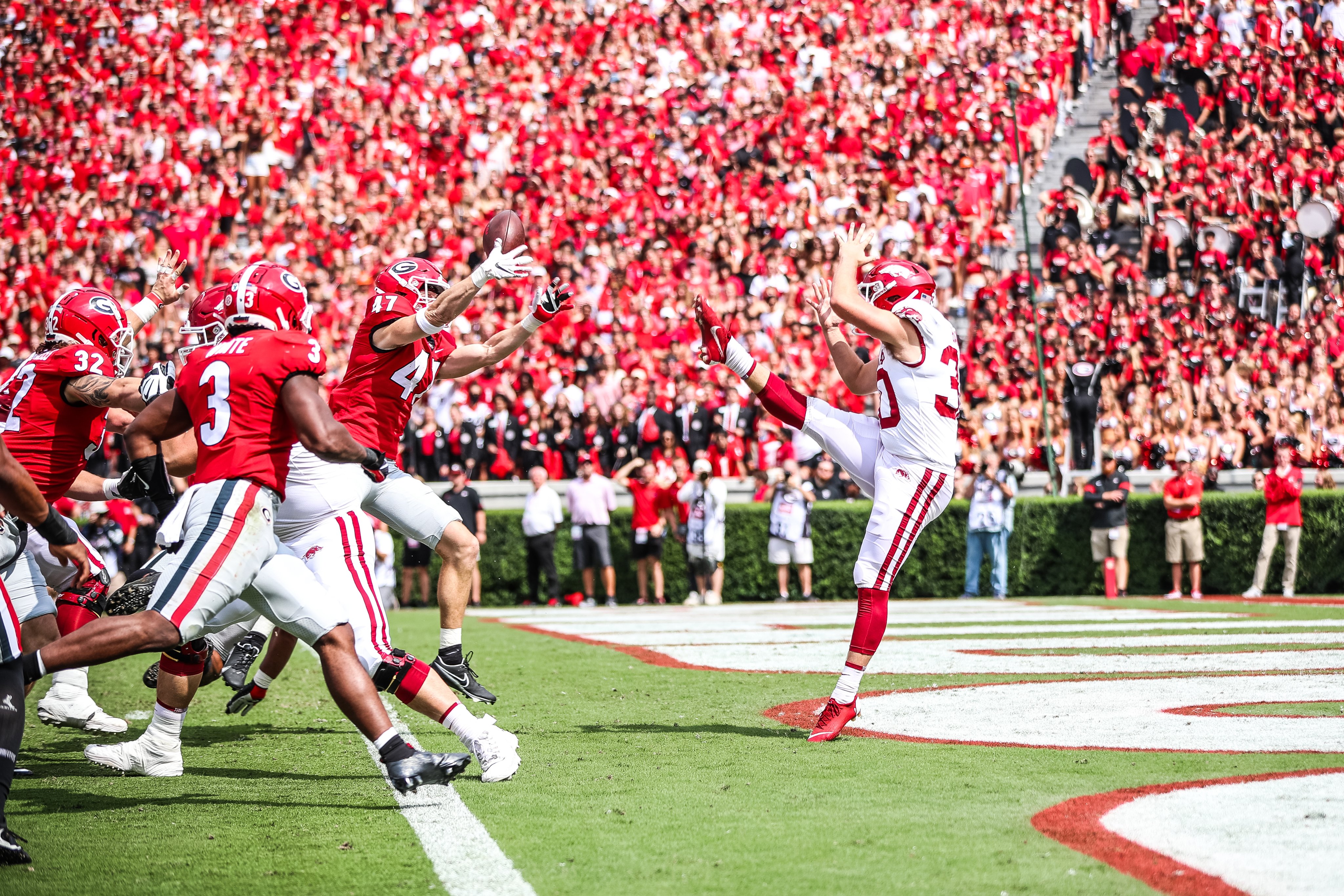 If this looks familiar, it is because this is the 3rd time Georgia's defense has made our list out of the 5 possible weeks played so far. And frankly, I would usually be of the belief of saying that placing them on this list week after week would be a bit repetitive, but I honestly feel as if it would be a disservice not to honor them at this point. They are that damn special.
Coming into Saturdays much anticipated affair between the Arkansas Razorbacks and the Georgia Bulldogs, one of the main storylines was if KJ Jefferson could be the guy to break the Bulldogs stifling D. Jefferson, who entered Saturday as the only QB in the SEC to have at least 800 yards in the air and 200 yards in the ground, is what we like to call in the biz "A difference maker." Georgia's defense didn't give a rats ass about the difference maker.
From the second the ball left the air to the moment the clock hit zero, Georgia's defense was as dominant as a good pair of genes. At times, I found myself feeling almost bad for Arkansas offensive line, because they had less than a zero percent chance of stopping the grown men that were opposing them from the Bulldogs front. Every single play created a surge in the backfield like you wouldn't believe.
By contest end, Georgia had pitched a shutout for the second straight game. Only this time, it wasn't against Vandy, it was against a top 10 team in the country. I do not mean this lightly when I say we may be looking at the greatest college defense of all time.
2. Bijan Robinson – RB; Texas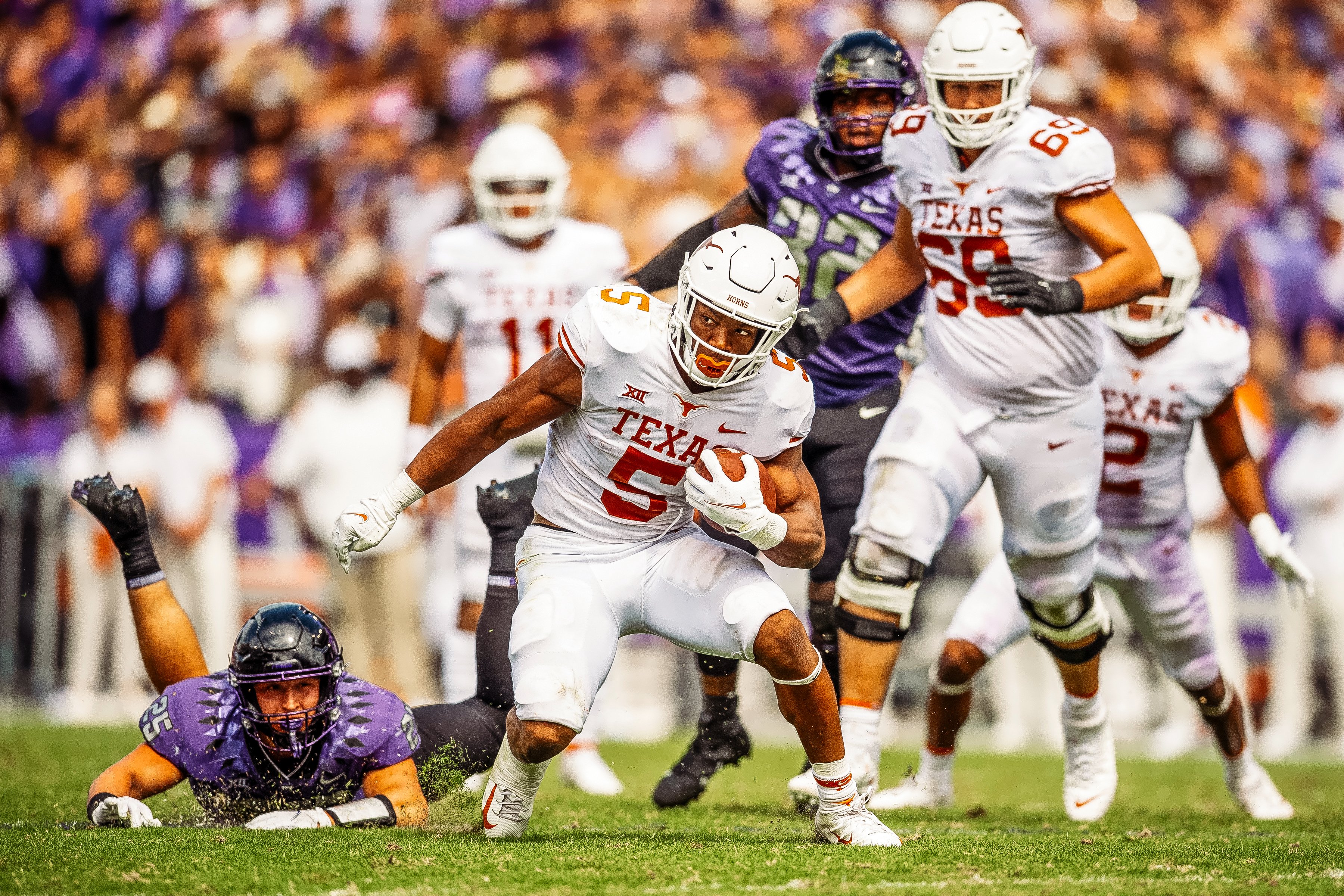 In recent years, the Texas Longhorns have found their kryptonite through the likes of the TCU Horned Frogs. Coming into Saturday, the Longhorns had lost 6 of the last 7 affairs to TCU and had not won at Amon G. Carter Stadium since 2013. If you were a betting man, you would have been smart to take the Horned Frogs outright.
Sometimes, to break a curse you need a performance of epic proportions. And while it may be a stretch to say that the Longhorns were "Cursed," coming into Saturday, 6 out of 7 against a mediocre team is pretty darn bad.
I now present to you, the curse breaker himself, Bijan Robinson. Robinson, a sophomore RB form Tucson, Arizona, may be the most underrated athlete in all of college football. This is a down hill rusher that when presented with open space, can accelerate past defenders at alarmingly fast rates.
On Saturday, Robinson had his way, collecting 216 yards on 35 carries in route to a 32-27 Longhorn Win. And don't look now, but Robinson, who has rushed for over 100 yards in ever game but one thus far, may soon be asserting himself in the Heisman conversation.
1. Brian Robinson Jr. – RB; Alabama / Nick Saban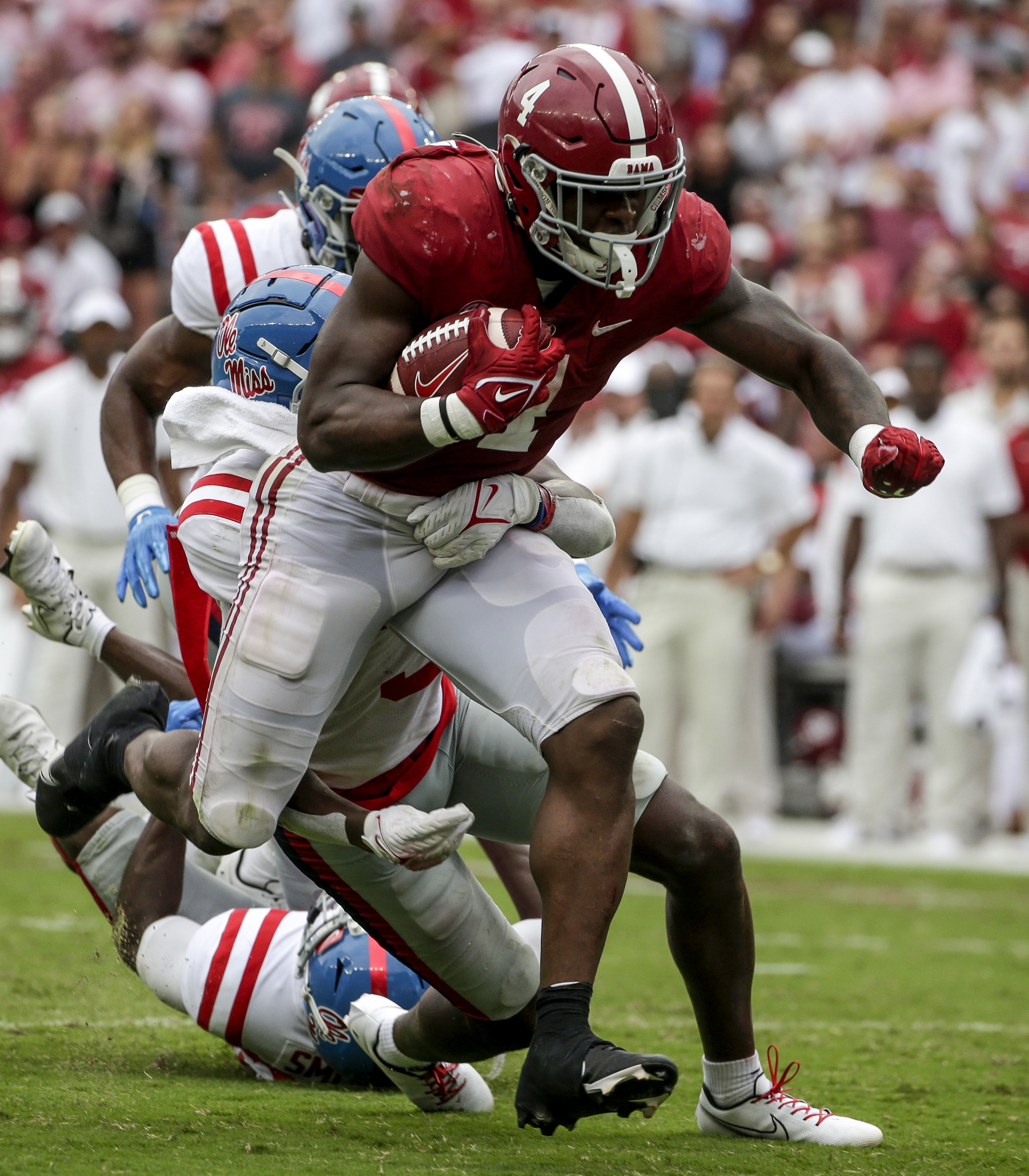 "Get your Popcorn Ready." These were the words uttered by Ole Miss HC, Lane Kiffin to CBS sideline reporter, Jamie Erdahl just seconds before kickoff on Saturday afternoon. Kiffin, who is in his second year as the head at Ole Miss, entered Bryant-Denny Stadium, a place he got fired from, with a chip on his shoulder. This game was personal. What Kiffin failed to realize however, was that standing on the other side of the field, was a man who was the greatest to ever do it, a man who was not about to let someone come into his home, and make such a cocky remark.
One thing that makes Nick Saban so great is that he is a master game planner. He is the type of coach who can scheme against any offensive system and adjust to nearly anything that is thrown his way. And while Alabama's defense was masterful on Saturday, allowing just 21 points to one of the nations most potent offensive attacks, it was what they did on offense, that makes Alabama…well Alabama.
Nick Saban knows that Ole Miss likes to run a high tempo, high scoring offense. So to combat this attack, one thing him and Bama OC, Bill O'Brien worked on over the week was to establish the run. By running the ball efficiently, one will be able to keep the ball in their hands longer which will in turn, keep the ball out of their opponents hands.
And while this plan worked, seeing that Alabama held the ball for nearly 15 minutes longer than Ole Miss, I'm not sure if anybody could have predicted the clinic that we saw from Brian Robinson Jr. on Saturday afternoon.
Robinson Jr., who may be the most physical back in America, imposed his will during the duration of Saturday's contest, rushing the ball 36 times for 171 yards to go along with 4 rushing scores.
The mentor shall now go back to drawing board where he will continue to learn from the master.