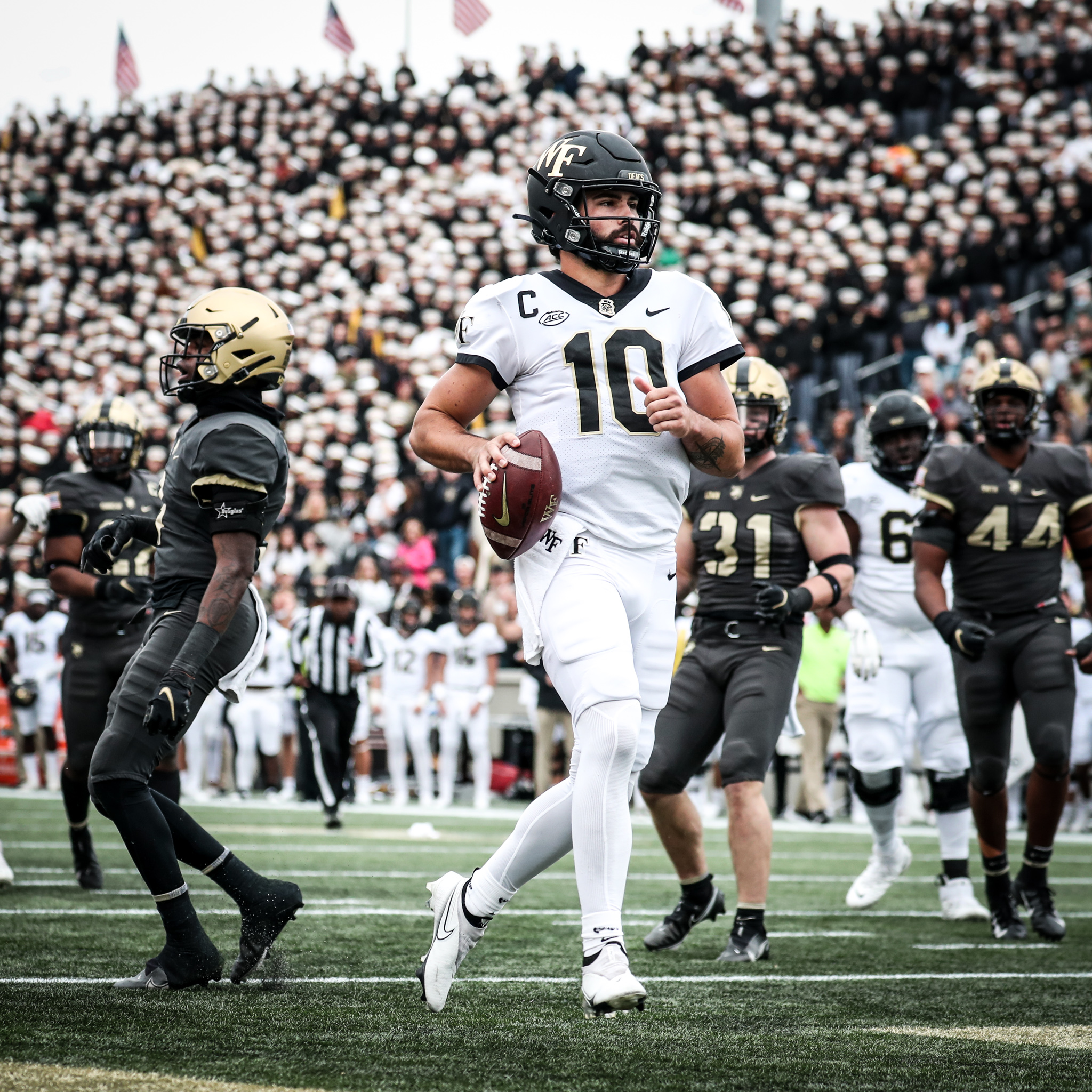 Image By: Wake Forest Football
Is Clemson dare I say….(Clears throat,) irrelevant?
Honorable Mention – Disgruntled Fans
5. Brock Purdy – QB; Iowa State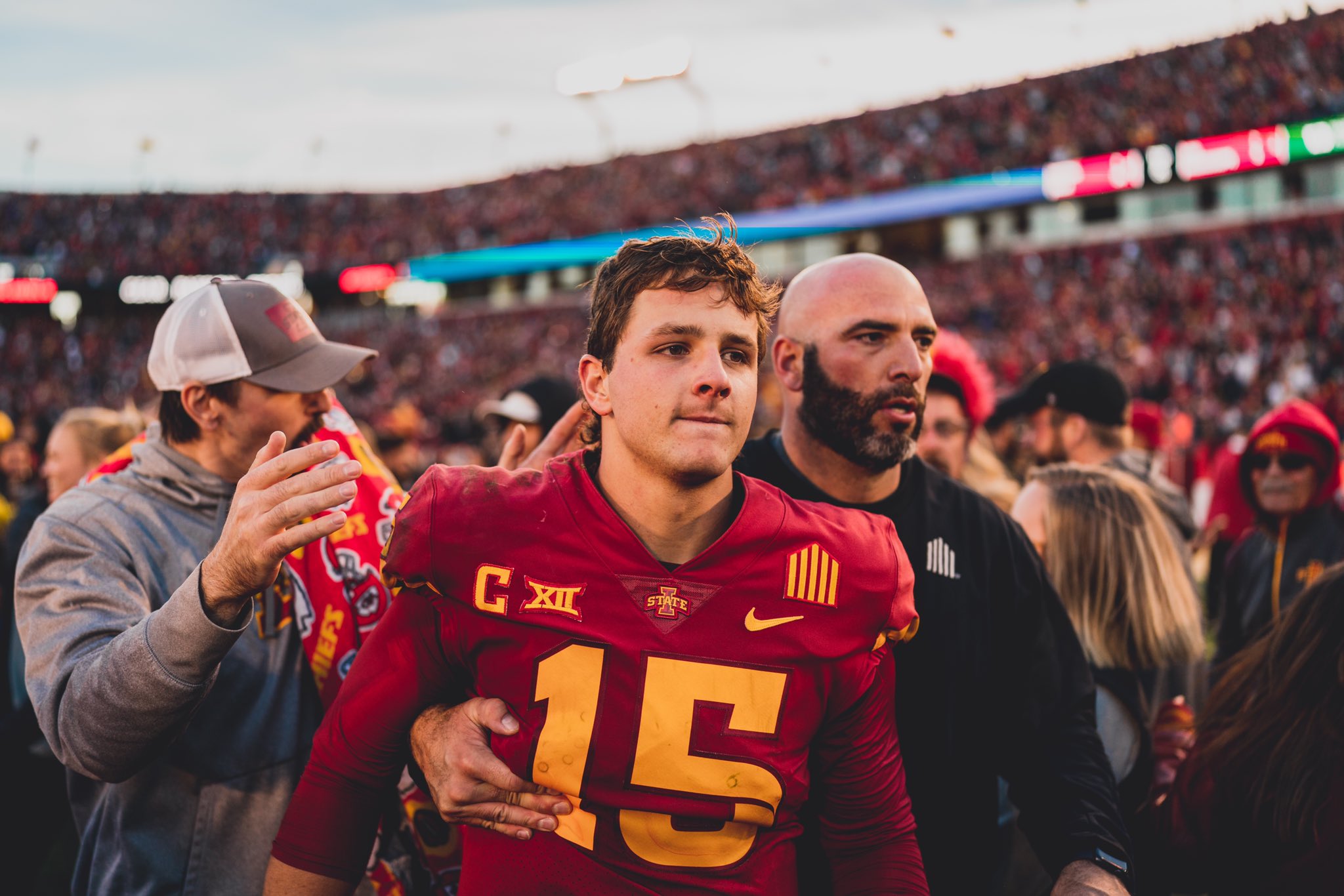 The Iowa State Cyclones are a good football team. So good in fact, that I had them making the CFP in my CFB full season preview. And while a couple of early season losses to Iowa and Baylor may have derailed that hypothesis, I still believe that this team has the ability to hang with anyone in the country. Take Saturday afternoon for example.
In what was expected to be one of the more intriguing games of the day, the Cyclones welcomed in the 8th ranked Oklahoma State Cowboys to Ames for a Saturday afternoon rendezvous. It would be a matchup of power vs power where the deciding factor came down to the greater production from the most important position on the field.
When Brock Purdy plays his final game in Ames this fall, he will leave as the greatest QB to ever wear the cardinal and gold. The Arizona native holds the record for the most passing yards and TD passes in school history, and his 3 wins away from becoming the winningest QB in program antiquity. There's just one thing that Purdy is missing; a Big 12 title that the Senior QB was o so close to accomplishing just a year ago.
As Purdy took the field on Saturday afternoon, he knew that if he had any chance to cap off his legacy with a B12 title, it would need to start with a statement win against Oklahoma State. And not only did the the Senior playmaker come away with a 24-21 win, but he did so while having arguably, the most effective start of his career, going 27-33 to go along with 307 passing yards, 2 TD passes and 0 INTs. There aren't many QB's in America I would take over Brock Purdy.
4. Carson Strong – QB; Nevada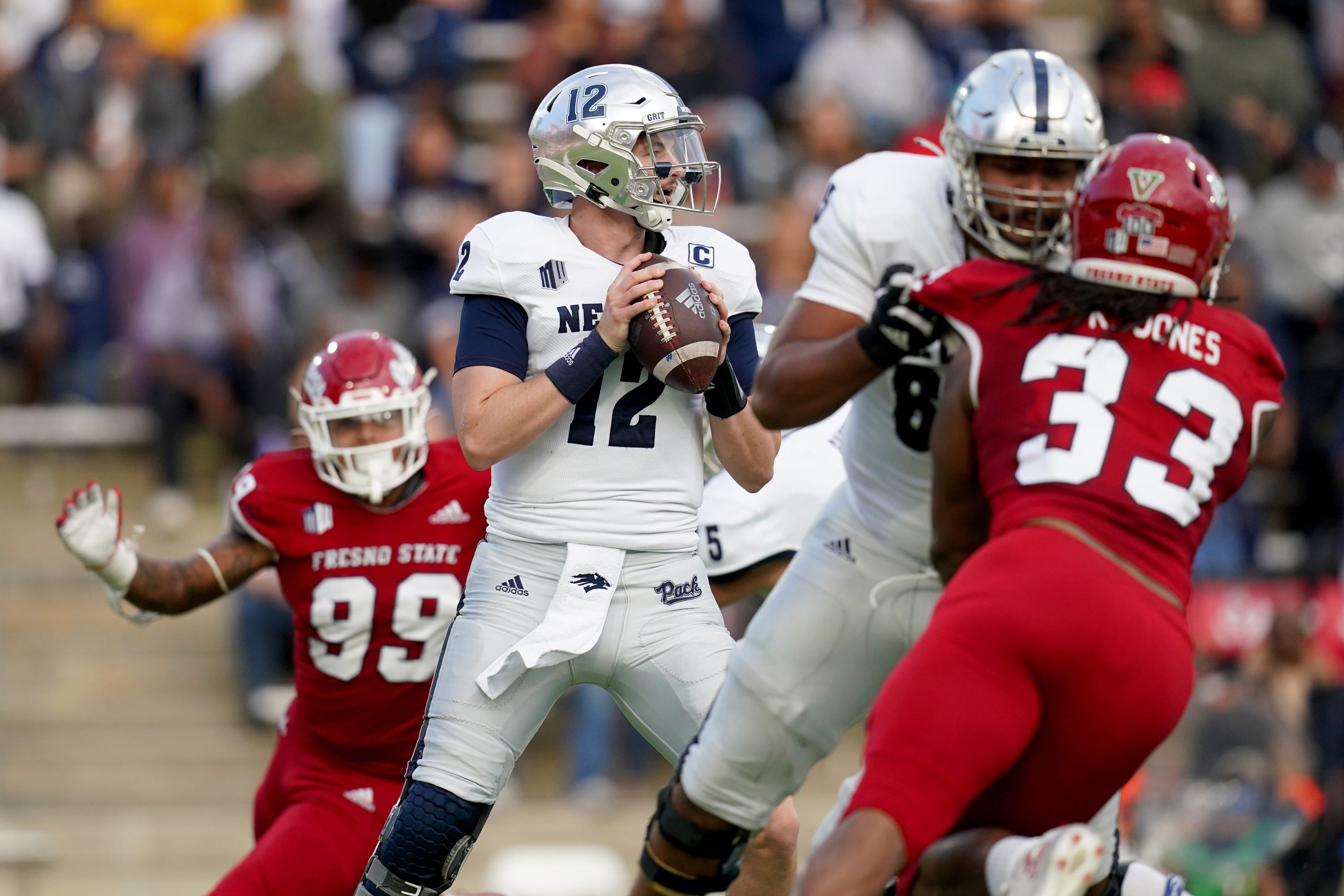 Sometimes, the truest character in us all is shown when facing the jaws of defeat. For some, defeat can mean termination, a spiral of negativity that leads to a path of poor choices. For others, a loss is a near road bump in life, a chance to get back up, brush yourself off and continue on your way to greatness. Carson Strong is a man that loves the latter.
As the fourth quarter approached during Saturday nights contest between Fresno State and Nevada, it was clear that the Bulldogs had the game in hand, leading by a commanding double digit score. Now, for most QBs in the country, this would be a time to pack up your things early, and look ahead to your following weeks opponent. Carson Strong wasn't about to have any of that mumbo jumbo.
In what can only be described as the greatest comeback that never was, Strong lead his Wolfpack all the way back, and even had his men in a position to tie the game with a successful two point conversion. Now sure, the 2 point try may have failed and the Wolfpack may have lost the game, but if you weren't inspired by the grit and fight that Strong showed, than you just aren't a fan of college football at all.
Strong finished the game with 476 passing yards on 61 passing attempts, to go along with 4 throwing scores and 5 sacks. I can only imagine what Strong's body is going to feel like come Sunday morning after one of the grittiest performances I have ever seen.
3. Garrett Shrader – QB; Syracuse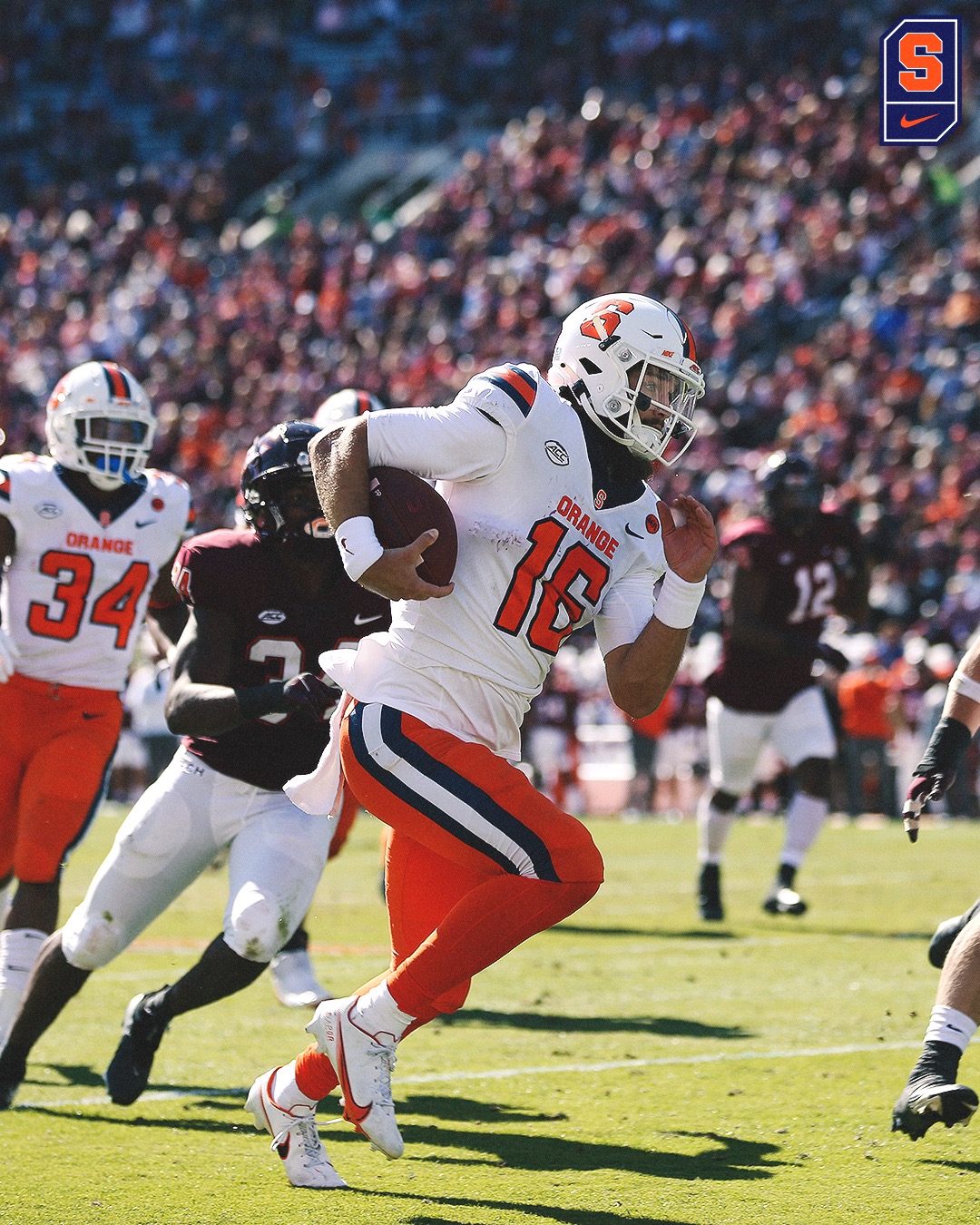 There is a good chance that you have never heard about the next player we are going to talk about. And that is okay, because I haven't either. Garrett Shrader is a Sophomore QB from Charlotte, NC who transferred from Mississippi State after getting limited playing time in 2019 and not seeing the field in 2020.
Now, make no mistake about it, Garrett Shrader is not a "good" QB. Coming into Saturday's affair against VT, the Sophomore starter had not surpassed 200 passing yards in a game and had actually been held to under 10 rushing yards 3 times this season. That is why what I am about tell you is one of the weirdest, most improbable stat lines you will ever see.
In route to a 41-36 upset win in Blacksburg Virginia, Shrader had the game of his life, throwing for 236 yards to go along with 2 TD passes, 174 rushing yards and 3 rushing TDs. It may never make sense to me as to how Shrader was able to accomplish something like this, but that is why you play the games.
2. Illinois Rushing Attack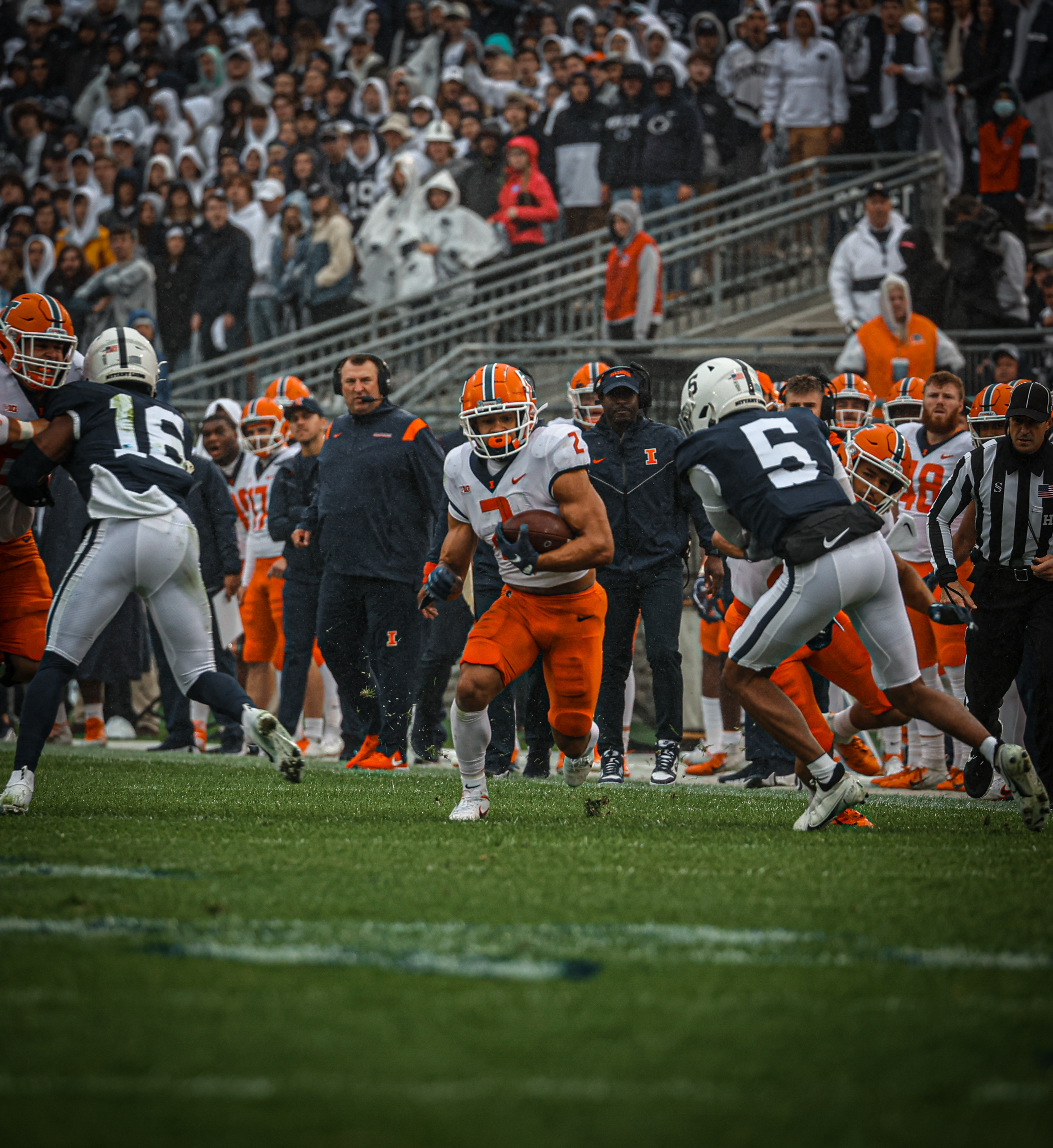 It wasn't pretty, but it was historic. On Saturday afternoon, the Fighting Illini entered happy valley as triple TD underdog. At 2-5, you would be hard pressed to find one person in America that thought Illinois had a fighters chance to come away with the Saturday stunner. But again, that is why you play the games.
And as the old saying goes, coach Bret Bielema has never drawn up a run play that he doesn't love. Illinois ran the ball to begin the game, they ran the ball in the middle of the game, and they ran the ball to end the game. Heck, they ran the ball so much that I literally felt as if I was watching 1800s college football where the forward pass was illegal. But it worked, so who am I to judge.
By days end, Illinois had racked up 357 rushing yards on 67 carries, the most Penn State has given up in over 25 years. Sophomore back, Chase Brown had 223 yards while freshman speedster, Joshua McCray had 142. And sure, this game may have broke an FBS record, as it went into 9 OTs, but it was the dominant display that we saw from the llini rushing core that will be making the morning headlines.
1. Sam Hartman – QB; Wake Forest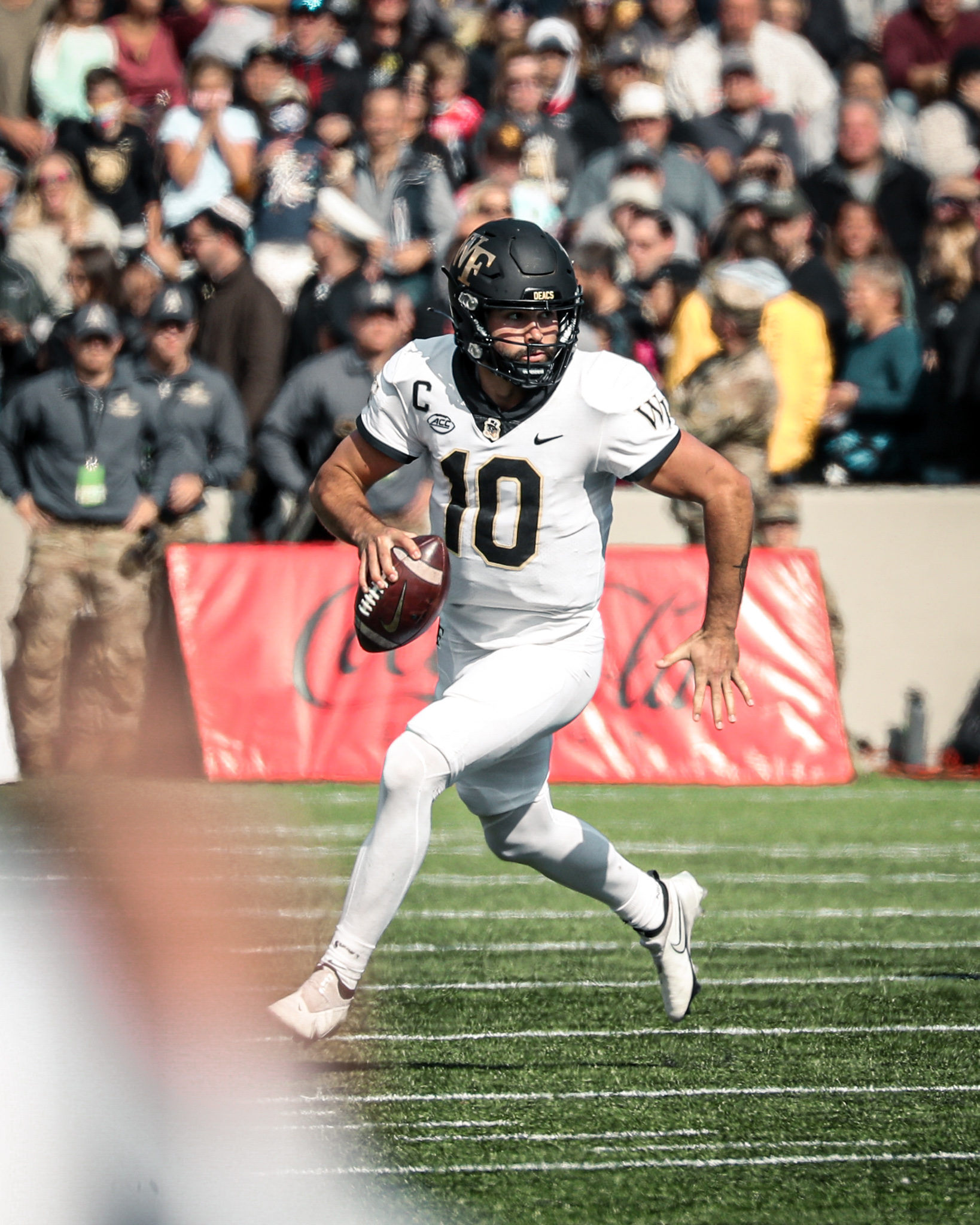 Is it time we start considering Wake Forest as a serious CFP contender? And trust me, I get it sounds crazy…..it's Wake Forest for darn sakes, but. hear me out. This is a program that is currently sitting at 7-0 for the first time since 1944, is going to be favored in each of there 5 remaining games, and is host to a Heisman caliber QB. I say, why the hell not. Feed me chaos!
There is a good that you may have spit up your breakfast when you heard me say "Heisman caliber QB." And to that I once again say, hear me out. What Sam Hartman is doing this season for the Demon Deacons is not only impressive, it's flat out uncanny. The Junior gunslinger has already surpassed the 2,000 yard passing mark, has hurled 19 tuddies and has tossed just 3 INTs, which has earned him the nations 5th best QBR at 86.2. Still not buying the hype? Let's take a look at what the North Carolina native did on Saturday at West Point.
When you hear Army football what is the first thing that limitedly comes to your mind? Good defense right? (And if you said the triple option you are a fraud.) And usually, that would be an honest assessment, as Jeff Monken is one of the best defensive minds this game has. But for whatever reason, whether it was that the good players decided to stay home or that WF has that good of an offense, the notion that Army has a good defense was completely thrown out the window.
The Demon Deacons put up 70, yes 70 points to go along with 638 total yards of offense in route to their 7th win of the season. Remember that Hartman guy we just got done talking about? He went for 458 passing yards which was paired with a career high, 5 passing TDs and 1 rushing TD. There are good days, there are great days, and there are days that will be talked about for years to come. I don't think anyone will soon forget the day Wake Forest put up 70 at West Point.