It wasn't normal, but it was basketball. In a year that featured COVID regulations, reduced crowds and an NCAA Tournament mega-site, college basketball as we know it became as foreign to the common eye as a trip to France. But fear not, as we now flip the calendar year and continue to progress to a sense of normalcy. Expect full crowds and ruckus atmospheres come November, as begin our 353 team climb to Mount March. Are you ready?
Pac 12
We start our preview with what Bill Walton likes to call "The Conference of Champions." And make fun of that statement all you want, but when push comes to shove, the boys out west know how to perform when the lights are on. Take last March for example, when the Pac 12 had not one, not two, but four teams in the sweet 16 and 3 in the elite 8. It's worth asking the question…..is the Pac 12 the deepest, most competitive conference in the country?
The Favorite
You would be hard pressed to find a more desirable place to play college basketball this season than UCLA. This is a program that is coming off a final four run, is returning nearly their entire team from a year ago and is host to one of the best basketball minds in America in Mick Cronin. And I haven't even began to talk about how attractive the girls are in LA. Does it get much better than that?
One of the main reasons as to why I feel UCLA is not only the best team in the Pac 12, but a top 4 team in America, is because they are host to the best player in college basketball, Johnny Juzang. Juzang, a 6'7 guard from Tarzana, California is the type of transcendent athlete that can single handedly, carry a program to the next level. Last season, in which the Junior guard averaged 16 points a contest to go along with four rebounds and one assist, it could have been said that Juzang flew under the national radar.
That all changed in March, when during the NCAA tournament, the California native scored 23 against Michigan State, 27 against BYU, 28 against Michigan and 29 vs Gonzaga. I'm telling you now, be prepared, because it is about to be the winter of Johnny Juzang.
Along with Juzang, UCLA returns point guard, Tyger Campbell, junior forward Jaime Jaquez, senior forward, Cody Riley and welcome in 5 star recruit, Peyton Watson. This is a loaded squad that I expect to make a very deep run come March.
The Runner Up
It seems as if ever since Dana Altman was hired at Oregon in 2010, the recipe for success has been relatively the same. Get a few big recruits, keep about half of them for fours years, and build the rest of your program on grad transfers. Has this remedy worked? Debatable. While Oregon hasn't won the National Title since Altman has been in charge, the Ducks have made the tournament 7 of his 11 season as well as made the final four in 2017. Additionally, Altman has won four regular season Pac 12 titles as well as three Pac 12 tournament titles. You be the judge.
As far as the 2021-2022 edition of the Oregon Ducks are concerned, I think this team has a shot to be pretty good. Although the Ducks are losing two key pieces from a year ago in guards Chris Duarte and LJ Figueroa, they make up with it with one of the best transfer classes you are going to see.
One of the key transfers that will look to make an immediate impact in Eugene is junior guard, De'Vion Harmon. Harmon, a 6'2 Texan who spent his last two years playing basketball at The University of Oklahoma, is one of the scrappier guards you will find west of the Mississippi. Coming off a 12.9, 3.4 and 2.1 year, I expect Harmon to fit right in an be one of the Ducks leading producers.
Along with Harmon, Oregon welcomes in Syracuse transfer, Quincy Guerrier and Rutgers transfer, Jacob Young, which should help accompany the talents of senior guard, Will Richardson and senior forward, Eric Williams.
In conclusion, while I don't necessarily feel as if Oregon is good enough to contend with UCLA for a Pac12 title, it certainly wouldn't surprise me if they ended up being a sweet 16 squad.
Do Not Sleep on The Trojans
I think one of the better teams in America that nobody really talked about last season was the Trojans of USC. Lead by HC Andy Enfield and star big man, Evan mobley, USC went 25-8 and made it all the way to the elite 8. However, with Mobley gone along with other key pieces to the Trojans cog, many are wondering if USC can repeat their success come November.
If USC has any shot of replicating their March Magic, they will need to rely on junior forward, Isaiah Mobley. Mobley, who is the brother to Evan, is what you like to call "A double-double machine." Averaging just a tick under 10 points and 7 boards a game, Mobley can put up reliable numbers at the drop of a hat. With Evan now gone, expect Isaiah to step up in more ways than one and become this teams leader in charge.
Along with Mobley, USC returns a pair of senior guards in Isaiah White and Drew Peterson, along with senior forward Chevez Goodwin and Memphis transfer, Boogie Ellis who is coming off a year in which he averaged 10.2 points a game. Coach enfield has also done a hell of a job recruiting and is ready to welcome in 4 star guard, Malik Thomas as well as 3 star forward, Harrison Hornery.
If this team can build chemistry early, I think we are looking at a program that will be competing for a conference title all winter long.
New Year, New Coach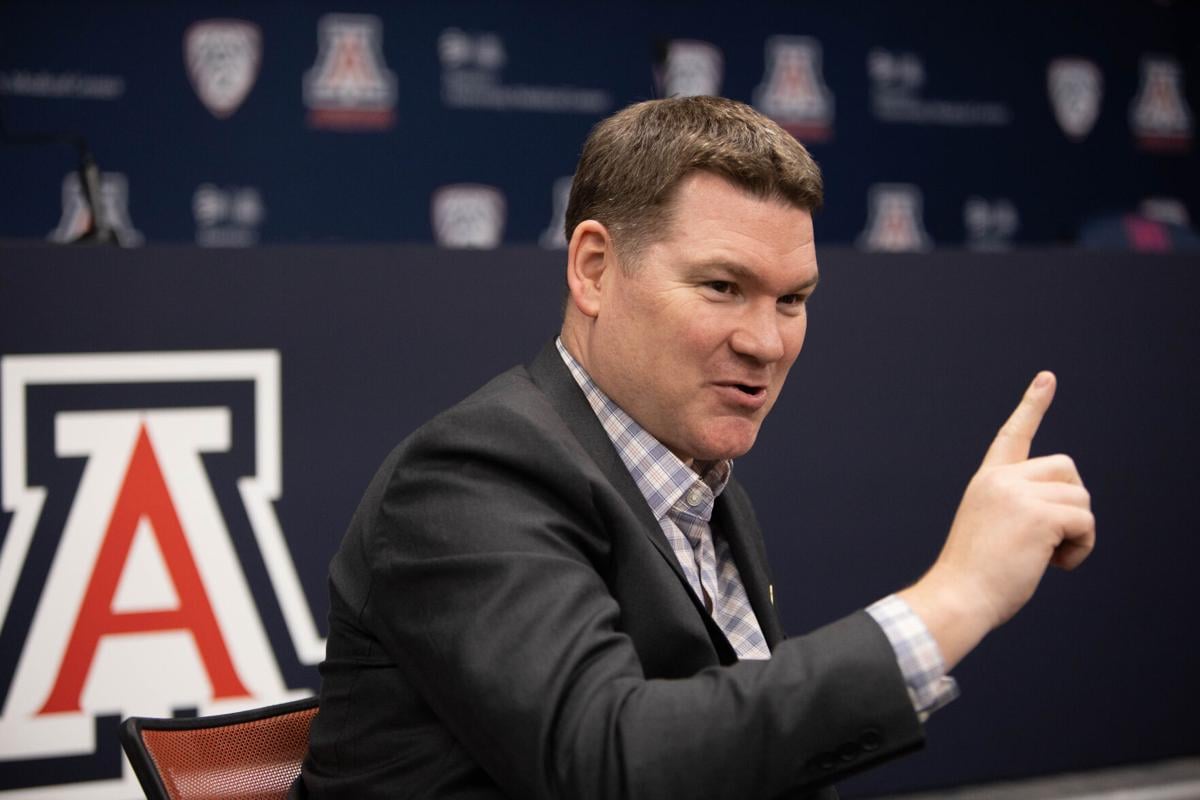 It was long and boy do I mean long overdue, but the Sean Miller era in Arizona is finally over. And as the saying goes, out with old and in with the new. The Wildcats have welcomed in long time Gonzaga assistant, Tommy Lloyd and are ready to flip the next chapter of their programs novel.
One player who could certainly help Arizona turn the page is sophomore forward, Azuolas Tubelis. Tubelis, a 6'11 role player from Lithuania is coming off a freshman campaign in which he averaged 12.2 points a game to go along with 7.1 and 1.2 assists per contest. Admittedly, I had assumed that Tubelis would be a one and done type player due to his wide range of talents so the fact that he is returning to Tuscon is a huge deal.
Along with Tubelis, Arizona returns a slew of talent that should make them one of the deeper team in the Pac12. Sophomore forward Bennedict Mathurin is coming off of a 10 and 4 season, and junior center, Christian Koloko is bound to cause havoc standing in at 7'1.
Additionally, the Wildcats welcome in a really talented transfer from Georgia in the likes of senior guard, Justin Kier, get big man, Oumar Ballo to follow coach Lloyd from Gonzaga and have two super touted recruits coming in through Shane Nowell and Adama Bal.
This is a really talented team with a high upside that not enough people are paying attention to coming into the season.
SEC
If I were to tell you that at the beginning of last season that 6 teams from the SEC not named Kentucky would be dancing come March, you would have called me crazy. And crazy I must be, as 2021 featured the rise of the Hogs and the fall of the Cats. An uprise in the three-point shot and the decline in the status quo. Will 2022 provide much of the same, or will we see a return to prominence from the conference kings? Only time will tell.
The Favorite
Let's cut right to the chase. 2021 was a disaster for the Kentucky Wildcats. John Calipari and company finished the season below .500 for the first time since 1989, which also resulted in the Cats missing the NCAA tournament for the first time since 2013. But fear not BBN, as the Cats welcome in a loaded recruiting class, a handful of fiery transfers and a couple of key returners which should help propel Kentucky back to top of a conference, in which they have dominated for since the 1970's.
One of the key factors that is going to help Kentucky return to a state of prominence is the immediate production they should see out of their big time recruits. If you have been following John Calipari's career you would know that the man can recruit as well as anybody in America, and this year is no exception. Freshman guard, Tyty Washington is a 5 star playmaker from Arizona who I feel has an upside of being one of the SEC's premier guards. Pair that with 5 star center Daimion Collins and 4 star PF, Bryce Hopkins and the Cats are primed to have a memorable freshman class.
As far as the transfer game is concerned, there may not be a program in America that had a better offseason when it came to gaining experienced talent. The Wildcats are expected to start three transfers in the likes of sophomore guard, Sahvir Wheeler (Georgia,) senior sharp shooter, Kellan Grady (Davidson) and junior big man, Oscar Tshiebwe (West Virginia.) Add Iowa transfer, CJ Fredrick to the mix and we are looking at a dangerous transfer class that will be looking to make an immediate impact.
Overall, I am a big fan of this Kentucky team. Anyone who knows college basketball knows that last years Wildcat's monstrosity, was an anomaly of epic proportions. 2022 will be the bounce back of the Cats. Book it.
Roll Tide Roll
It was only a matter of time before Nate Oats was going to get his recruits to Tuscaloosa and have a break out year. Alabama wasn't just good in 2020, they were flat out dominant, going 26-7 which included the programs first SEC regular season title since 2002 and their first conference tournament title since 1991. And while the Crimson Tide may have been upset in March during the sweet 16, there is much to look forward to as the Tide continues to roll in the dixie state.
Now unfortunately for Alabama, the Crimson Tide enter this season without some of the key pieces that made their motor run a year ago. Star forward Herb Jones is now a New Orleans Pelican, sharp shooter John Petty is in the G League and Alex Reese is no longer with the team after graduating in the spring. Having said that, all hope is not lost as the Tide enter November with a loaded roster.
If Alabama hopes to have a repeat of the success they experienced last year, they are going to need to rely on their two best players, Jaden Shackelford and Jahvon Quinerly. Starting with Shackelford, there is not much to dislike about the junior guard from Hesperia, California. Shackelford is coming off a sophomore campaign in which he averaged 14 points a game, shot 41 percent from the field and averaged 3.8 boards per contest. Mix that in with Jahvon Quinerly, another junior guard who is coming off a 13 PPG game season, and you are looking at one of the best backcourts in the entire country.
Along with the lethal duo of Shackelford and Quinerly, Alabama brings in a recruiting class that has the potential to be one of the best in the SEC. JD Davison is a 5 star combo guard who is said to be the next high flyer in high major hoops, Charles Bediako is a 4 star, 7 footer from IMG Academy and Jusaun Holt is a sharp shooting, 4 star forward from Georgia. The power of having a figure like Nate Oats on your recruiting staff is immense.
I am going to go on a limb here and say that if JD Davision can fit in Oats' system early, then Alabama will be a serious, championship contender. Roll, tide roll.
For the Culture
There are few teams in America that were as enjoyable to watch last season than the Arkansas Razorbacks. In only his second year with the program, Eric Musselman created a winning culture in Fayetteville that was uncanny, going 25-7 which included a surprise run to the elite 8. And let me remind you folks that Musselman is entering only the third year of a contract that runs through 2028. His work is just getting started.
I will be the first to admit that losing a guy like Moses Moody is going to hurt this program in some capacity. How could it not? The one and done phenom had a freshman campaign in which he averaged 16.8 points per contest and lit up stat sheets across the Southeastern Conference. That type of talent doesn't just come knocking on one's door step.
With that being said, Arkansas enters the winter with tons of returning talent that should make them as deep as a black hole. Sophomore guard, Devo Davis returns after an impressive freshman campaign, as does forward, Jaylin Williams, guard J.D. Notae and 7'3 center, Connor Vanover. Additionally, the Razorbacks welcome in three loaded transfers in the likes of Miami guard, Chris Lykes, South Dakota Forward, Stanley Umude and Pitt Panther Guard, Au'Diese Toney, all of whom are expected to be starting by game 1.
All in all, this is a very talented team that has an enormous ceiling; I suggest jumping on the Razorbacks bandwagon while you can.
Rocky Top!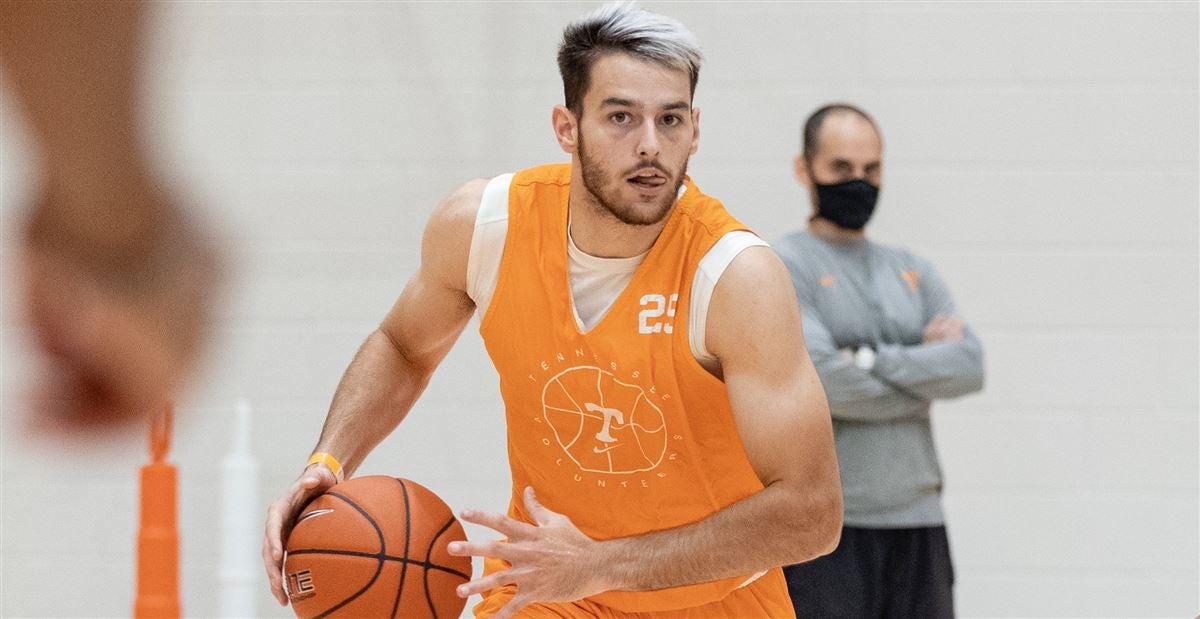 For whatever reason, Rick Barnes can never seem to get over "The Hump." In his 6 years as head coach of the Volunteers, Barnes haw managed to get his team past the first weekend of the NCAA tournament just once, which included a first round upset this past season to Oregon State. So I think it is worth asking…is Rick Barnes seat a little bit warm entering 2022?
How does Rick Barnes keep his job in 2022 you may be asking? Well, he can start by relying on his returning talent. Junior guard, Santiago Vescovi is a dude that you know is going to get his, as is senior forward, John Fulkerson and senior guard, Victor Bailey. Is this the most star studded team in the SEC? For sure not. But they are made up of grinders and there is something attractive about hard work and grit.
I also want you guys to keep an eye on Auburn transfer, Justin Powell who averaged 11, 6 and 4 last season, as well as Kennedy Chandler, who is ranked as the nations highest rated point guard coming out of high school. These are two x factors that could certainly make or break the Volunteers year.
Do I think Tennessee has enough to win the SEC? No. I think teams like Alabama and Kentucky are much more talented. However, I do think this team has the capability of staying in the AP top 25 for the majority of the season. It's not anarchy, it's college basketball.
Big 12
Let's call a Spade of Spade. The Big 12 has been dominated by one team and one team only for upwards of 20 years now. The Kansas Jayhawks have won 17 of the last 20 Big 12 regular season titles in what has become one of the most dominant stretches in the history of college basketball. Will a new season show much of the same, or provide a new opportunity for a kingdom chaser?
The Favorite
While the Kansas Jayhawks didn't necessarily have a bad 2020 campaign, it certainly could have been better. Due to a lack of leadership down the stretch, the Jayhawks found themselves eliminated in the round of 32 for the second time in three years. However, with a loaded transfer class and an abidance of returning talent, the Jayhawks enter the season with serious title aspirations.
If you were to create a blue print for how the Kansas Jayhawks have been able to establish success over the last decade, you may say that Bill Self has been a full buyer into the one and done approach. And while that may have been true in the past, this years Kansas team provides different layers of depth that Self typically isn't accustomed to. After serving a 3 game suspension to start the year, sophomore Jalen Wilson returns, as does senior forward, David McCormack, senior guard, Ochai Agbaji, junior guard, Christian Braun and 10th year senior, Mitch Lightfoot. Oh how the river run deep in Lawerence.
Now let's move on to my favorite layer of this years Kansas team, their heavy hitting transfers. Starting with Arizona State guard Remy Martin, who was selected as The Big 12 preseason player of the year and ending with Joseph Yusefu, a junior guard from Drake, who averaged 12.8 points a game last year, there really isn't much the Jayhawks did wrong as they dipped their toes in the transfer waters.
If you want to know how good the Kansas Jayhawks can be come 2022, I will tell you this. Kansas has the potential to not only win the Big 12 this year, not only make a deep run in the tournament this year, but has a legitimate shot of being named National Champions come April. I suggest keeping an eye on this team all season long.
A New Sheriff in Town
It was news that sent shockwaves around the Lone Star State. Chris Beard, who had spent the last 5 seasons as the head coach of the Texas Tech Red Raiders, would be leaving Lubbock to take the job as the new man in charge at the University of Texas. To some, this news represented a sign of hope and a suggestion that success is on the precipice. For other's, Chris Beard's departure was an act of betrayal and dismay. January 5th can't come soon enough.
Coaching craziness aside, the Texas Longhorns enter the year with one of the most proficient rosters in America. Cancer survivor, Andrew Jones is back after averaging 14 points a game last year as is senior guard, Courtney Ramey who is one of the more skillful guards in the Big 12.
Additionally, the Longhorns welcome in three transfers who are expected to insert themselves into the starting lineup come game one. Junior guard, Marcus Carr comes over from Minnesota and is fresh off a sophomore campaign in which he averaged 19, 4 and 5. You then move over to Vanderbilt forward, Dylan Disu, who averaged 15 and 9 last year and was considered to be one of the most dominant front court players in the SEC a year ago. Finish it off with UMass big man Tre Mitchell who is coming off an 18.8 and 7 season, and you can make the argument that Texas made the biggest transfer splash out of any team in the country.
SIDE NOTE: Texas also acquired Creighton Forward Christian Bishop who can absolutely light it up with his mid range game.
I think we are looking at the most talented team Texas has had since Kevin Duran's longhorn squad in 2007. It is now up to them however, to execute their talents and let the game on the court do the talking for them.
Repeat is a 6 Letter Word
What a year it was for the 2020-2021 Baylor Bears. A 28-2 record, a Big 12 championship and the programs first ever National Title. And while it would be overzealous to expect the Bears to repeat as champs, seeing that they are no longer without their four headed beast made up of Davion Mitchell, Jared Butler, MaCio Teague and Mark Vital, this is still a program with a high ceiling.
While Baylor may be losing a ton of talent from last years championship team, all love is not lost. Adam Flanger is back after a productive sophomore year as is senior forward, Matthew Mayer and big men Jonathan Tchamwa Tchatchoua and Flo Thamba. Additionally, the Bears pick up a bright senior transfer from Arizona in James Akinjo and welcome in a shiny 5 star recruit in the likes of Kendall Brown.
The last team to repeat as NCAA champions were the Florida Gators back in 2006 and 2007. Before that? It was the Duke Blue Devils in 1991 and 1992. When you are the kings of the castle everyone chases you and come tipoff, the Bears are going to have a target on their fury backs.
Bridge Over Troubled Waters
The Cade Cunningham era may have been short lived in Stillwater, but boy was is fun while it lasted. The Cowboys are coming off a program defining year in which they went 21-9 before being upset in the round of 32 to The Oregon State Beavers. And while the season may not have ended the way the Cowboys may have hoped, there is still a to look forward to as this a team is on a bright and productive trajectory.
As I mentioned at the top, Cade Cunningham is no longer an Oklahoma State Cowboy. And if we are being honest with each other, Cunningham is an irreplaceable, generational talent. This isn't a situation where you can just bring in another 5 star recruit and everything will be bright and dandy. What you instead have to do is take the brunt of the departure head on and hope the tremmurs don't cut too deep.
As far as the current roster for the Ok States goes, there are a few players that I believe have the chance to make a big impact come conference play. Isaac Likekele is one of my favorite guard in the Big 12, Avery Anderson is about as good of a shooter as you are going to find in the conference and Matthew-Alexander Moncrieffe and Kalib Boone provide a very intimidating front court presence. I will also be remised to not talk about Bryce Thompson, a transfer from Kansas who can push the floor likes it's nobodies business and one of my favorite defensive players in America, Rondel Walker.
As Mike Boynton enters his 5th year as HC in Stillwater, I expect his men to continue to mature in grow, as they hope to one day cut down the nets come seasons end.
UPDATE: Today is November 3rd and I kid you not, as SOON as I finish Oklahoma State's preview, I receive a twitter alert that reads as followed…..
You knew it was only a matter of time, but man is this a blow to a team that has been building their brand and identity up for the better part of half a decade now. When I first saw this news, my mind immediately went through the thought process of how coach Boynton A. keep his recruits to stay. with the program and B. Get his players motivated to play on a nightly basis. I guess we will just have to wait and see.
ACC
In my earnest opinion, there is no better conference in basketball than the ACC. With 13 National Championships since 1982, the Atlantic Coast Conference has been a meeting ground for success, prestige and some of the best coaching you will ever find. And with 4 teams ranked in the AP, preseason top 25, it would be fair to expect this winning tradition to continue come 2022.
One last Ride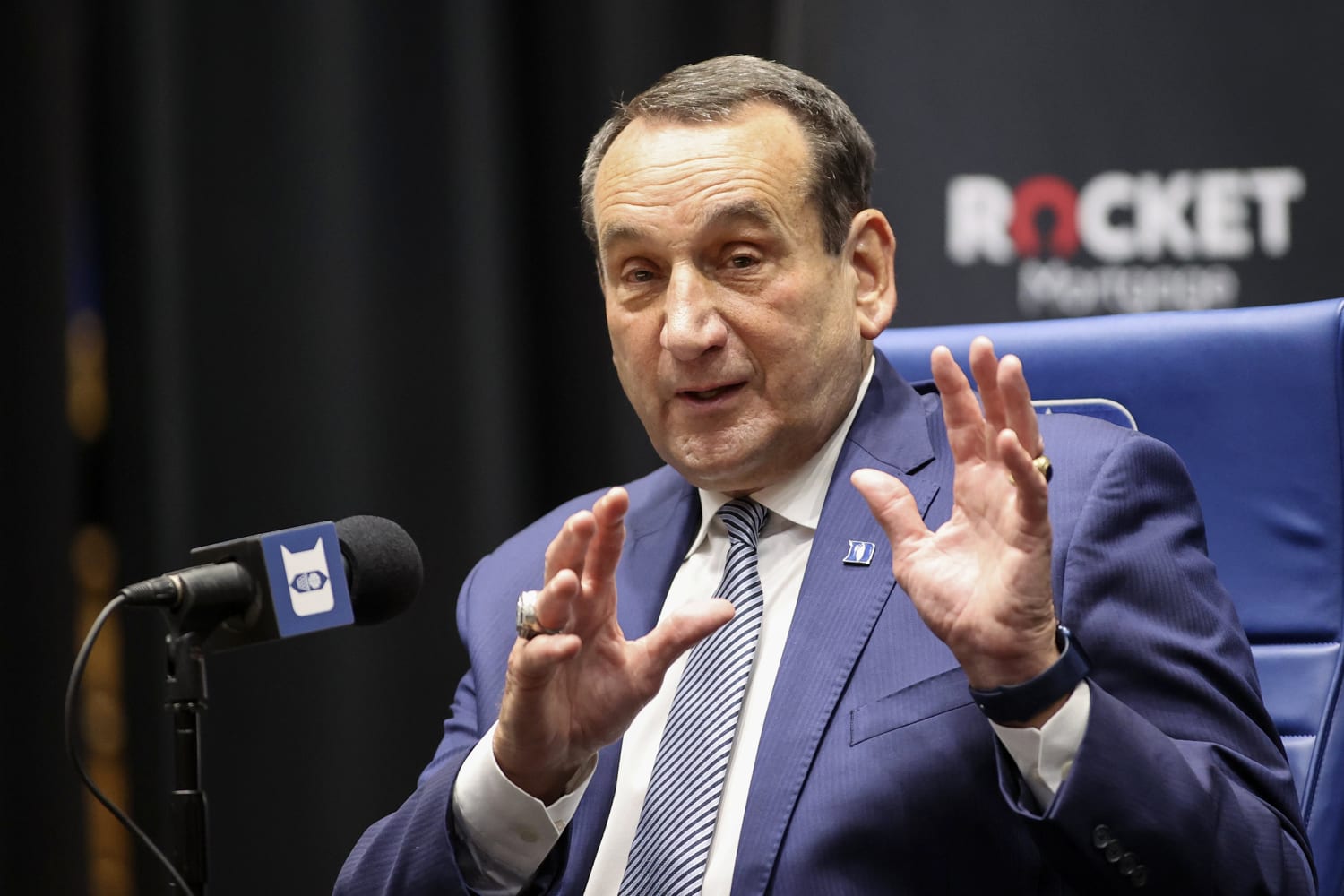 1,170 wins, five national championships, six gold medals and 27 combined ACC regular season and tournament titles. He's the greatest figure to ever coach game of basketball and I am not ready to say goodbye. Addmititly, coach K is the reason I became such a big college basketball fan.
The first Duke game I ever watched was on November 14th, 1998. I was just 3 days old, lying in the hospital bed, oblivious to the world around me. It was the season opener and my dad had me decked out in a Duke onzie. Now, of course, I don't remember much from that season, but my dad tells me stories that on the night the Blue Devils lost the national championship to Connecticut in 1999, I wouldn't stop crying. You call it gas pains, I call it heartbreak.
I am now 22 years old and am getting ready to say goodbye to a man I have basically worshipped since birth. I have been alive for 3 National Championships, 7 ACC regular-season titles, 12 conference tournament championships and much more. Having said that, I have also been present for the upset vs Mercer, the stunner vs Leigh and have experienced my share of Blue Devil heartbreak. I have seen Duke play in the Garden more times than I can count and was even lucky enough to see them play in the NCAA tournament at The Wells Fargo Center. And the one constant throughout my 22 years of fandom, is that the man in charge has always been sir Mike Krzyzewski himself. I love you coach K, thank you for everything.
SIDE NOTE: I could have spent Duke's preview slot talking about how good I think freshman sensation, Paolo Banchero or AJ Griffin are going to be, but I instead decided that I would dedicate this spot to the GOAT himself.
When One Door Closes, Another One Opens
It was an illustrious career that was bound to come to an end. After 18 years as commander in chief, Roy Williams decided that it was time to hang up his blazer and start life as a retired man. And with Hubert Davis as the new man in charge, Carolina will look to start a new chapter in their storied book.
Luckily for Davis, year one should be a smooth transition as Carolina enters the year with one of CBB's most veteran rosters. Four of Carolina's projected starting five, feature returning assets, including sophomore guard, Caleb Love, junior center Armando Bacot, sophomore guard, Kerwin Walton as well as senior forward, Leaky Black. Additionally, the Tar Heels are getting set to welcome in Marquette transfer Dawson Garcia to the starting mix, as well as add layers towards their bench through Oklahoma transfer, Brady Manek and Virginia transfer, Justin McKoy.
If you were to say something negative about the 2022 North Carolina Tar Heels, it would be that they lack the big 5-star recruit that a program of UNC's stature would usually be accustomed to. But that would be nitpicking at this point. I expect UNC to be a very strong team come winter and think they have as good a chance as anybody in this conference to come away with an ACC title.
Horton Hears A Hoo
Virginia Basketball; harder to figure out than a high school girlfriend. To fully understand the erratic nature of the Virginia Cavaliers, you must first go back to the 2018-2019 season, where the Hoos became the first one seed in NCAA tournament history to be defeated be defeated in the first round by a #16 seed. Fast forward a year later, and after defeating the Texas Tech Red Raiders, the Hoos are crownded champions of the big dance, only to then be defeated again in the first round two years later to Bobcats of Ohio. The question now becomes, what version of Virginia will we see come opening tip?
If the Virginia Caveliers have any chance of escaping the upset bug come March, they will need to rely on their senior leader, Kihei Clark. Clark, a combo guard from Woodland Hills California, is what we like to call the ultimate faciltator. With eyes in the back of his head, Clark has the ability to see the floor around and manage the game as well as any guard in the ACC. And while the stat's may not necassarily show it, I can guarentee you that most teams in America would drop everything to have a guard like Clark on their side.
Along with Clark, Virginia enters the season with veteran leadership that is ready make noise. Senior forward, Jayden Gardner comes over from East Carolina after scoring 18 PPG and 8 boards per contest a year ago, junior guard Jayden Gardner is an expirenced playmaker from Indiana and Kadin Shedrick is a 6″11 redshirt sophomore looking to build off a sucessfull freshman campaign.
This may not be the most talented team Virginia has ever had, but that doesn't mean you should doubt them.
Noles Gold
The Florida State Seminoles are one of those teams that no matter where they are come the end of the regular season, will find a way to compete come postseason play. The Seminoles, who are led by one of my favorite coaches in college basketball, Leonard Hamilton, have made the second week of the NCAA tournament in three straight seasons (Not counting 2020 when there was no tournament due to COVID) and have shown no signs of slowing down. But with a major dump off in talent, it will be interesting to see if the boys from Talahassee can continue their blue print of success.
With losses in talent through the likes of Scottie Barnes, M.J. Walker, Balsa Koprivica and RaiQuan Gray, Florida State is going to have their hands full looking to fill in misses pieces that are now left behind. Senior guard, Anthony Polite, who could have been considered as a roll player for the Seminoles last year, is going to have to step into a leadership roll, as is senior forward, Malik Osborne and senior guard, RayQuan Evans.
Having said all that, one positive that the Seminoles can look forward to heading into the 2021 -2022 season is that they are set to welcome in two of the biggest recruits in school history. Starting with 4 star combo guard, Jalen Warley, it is said that the Norristown native has the potential to be the next bright star in a confernce loaded with PTPers. And if you think it ends there, Leonard Hamilton managed to snag 5 star guard, Matthew Cleveland, who I believe has a outside chance to win ACC Freshman of the year. I want to be in the room where that happened.
Overall, I think Florida State certailnly has some holes in their team, and don't necessarily believe that they are as talented as they were a a year ago, but I've sung this song and dance before and know that Florida Sate will alway be in the mix…someway…somehow.
Big East
Big East Basketball; there's really nothing like it. Now, if you are an old sole reading this, there is a good chance that you remember the Big East in all it's glory. When the games mattered and the rilvalries were as fierce as a cheetah staring down he's pray. I'm talking Syracuse vs Pitt and Villanova vs Georgetown. And while the BE may be watered down, seeing how some of the conferences most disgunguisted institutions have jumped ship, it is still a collection worth watching on an annual basis.
Champiosnhip or Bust
The final buzzer had sounded. The Villanova Wildcats, who had entered March with a record of 18-7, had been defeated in the sweet 16 by the eventual National Champion, Baylor Bears. Senior Guard, Collin Gillespie, who had his season cut short due to a knee injury, sat on the bench as tears began to swell in his face. Jermaine Samuels, another senior on the team, left the court with a feeling of hopelessness and a regret that business had not been finished in the city of brotherly love. It was time to run it back one last time.
Thanks to COVID (Who thought we would ever be saying that,) Gillespie, Samuels and any other senior who wanted it, were granted one year of extra eligibility. Gillespie, who is now healthy and ready to return to a level of promance, was recently selected as Big East preseason player of the year. You think HC Jay Wright isn't eager to have him back.
Along with Gillespie, Villanova returns a handfull of playmakers that make them one of, if not the most explosive teams in the country. Junior guard, Justin Moore is back after averaging 12.9 PPG a year ago, as is combo guard, Caleb Daniels. Sophomore forwardm Eric Dixon is back and will be accompined by key bench players in the likes of Brandon Slater and Bryan Antoine.
As far as recruiting goes, the Wildcats are getting set to welcome in three heavily anticipated recruits through the likes of four star guard, Jordan Longino, 4 star center, Nnanna Njoku and 3 star combo guard, Angelo Brizzi. If this team meshes like I expect them to, we are looking at the type of team that can win it all, and can do so in dominating fasion.
Don't Sleep on The Huskies
When Dan Hurley took the job to be the next HC of the UConn Huskies back in 2018, he knew he had the resposibility of carrying one of college basketballs most sacret possesions. The Huskies are a blue blood routed in history, sucess and culture, and when it was announced that the Huskies would be returning to The Big East starting in 2020, the CBB world was estatic. I wrote an expert last year and I think it still rings true today; college basketball is better when UConn is A. Sucesfull and B. In the Big East Conference.
The Story of the 2020-2021 Conneticut Huskies was the world that revolved around James Bouknight. Bouknight, a 6'4 guard from Crown Heights New York, was the mighty engine that could, averging over 18 points and 5 rebounds per game. The only issue was that Bouknight could not stay on the floor due to multiple injues, leaving any real chance of the Huskies coming away with a conference championship. With Bouknight now off to the NBA, it will be interested to see how Hurley recovers after losing such a dependent figure.
If you are a believer of the next man up mentality, then I want you to keep your eyes on two men that I believe, will be the driving forces twoards the Huskies overall sucess this season. We start with a really shifty senior guard in RJ Cole who is fresh off the helms of a 12, 4 and 3 season, before transitioning over to another senior guard in Tyrese Martin who may just be the most underatted player in the Big East conference. This is a ridiculously talented backcourt that I feel has the upside to be one of the better pairings east of the Mississipi.
Another part of Conneticut's game that I am quite fond of is that Dan Hurley continues to bring in big time recruits who make imidiate, big time impacts. Rahsool Diggins is a 4 star guard from Philly who should see a good amount of playing time come conference play, as should 4 star playmaker Jordan Hawkins and 4 star forward, Samson Johnson.
Do the Huskies have enough to contend with Villaonova this year for a Big East title? I don't think so. But the gap is closer than some people may think.
Is St. Johns Good Again?
St. Johns basketball has made just 5 NCAA tournaments since the year 2000. And if you were to compare that to the 14 apparences thhwy made in the 1980's and 90's, you would come to the conclusion that this program has fallen off a cliff. And while you wouldn't neccasarily be wrong by saying that, I am here to tell you that better days are ahead for the Red Storm.
There are a few really attractive components that make St. Johns a team that I am particularly excited to watch this season. For starters, I am a big fan in what HC Mike Anderson has done so far in the big apple. Just last year, Anderson was able to coach his team to a 10-9 conference record, which may not seem great, but is a positive start for a second year head coach.
Additionally, St John is host to my pick to win Big East Player of The year in junior guard,
Julian Champagnie. Champagnie, who stands in a 6'8 has the ability to bully you inside, but can also push the ball in open space and has the court vision that is comparable to one, Ben Simmons. Coming off a year in which he averaged 19.7 points and 7.4 rebounds a game, I expect Champagnie to have a monster junior campaign and continue to solidify his stardom in the college ranks.
Does St. Johns make the NCAA Tournament for the first time in 3 years this season? It is hard to say. They certainly have the head coach to get them there as well as the superstar player. It will now come down to the exicution from the roll players around them.
X Marks the Spot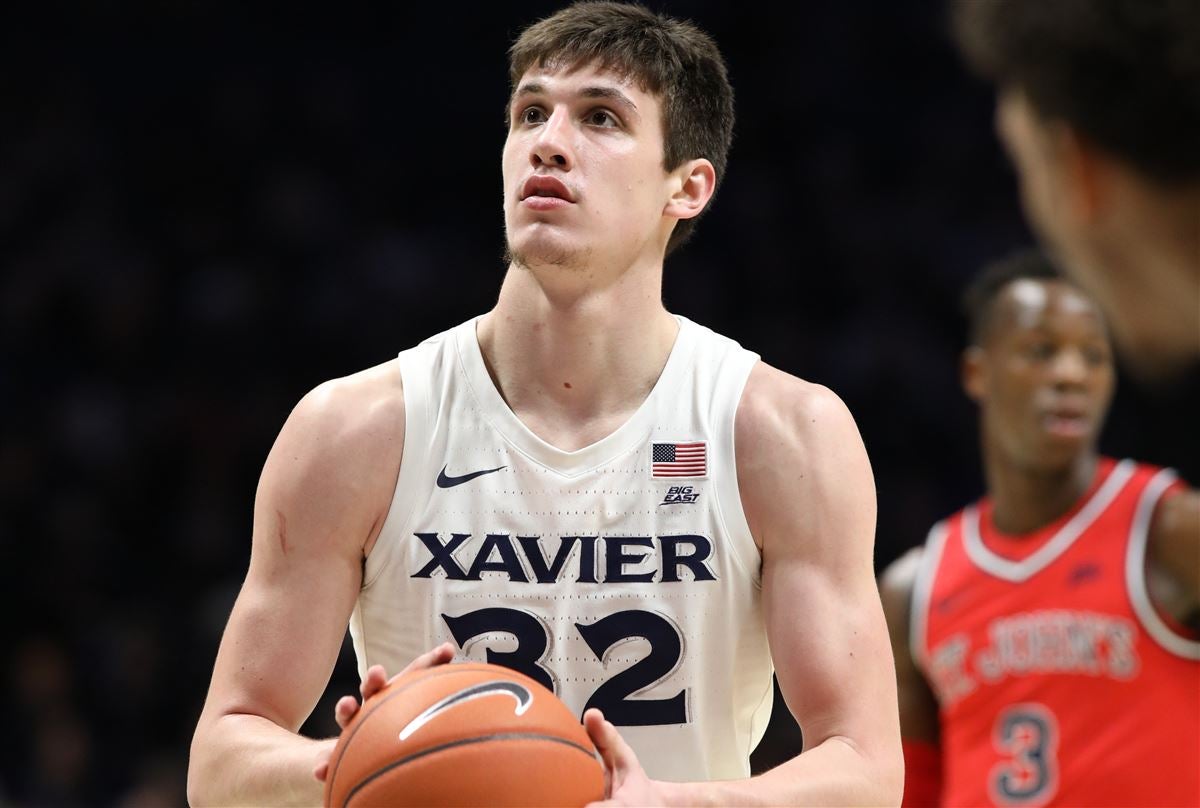 If you are a fan of college basketball, you know that there is always that one team in the Big East that flys under the radar to begin the season, and than really begins to ratchet things up during the thick of confernce play. This years version of that team is going to be the Xavier Muskateers.
Led by 4th year head coach Travis Steele, the Muskateers enter 2022 with vengence on the brain. One thing that I really like about Xavier heading into the season is that they are going to be able to shoot, with permiter players like Paul Scruggs, Nate Johnson and Colby Jones manning a really talented backcourt.
I also like the depth that the Muskateers provide, as junior forward Zach Freemantle returns after a huge 16 and 9 year (Cut short due to leg injrury,) as does sophomore guard, Dwon Odom. I also expect transfers Jack Nunge (Iowa) and Jerome Hunter (Indiana) to step up and make imidiate impacts.
We all know that Xavier can put the ball in the basket, it will now be a matter of if they create stops of the defensive side of the ball. If they can, we could be looking at one of the cinderella teams of the season.
Big Ten
There is a reason I chose to preview the Big Ten last. To be frank, the Big Ten has become what the SEC is in college football. It is the most balanced, most competitive and most talented conference in college basketball that has practically a must-watch matchup on any given night. And with 5 teams ranked in the preseason top 25, the 2021-2022 CBB champion may very well come from the B1G 10 itself.
The Fab Five Pt Duo
The Michigan Wolverines were one of the most fascinating case studies in CBB a year ago. Juwan Howard, who was in only his second year in Ann Arbor as commander in chief, led his men to a 23-5 record which included the programs first big ten regular-season title since 2014. But with a season-ending injury to Michigan star forward, Isaiah Livers, the Wolverines title hopes were cut short in the elite 8, as they were defeated by the Bruins of UCLA. With Livers, along with other key pieces such as Franz Wagner and Mike Smith now gone, it will be interesting to see how the Maze and Blue bounce back after such a terrific year.
One of the more surprising moves of the CBB offseason came when 7'1 C, Hunter Dickinson announced that he would be foregoing the NBA draft to return to Michigan for his Sophomore season. Dickinson, who was the pride of DeMatha High School, is coming off a dominant freshman campaign in which he averaged 14 points and 7 rebounds per game. To get a guy like Dickenson to return to school is a huge deal and is a big reason why Michigan is considered as the preseason favorites to win the Big Ten.
Additionally, Juwan Howard, who has quickly become one of the best recruiters in the country, is set to welcome in the nations #1 recruiting class led by 5-star forward, Caleb Houstan. Along with Houstan, the Wolverines will be adding to their roster 5-star power forward, Moussa Diabate, 4-star SG, Kobe Bufkin, 4-star guard Frankie Collins and 4-star SG, Isaiah Barnes. Man is it starting to feel like 1991 in Ann Arbor.
Overall this is a loaded team that can hurt you in a variety of ways. Do not be surprised if we are seeing this team cutting down the nets in some shape or form come postseason play.
Hop On the Boilermakers
HOT TAKE ALERT; The Purdue Boilermakers are my official sleeper pick to win this year's national championship. And I use the word "Sleeper," lightly because this Purdue team is absolutely stacked. In Matt Painter's 16 years as head coach, he may not have a better chance to take a team to the final four than this one. It is time to put up or shut up in West Lafayette.
So let's talk about what makes this year's Purdue team so special. For starters, the Boilermakers are host to perhaps the most athletic guard in the country, Jaden Ivey. Ivey, a sophomore game manager from South Bend, Indiana is what we like to call a show-stopping sensation, making his presence known in every gym he enters. Ivey has such a high upside in fact, that I wouldn't be shocked if he finished the year as a first-team all American.
Along with Ivey, Purdue returns star forward, Trevion Williams who is fresh off the helms of a 15 and 9 season and is another guy who can certainly earn all season accolades come years-end. In my earnest opinion, you would be hard-pressed to find two better players in the same starting five, not only in the big ten but in the entire country.
Some Boilermakers who you may also want to keep an eye on this season include senior guard, Eric Hunter, sophomore forward, Mason Gillis and senior guard Sasha Stefanovic. I suggest you hop on the boilermakers train now, because this team ain't slowing down once it gets started.
Pop the Champagne
It was a special year in Champaign, Illinois. Led by Brad Underwood, the fighting Illini went 24-7 which included a 16-4 record in conference play and a championship in the Big Ten Tournament. And as we now flip the athletic year, Illinois will have to regroup and refocus, as they will now be without some key chunks from their team a season ago.
Although Ayo Dosunmu, Giorgi Bezhanishvili and Adam Miller are no longer with the team, Brad Underwood has a squad that has the talent to compete with anybody in the Big Ten. Junior center, Kofi Cockburn, who actually entered the transfer portal at the conclusion of last year, is back after last season, averaging 17 points and 9 rebounds a game. Trent Frazier, who is one of my favorite guards in America, is back for his senior year, as is sophomore PG, Andre Curbelo and senior forward, Jacob Grandison. I also am a big fan of what coach Underwood did in terms of grabbing transfers, as sharpshooting guard Alfonso Plummer comes over from Utah and Omar Payne is a forward from Florida who should provide the Illini with a nice weapon off their bench.
Without Ayo Dosunmu, I believe it will be hard for Illinois to experience the same success as they did a year ago. Having said that, I do believe this is a talented, young team that has the potential to make noise come conference play.
OH-Oh No!
Okay, get your Oral Roberts jokes out of the way now. Yes, Ohio State may have lost as a #2 seed in the tournament last year to a school that most people didn't even know existed. But you must understand that this is a new Ohio State team with a new identity. I guarantee you that HC Chris Holtmann and company have completely wiped that loss from their memory and are ready to enter the new year with a clean slate.
If you are an Ohio State basketball fan, one of the really nice things you have going for you is that your team, which did have an abundance of sucess last season, is returning a ton of talent. Junior forward, EJ Liddell, who may be a top-five forward in America is back after averaging 16 and 6 a year ago, as is sharpshooting forward Kyle Young and senior scorer, Justice Sueing. If this big 3 can click like they were able to a year ago, we could be staring at one of the conferences most dangerous combos.
Additionally, the Buckeyes are getting set to welcome in three key transfers in the likes of Jamari Wheeler (Penn State), Joey Brunk (Indiana) and Cedric Russell (Louisiana), which should make them one of the more experienced teams in division one play.
Now while I don't necessarily believe that Ohio State has the capacity to compete for a national championship this year, I will tell that this team will not be upset by a #15 seed come March. Fool me once, shame on you, but fool me twice, and you can't be fooled again.
Make Maryland Basketball Great Again
As crazy as it sounds, Mark Turgeon is about to enter year 11 as head in College Park. And while Turgeon has failed to make it past the sweet 16 with the Terps, Maryland is a program that has always found itself right in the thick of things and is constantly competitive. You can't ask for much more than that.
I may be overstepping my reach when I say that I feel as if this Terrapins team has the potential to be the best Turgeon has ever coached. And one of the main reasons I say this is because the Terps will play host to one of if the most impressive backcourt the conference has to offer. Starting with senior guard, Eric Ayala who is coming off a year in which he averaged 25 PPG, and ending with the Rhode Island Transfer, Fatts Russell, who I can tell you all right now is the most underrated guard in the country, the Terps have a duo that is bound to bite.
Additionally, Turgeon did a hell of a job picking up some key transfers this offseason, as along with Russell, the Terps are set to welcome in Qudus Wahab from Georgetown, Ian Martinez from Utah and Xavier Green from Old Dominion. Mix that in with a pair of highly coveted recruits in the likes of 4 star forward, Julian Reese and 4-star guard, Ike Cornish and we could be looking at one of the conferences most undervalued, yet triumphant commodities.
Pete's Preseason Final Four
Pete's Preseason National Champion